About Us
Assisting Hands Home Care® grew out of a desire to provide seniors, and others needing non-medical assistance at home, with the option that most people prefer – to remain independent, safe and comfortable in their own homes. Assisting Hands® is a home care franchise company that emphasizes exceptional customer service and highly personalized in-home care to meet the needs of our clients.
Our Owners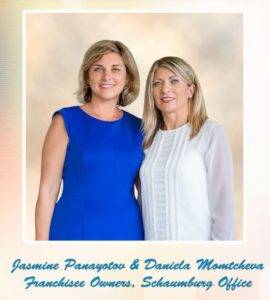 Daniela Momtcheva is the co-owner of Assisting Hands Home Care in Schaumburg along with her sister Jasmine Panayotov.  During her childhood in Bulgaria, Daniela and Jasmine both helped their parents take care of their grandmother.
Currently, Daniela helps her sister take care of their mother in her old age, but from a much greater distance.
After spending years taking care of her mother in Bulgaria from the U.S., Daniela understands the value that home care services can provide to families that need assistance to ensure that their elderly relatives get the care and attention they need.
Daniela attended Technical University Sofia, Bulgaria where she earned her master's degree in electronics engineering with a pedagogical specialty.  She later earned her master's degree in marketing management from the D.A. Tsenov Academy of Economics in Svishtov, Bulgaria.
After completing her schooling, Daniela worked as the Director of Business Marketing Development and Public Relations at "Dr. Ivan Seliminski" Hospital in Sliven, Bulgaria for 6 years.
Service Areas
Schaumburg, Elk Grove Village, Rolling Meadows, Des Plaines, Palatine, Hoffman Estates, IL.
What Our Clients Say About Us
Review by

John Vaughn

- Schaumburg, IL
Rating

I highly recommend Assisting Hands Home Care for any of the medical services they provide. In my case, I needed a licensed medical transport to the hospital for retina surgery on September 19, 2018. I contacted a few other agencies several weeks in advance of my scheduled surgery and discussed my needs, their level of experience, services offered, fees, and if I could definitely rely on their agency picking me up for transport to the hospital on time at 7:45 a.m., because if they were late or didn't show up and I missed my surgery, having to reschedule the surgery for a later date could have caused severe damage to my eye. Only Assisting Hands made my feel comfortable that they would fulfill all my needs. They met all my all needs and at the lowest price, and unlike their competitors I spoke with put my mind completely at ease that they would provide service as requested and contracted for. I was able to speak directly with the owner, Daniela Momtecheva, and found her to be very competent but also unexpectedly genuinely compassionate concerning the injury to my eye. Their driver arrived at my home on time and per hospital rules stayed at the hospital during my 3 hour surgery, drove me after my surgery to my pharmacy to fill post-surgery prescriptions and then back home. He was very considerate and gracious during the entire time I spent with him and was an excellent driver. I used Assisting Hands for a prior surgery and another agency for another surgery before hiring Assisting Hands for my September 19, 2018 surgery, so was able to compare the difference in quality of care. Because of the superior and first rate services at the best price provided by Assisting Hands on both occasions I hired their agency, I decided to take the time to write this review. I've never used their in-home care or other services that they provide, but based on the two times I used their agency, I have no doubt that if the need arises for me in the future for other services they offer I would be just as satisfied. Based on my experiences with them, I don't think you'll find a better medical services agency at a better price for whatever your medical related needs are, and I would definitely hire them again should the need arise.
Review by

Brett Sinclair

- Schaumburg, IL
Rating

I have hired Assisting Hands to transport me to different surgeries on 6 occasions over the past year, and each time the service I received from Daniela and Alex was superb. I wouldn't have continued to engage their services repeatedly unless I was enormously pleased each time. Daniela, Alex and the entire staff are not only professional but courteous, compassionate, prompt, reliable, and provided services above and beyond what I expected or ever experienced from other companies that I used before I connected with Assisting Hands, and they did so at the best price on the market. Whether it be medical transport for surgery or home care services, I give Assisting Hands the highest recommendation possible. Pardon the pun, but you could not be in better hands. A+++ for Assisting Hands.
Review by

Virginia Smith

- Schaumburg, IL
Rating

After an unpleasant experience with a different provider, my family and I sought out better care for our loved one. We are very thankful that we found Daniela Momtcheva at Assisting Hands Home Care in Schaumburg; our comfort level and confidence in them is extremely high. We are very happy with the services they provide and highly recommend them.
Review by

R. Angelov

- Schaumburg, IL
Rating

The experience that I have had with Assisting Hands Home Care in Schaumburg has been great. Very polite and helpful stuff that explained each and every option of service they have and they can provide. Every little detail that could save me some money was covered when I met with them. Have been using their service and would highly recommend giving them a call if you need any type of home care service. Thank you Assisting Hands, Schaumburg!!!
Review by

Dave Summers

- Schaumburg, IL
Rating

Assisting Hands is the best, dependable exceptional service for seniors. I give them the highest recommendation.
Review by

Dannie S.

- Schaumburg, IL
Rating

Everyone who works at Assisting Hands Schaumburg is committed to meet your loved ones' necessity for safe and affordable in home non-medical services. The assistance is very personalized to our specific needs. Great service, kind and thoughtful people!
Review by

Ivan D.

- Schaumburg, IL
Rating

Assisting Hands Schaumburg" helped me the most when I needed caregiving help with my parents. I got all my questions answered and they were very polite. They didn't mind that I asked a lot of questions about my parents' needs - they were very knowledgeable and professional. They were there to turn my difficult family issue into a compassionate and supportive one. All I can say is how satisfied am with the service and assistance from the Assisting Hands Home Care Schaumburg - highly recommend!!!!
Review by

Nicole Voyles

- Schaumburg, IL
Rating

The staff at assisting hands were wonderful to talk to. Very helpful and knowledgeable about their area of expertise . Thanks for all your help you've made this transition much easier for myself and my family!
Review by

George Pandulev

- Schaumburg, IL
Rating

The service from Assisting Hands in Schaumburg was great. The entire staff is professional and caring. Highly recommended if you ever need any kind of home care.