About Us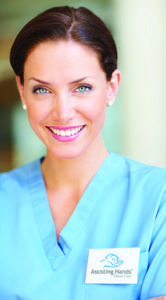 Assisting Hands Home Care® grew out of a desire to provide seniors, and others needing non-medical assistance at home, with the option that most people prefer – to remain independent, safe and comfortable in their own homes. Assisting Hands® is a home care franchise company that emphasizes exceptional customer service and highly personalized in-home care to meet the needs of our clients.
Our Founder
The founder of Assisting Hands Home Care® is Dr. Gail Silverstein, who has more than 25 years of experience coordinating and leading health care programs in both the public and private sector. It was Gail's understanding of the health care industry, along with the personal experience of trying to find assistance for her father at home, that led her to realize there was a serious gap in services. Out of this need, Assisting Hands® was launched – to provide a better alternative for the elderly, disabled and others needing a little extra support and assistance to stay home!
Service Areas
Buffalo Grove, Deerfield, Lake Forest, Vernon Hills And Surrounding Areas.
What Our Clients Say About Us
Review by

Barb Turovitz

- Deerfield, IL
Rating

Derron, the owner of the Deerfield location, is easy to deal with and very accommodating. Cassie assisted me for 3 weeks while recovering from surgery. All I can say is she is as sweet and professional as they come. She helped in so many ways, making my life easier because I didn't have use of my right hand. What an asset to your company.
Review by

Robert Yudler

- Deerfield, IL
Rating

This company is extremely professional all there employees are great. Don't hesitate 1 second to use them for yourself or for a loved one. I googled them so I was very lucky to find them. There prices are very competitive.
Review by

Gerry Geniesse Jr

- Deerfield, IL
Rating

We have used assisting hands Deerfield for care for my mother. They are very caring and compassionate. They made me feel at ease knowing mom was taken care of.
Review by

Carol O'Neill

- Deerfield, IL
Rating

I Highly recommend Assisting Hands as a caregiver in the home. I am very pleased with their hands-on physical care and also kindness in all matters. They are very easy to work with and reasonable fees also. Thank you, Carol O'Neill, Buffalo Grove, IL
Review by

Sharon Rukin

- Deerfield, IL
Rating

Darron was straightforward and caring. They fulfilled their promises and worked well with me. I will go to them again without hesitation when I need help again. I cannot recommend them more highly.
Review by

Mike Miller

- Deerfield, IL
Rating

Assisting Hands was extremely flexible in providing care for my mother. Changing schedules and a difficult patient provided a challenge, but AH was up to it. I would recommend them as professionals and very caring.
Review by

Maria Castaneda

- Deerfield, IL
Rating

From the moment I began working for Assisting Hands, I felt welcomed and comfortable. My bosses take the time to work with me on making a schedule that fits me best and they give me as many hours as they can. One thing I find reassuring is that a main priority of theirs is the safety of not only their clients but their employees as well. It is shown through their weekly phone calls/emails to their caregivers to see how they are doing and check in how the travel to a client's house went. They are accommodating when assigning a caregiver to a client, taking into consideration the transportation, the commute and comfortability.
Review by

Lynn Rhyan

- Deerfield, IL
Rating

Before surgery I thought I would be able to come home and handle everything! Boom, at the last minute, with I'm sure a busy schedule, Assisting Hands came thru. The love and care they showed made by my "surprise" need for help made a stressful situation bearable. Very professional with heart!
Review by

agentforsports .

- Deerfield, IL
Rating

Assisting Hands Deerfield provides exceptional service as caregivers for my elderly mother who suffers from early stages of dementia. Initially she had no interest in any form of caregiving. For many months at no cost, before she was interested in their services, Darron (franchisee/owner) would check in to see how the situation was. Always helpful and never a burden, he offered, via phone or e-mail, to hear me out about what was happening with her. When it came time for her to agree to use Assisting Hands, Darron's attentiveness continued and does to this day. She now enjoys him and his staff as they help with looking after her, taking her to daily mass and helping her get groceries. Darron is extremely responsive to reasonable requests regarding the services and gets back to me very promptly if I have a concern. He is straight-forward, honest, respectful, and patient. He and his staff have earned my once-skeptical mother's trust in a very short period of time. At times he has gone beyond the call of duty to help out even when it was not necessary. Caregiver relationships are delicate by nature, especially when they concern a person in my mother's mental condition. Trust is essential and necessary to this scenario. Assisting Hands Deerfield works to earn and maintain this trust each day as they help with my mother's caregiving. I highly recommend them for these reasons.