About Us
Assisting Hands Plainfield, IL opened in July 2018.  As an experienced caregiver, Lisa has the knowledge to provide continuity of care from the hospital or rehabilitation center to the home.  Her goal is to keep clients safely in their own homes for as long as possible.
Lisa and her team at Assisting Hands Plainfield IL are passionate about giving our clients the very best care.  Trusting a caregiver with your loved one is an important task we do not take lightly.  We will take the time to understand your loved one's unique care needs and create a care plan that will keep them safe and comfortable in their home.
Assisting Hands Home Care® grew out of a desire to provide seniors, and others needing non-medical assistance at home, with the option that most people prefer – to remain independent, safe and comfortable in their own homes. Assisting Hands® is a home care franchise company that emphasizes exceptional customer service and highly personalized in-home care to meet the needs of our clients.
Our Owners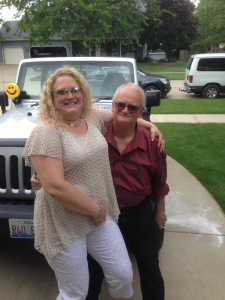 Lisa Edwards started Assisting Hands Plainfield for one reason, family.Lisa had her own personal caregiving experience taking care of her terminally ill father who was diagnosed with liver cancer. 
For two years, Lisa cared for her father in his home as she was his only child and the only family member that was able to provide him with such care.  During this time, she experienced first hand how illness causes families to struggle.  She often found herself overwhelmed by the caregiving responsibilities and needed additional help.
Two years after her father's passing, Lisa left the corporate world and looked for franchise opportunities to fulfill her dream of running her own business.  Assisting Hands was a perfect fit because the core values and mission of Assisting Hands aligned with her personal values.  Lisa's own personal experience caring for her father has made her very passionate about caring for people in their homes and helping family caregivers.  She knows that people with illnesses, recent rehabilitation, and those simply aging long to remain in the comfort of their own homes.
Service Areas
Bolingbrook, Plainfield, Yorkville, Oswego and surrounding areas.
What Our Clients Say About Us
Review by

K W

- Plainfield, IL
Rating

Highly recommend! Lisa and her staff are happy to help in anyway they can and are committed to ensuring clients are safe and happy with the care they are receiving.
Review by

Jasmine Panayotov

- Plainfield, IL
Rating

Lisa and her team impressed me with their commitment to provide the best home health care for their clients. I highly recommend them.