NOW HIRING CAREGIVERS
in Willowbrook, IL and surrounding areas
Short on time? Leave your info here and we will contact you shortly: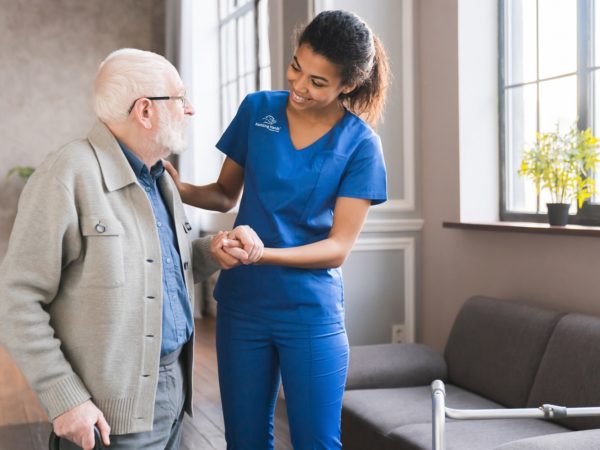 Assisting Hands Home Care is dedicated to providing senior citizens and adults with disabilities in Willowbrook, IL with quality, compassionate home care.  At the center of the care that we provide is our caregivers.  Our caregivers each have unique backgrounds and personal experiences, but they share a passion for providing those in need with the best possible home care to improve their quality of life.
At Assisting Hands Home Care, we have elderly care jobs available in Willowbrook, IL and we are looking for anyone interested in helping our clients by providing personal in-home care.  We believe that happy, passionate caregivers result in happy clients, especially when we can match our clients with caregivers who live close by.
If you are interested in a home care job in Hinsdale, Illinois and have a passion for helping others, apply for a caregiving job with Assisting Hands Home Care today!  You can call us at (630) 407-1932 to start your interview process or fill out the online form above.
Caregiver Jobs
People who are introduced to caregiving usually start by caring for a parent or loved one who needs help.  If you are someone who your loved ones call when care is needed, then you might be the perfect candidate for our caregiving job!
Those who have a passion for caring for others and strong interpersonal skills are ideal for our caregiver job in Willowbrook, IL.  Caregivers should show patience as well as passion towards our clients and communicate effectively with them and their families.  Caregivers will also need a reliable source of transportation.
Those who are hired for our caregiver job in Willowbrook, IL will complete an initial training session before providing hands-on care.  Upon completion of the initial training, we will match you with an entry level case to start providing care.
CNA Jobs
Certified Nursing Assistants (CNAs) are always in demand, and we are happy to add experienced CNAs to our staff.  If you have worked as a CNA in a nursing home, then you know that a high patient ratio can be difficult to manage.  CNAs who work with Assisting Hands will work with one client at a time which allows you to effectively provide for the client's needs and develop a strong personal relationship with them.
Our CNA jobs in Willowbrook, IL offer flexibility and we have a variety of cases.  CNAs who work for Assisting Hands Home Care will help our client with activities of daily living (ADLs) such as dressing, bathing, incontinence care, and transfer assistance.
HHA Jobs
Assisting Hands Home Care is also looking for home health aides in Willowbrook, IL to provide non-medical home care for our clients.  Home health aides will provide in-home care that includes help with ADLs as well as assistance with other tasks around the home such as grocery shopping, meal preparation, light housekeeping, and providing transportation for our clients.
If you are interested in helping seniors and adults with disabilities live a better quality of life in their homes, we encourage you to apply for our home health aide job in Willowbrook, IL.
Working in Willowbrook, IL
Willow Brook is a southwestern suburb of Chicago in DuPage County, Illinois with a population of 8,540. Willow Brook is considered to be one of the best places to live in Illinois. It is a wonderful area to discover nature with family and friends. Must-go destinations include Timber Lake Park, nearby Waterfall Glen, and Salt Creek Forest Preserves.
Contact Assisting Hands Home Care for Caregiving Jobs in Willowbrook, IL
Assisting Hands Home Care is looking for caregivers in Willowbrook, IL who are ready to provide quality, compassionate care.  No matter your experience level, we encourage you to apply today!
Give us a call at (630) 407-1932 to start the interview process or fill out our online application.