NOW HIRING CAREGIVERS
in Naperville, IL and surrounding areas
Short on time? Leave your info here and we will contact you shortly: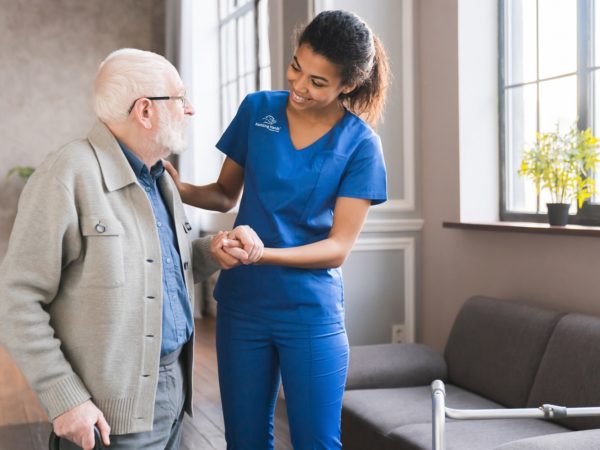 At Assisting Hands Home Care, we are committed to providing quality home care services in Naperville, IL and at the center of our compassionate care is our caregivers.  Our caregivers come from diverse backgrounds and bring unique personal experience and a passion for providing care for seniors and adults.
Assisting Hands Home Care has home care and elderly care jobs available, and we are looking for those interested in being a caregiver in the Naperville, IL area.  We believe that home care is the most effective when our clients are matched with compassionate caregivers who live nearby.
If you have any caregiving experience or are interested in providing care, we strongly encourage you to apply.  You can give us a call at (630) 634-9316 or fill out the online form above to start the interview process for an elderly care job.
Why You Should Apply?
We offer several employment benefits for our caregivers including:
Competitive pay
CNA Tuition Reimbursement
401K
Paid Time off
Discounted Insurance Program
Flexible Scheduling, Full-time and Part-time shifts available 
Caregiver Jobs
Many people are introduced to caregiving when they are in a situation where they start providing care for a parent or relative.  If you are the one loved ones call on when someone needs care and assistance at home, a job as a home caregiver may be for you!
Caregiver jobs require a passion for caring and desire to help others along with strong interpersonal skills.  Caregivers must also have patience when working with their clients.  We expect caregivers to be able to provide reliable transportation for our clients and communicate with them and their families effectively.
If you are hired for our caregiver job in Naperville, IL, you will have to complete an initial training session before providing care.  After passing the training session, we will match you with an entry-level caregiving case in Naperville.
CNA Jobs
At Assisting Hands Home Care, we are always looking for experienced Certified Nursing Assistants (CNAs).  If you previously worked as a CNA in a nursing home where you had several patients at once, working for us will be a relief!  You will work one on one with our clients which will not only lessen the workload, but also give you the opportunity to build a strong personal relationship with your client.
Assisting Hands Home Care offers flexibility and a variety of cases for CNA jobs in Naperville, IL.  CNAs will assist local clients with activities of daily living (ADLs) that include bathing, dressing, transfer assistance, and incontinence care.
HHA Jobs
Assisting Hands Home Care has home health aide (HHA) jobs available in Naperville, IL for those interested in providing personal in-home care.  Home health aides will provide non-medical home-based care that includes help with activities of daily living (ADLs) such as personal hygiene, dressing, toileting, and transferring.  HHAs also help prepare meals for clients, take care of errands like grocery shopping, provide transportation for clients, and help with light housekeeping duties.
If you have experience providing in-home care and are interested in a home health aide job in Naperville, IL, we strongly encourage you to apply!
Working in Naperville, IL
Naperville, IL is regularly considered one of the best cities for families in the U.S.  There is a wide variety of restaurants and coffee shops in the popular downtown area and the city has great ratings for its housing and school system.  There are also many parks and outdoor activities around Naperville.
When working with Assisting Hands, you will experience the satisfaction of providing quality care in one of the country's highest-rated cities.
Contact Assisting Hands for Caregiving Jobs in Naperville, IL
Assisting Hands Home Care is looking for passionate individuals for our open caregiving jobs in Naperville, IL.  Regardless of your experience, we encourage you to apply today!
You can fill out our online application or call us at (630) 634-9316 to start your interview process.