Call: (224) 444-6422 to schedule a free, in-home assessment.
Assisting Hands Home Care provides live-in and 24-hour home care services to help seniors and adults with disabilities who need a home caregiver present 24 hours a day in Park Ridge, IL and the surrounding areas. Our live-in caregivers will provide quality personal care, assistance and availability to respond to emergencies.
The trend of home care has continued to grow among the senior population.  More senior citizens are choosing to age in place than in previous generations and between their family members and the availability of quality home care services, they are able to age comfortably and safely at home.  However, home care needs vary from person to person and some may need a high level of care that their family cannot provide.
Seniors and adults with disabilities or chronic conditions may need a caregiver present around the clock in their home.  It can be difficult for seniors in this situation to provide self-care or take care of tasks around the house, and they can experience an emergency at any time that will require an immediate response.  If you have a loved one who needs a caregiver present 24 hours a day, Assisting Hands Arlington Heights can help.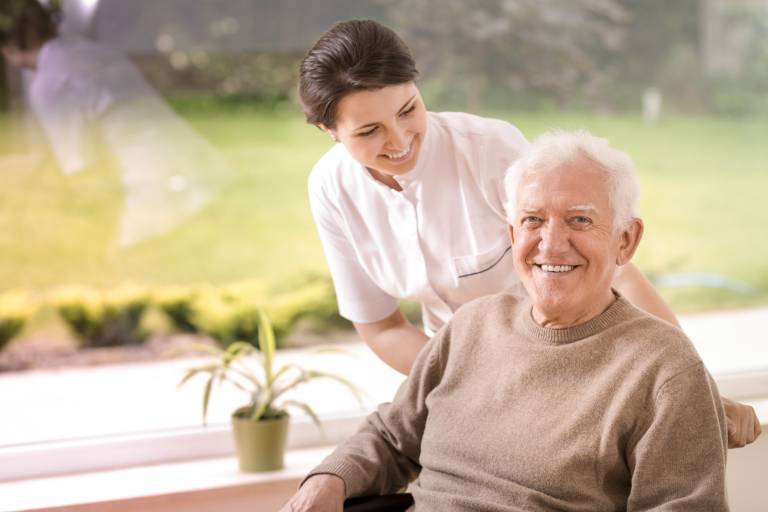 At Assisting Hands Home Care, we can help those who need consistent, round-the-clock care in Park Ridge, IL with our live-in and 24-hour home care services.  We will work with you and your loved ones to create a unique care plan. They will also ensure your loved one's care needs are met 24 hours a day.  You and your family will be able to rest easy knowing our trained and licensed caregiver is always in the home of your loved one.
Why Choose Assisting Hands?

In the United States, there is a growing trend of senior citizens receiving some form of caregiving services at home.
These services allow individuals to remain within the comfort of their own homes and maintain some of their independence. In some instances, though, people will need extra care and supervision.
Assisting Hands Home Care can cater to both of the aforementioned situations with the live-in and 24-hour care services we provide to those in Park Ridge, IL, and the surrounding area.
Live-In Care vs. 24-Hour Care — What's the Difference?
The main difference between our live-in care services and 24-hour care services is the amount of attention provided.
With live-in care, a caregiver works a shift that lasts 3 to 4 days and then switches with another caregiver. At night, our caregiver needs 5 to 6 uninterrupted hours of sleep, meaning you need to provide them with a place to stay within the home. When they wake up in the morning, the caregiver will provide care as needed, helping your loved ones throughout the day and helping them get into bed at night.
With 24-hour care, a caregiver will be available to help at all hours of the day. Every 12 hours, a caregiver comes to the client's home to start their shift. This set-up allows an attentive caregiver to be awake, alert, and prepared to provide help no matter the time of day. Additionally, with 24-hour care, the caregiver doesn't need a place to sleep because they will be awake their entire shift.
24-Hour Home Care and Live-In Care
No matter which service you pick, we will provide you with quality, well-trained caregivers. The caregivers aren't certified nurses, though, so they are unable to help with medical tasks like injections or bandage changing. However, they can assist with just about any other non-medical task, including:
Companionship
Getting dressed
Meal preparation
Light housekeeping
Medication reminders
Getting in and out of bed
Transportation assistance: inside and outside of home
Unique Care Plan for Your Loved One
We create customized care plans for those who need 24-hour or live-in care. We start by meeting with the clients and their families to determine what services are needed. Care can be provided on a short-term basis, lasting for a few days or weeks, or on a long-term basis. The daily rate for our services is determined by what services our caregivers will provide.
Call (224) 444-6422 for your free in-home consultation
Home Care Services in Park Ridge, IL
We don't provide just any caregiver but send someone who is engaged, compassionate, and caring. Your loved one's comfort, safety, and wellbeing are our top priorities.
We don't provide just any caregiver but send someone who is engaged, compassionate, and caring. Your loved one's comfort, safety, and wellbeing are our top priorities.
24-Hour Caregivers
Assisting Hands Home Care's caregivers are all trained in first aid, CPR, and numerous caregiving services. Additionally, we employ caregivers with several years of experience and who are required to take classes throughout the year.
These classes guarantee that our caregivers stay updated on the latest in the home care industry. We also have multilingual caregivers, so we can match non-English speaking clients with ones who speak their language.
Who are Our 24/7 Care Services for?
In our experience, our 24/7 care services are beneficial for people who are:
Terminally ill
Cancer patients
Dementia or Alzheimer's patients
Contact Us
For More Information about Assisting Hands Home Care's Live-in Care Services or 24-Hour Care Services, call (224) 444-6422.
More Live-In Care and 24-Hour Home Care Services