Call: (847) 448-0844 to schedule a free, in-home assessment.
For families who have a loved one with Alzheimer's or dementia, memory care services are crucial support to have. At Assisting Hands Home Care, we know just how tough it can be for families taking care of relatives diagnosed with a degenerative disability or disease.
 With our Alzheimer's and dementia care services in Palatine, IL, we work with people affected by Alzheimer's and dementia to help them live their normal, everyday lives and reduce their memory loss.
Memory Care Palatine, IL
For professional memory care services in Palatine, IL or the surrounding areas, contact Assisting Hands Home Care at (847) 448-0844.
At Assisting Hands Home Care, we take pride in creating personalized memory care plans for each of our patients. To accomplish this, we focus on particular aspects of a client's life:
Client's Background and History:For many suffering with memory loss, one's short-term memory is what they initially lose. Because of this, the individual can lose interest in or become disengaged from conversations. To counter this, we devote time to learning about our patient's background, history, interests, and long-term talents. By doing this, we can create a legitimate relationship with the client and keep him/her stimulated through conversation.
Family Members: To develop personalized Alzheimer's and dementia care plans for our clients, we collaborate directly with the client's family, because no one knows the client better. Such a process does a great deal in helping create a quality memory care plan.
Kind Deliverables:We work with patients in a caring, dignifying, loving manner. They did not decide to suffer from memory problems and are usually overwhelmed. We acknowledge such problems and keep that in mind when preparing our staff. Our staff is trained to utilize proper and positive reinforcement methods while providing home care.
For people suffering from memory loss, in-home memory care is usually the best solution, because it offers the patient a chance to be in a familiar environment. Our memory care professionals have been trained to provide a noise-, clutter-, and crowd-free setting, guarantee a safe environment, and keep potentially dangerous items out of reach. We also encourage patients to perform as many self-care tasks as possible to maintain normalcy and to minimize their sense of a loss of control.
Why Choose Assisting Hands?
Alzheimer's and Dementia Behaviors
People who suffer from Alzheimer's or dementia have trouble doing everyday tasks. Our memory care professionals acknowledge this and assist with such things from cooking to bathing to taking medication. Those suffering from Alzheimer's or dementia often exhibit uncharacteristic behaviors, some of which includes but is not limited to:
Agitation
General forgetfulness
Incontinence
Wandering
Dementia Care
Although not much can be done to eliminate such behaviors, we have trained our caregivers to keep our clients engaged to help prevent further memory loss. From card games to simple conversations to walks, we do whatever we must to keep your loved ones engaged and stimulated. At Assisting Hands Home Care, we create relationships with our clients in Palatine, IL and the neighboring areas and are dedicated to preserving memories and developing a sense of normalcy.
Contact Us
To inquire about our Alzheimer's and dementia care services for a loved one in Palatine, IL, please call Assisting Hands Home Care at (847) 448-0844.
Call (847) 448-0844 for your free in-home consultation
Home Care Services in Palatine, IL
We don't provide just any caregiver but send someone who is engaged, compassionate, and caring. Your loved one's comfort, safety, and wellbeing are our top priorities.
Alzheimer's And Dementia Care – Complimentary In-Home Consultation
To give them the best chance at a better quality of life, individuals affected by any form of dementia must receive care as soon as possible.
Contact Assisting Hands Home Care for our Alzheimer's and dementia home care services in Palatine, IL by calling (847) 448-0844. 
We will meet with you and your loved ones in their home for a complimentary assessment to determine their needs and form an appropriate care plan.
Alzheimer's and Dementia Care Services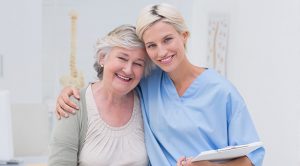 Alzheimer's and Dementia Care Services in Des Plaines, IL
Dementia Care Services in Elk Grove Village, IL
Alzheimer's Home Care Services in Rolling Meadows, IL
In-Home Memory Care Services in Palatine, IL
Memory Care in Inverness, IL
Memory Care Services in Hoffman Estates, IL