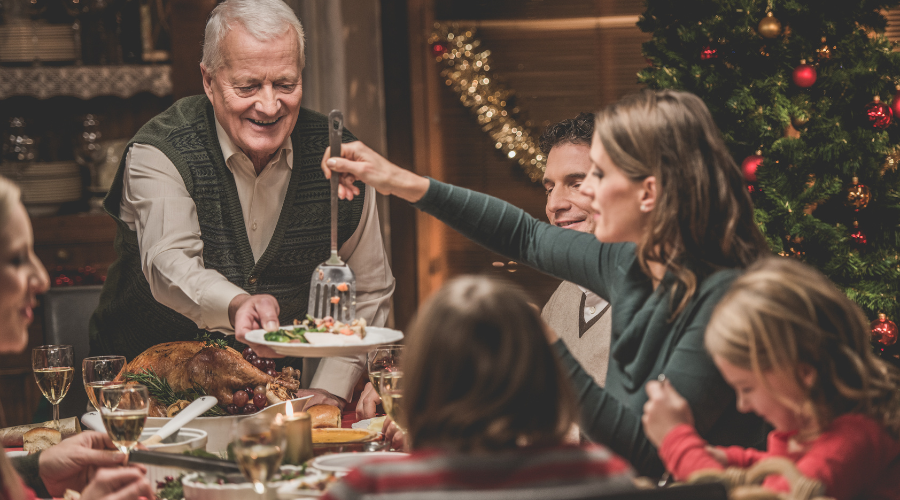 The holiday season is filled with joyfulness, goodwill, and celebration. A time when loved ones from near and far gather, this festive time of year is eagerly anticipated by most. Caregivers, however, are often burdened with extra responsibilities and heavy loads of stress.
Caregiving for an elderly loved one during the holidays may be accompanied by frustration, anger, and the resulting stress. Family gatherings may leave caregivers feeling unsatisfied, because managing care for a senior with dementia leaves them unable to participate as much as they'd like.
When relatives arrive at the festivities, enjoy dinner and chat by the fireside, caregivers may erupt with resentment and ill will. Negative emotions like these arise because caregivers feel family members choose to not contribute to the senior's care as much as they should.
Caregiver emotions also rise and fall with the many preparations needed for the holiday season. The typical caregiver is already overwhelmed with the daily responsibilities involved in caring for a senior. The holidays only add to the mountainous pile of tasks needed to get done.
While the arrival of the festive season may tax caregivers rather than uplift them, making a few adjustments can benefit everyone. The holidays can even be the perfect time to improve communication with and seek additional caregiving support from family and friends.
1. Send a holiday greeting
Holiday cards are mailed or emailed at the start of the season. Caregivers might go a step further and include a brief note describing the care recipient's condition. Relatives who are not directly involved in the senior's care will be updated and start to understand the realities of caregiving duties.
When uninvolved relatives see how much daily care and dedication are required for successful caregiving, they may be willing to lend a hand. Even skilled family members who live in another state or town can provide meaningful support, such as managing finances or handling legal affairs.
2. Simplify holiday preparations
A caregiver has a limited amount of energy. When simultaneously providing care to an elderly person, it's practical to simplify holiday preparations. Instead of lighting up the entire house with lights, place a strand or two on the trees. Or, ask a friend to decorate.
3. Choose straightforward meals
Decadent holiday meals and relatives seated around the table are big parts of the festivities. But managing meals requires an equal investment in time, money, and energy. Caregivers may simplify meals instead: prepare fewer dishes, split up grocery shopping with friends, and encourage potluck.
4. Adapt when attending events
Prior to assuming the role of caregiver, an individual may have spent hours by the holiday tree, drinking eggnog and socializing. As caregiver, however, adapting becomes a necessity. Caregivers must modify how much time they spend at parties, matching it with the senior's comfort level.
Caregivers may be compelled to choose which holiday events to attend and how long to stay. Aging people with impairments, for example, may tire easily, making it necessary to leave the party early in order to ensure the enjoyment of both the senior and the caregiver.
Adapting also means creating a suitable environment for the senior. Dementia patients are disturbed by loud noises and constant chatter. In preparation for the holiday gathering, ask the host to arrange for a quieter room where the senior can visit with family members one at a time.
5. Share a holiday wish list
Caregivers working at full steam during the holidays will appreciate time off. Respite care is one way that seniors can continue to receive quality care while the caregiver gets a break. Home care agencies offer reliable respite care. Respite facilities are also an option.
Sharing a wish list with family members during the holidays can encourage them to help with tasks. A cousin may fix the light bulb or an uncle may install grab bars in the bathroom. Any sort of help goes a long way in the busy life of a caregiver.
6. Communicate the need for help
Depending on how much the caregiver wishes to enjoy the holidays, communicating disappointments about relatives who fail to pitch in may not be right at this time. However, caregivers may decide it's appropriate to convey their feelings prior to the start of the holiday season.
Similarly, some caregivers wait until after the holidays are over to let relatives know that extra caregiving support would be helpful. The most important factor is that the caregiver makes an effort to enjoy the holiday festivities, while ensuring the senior does the same.
7. Write a thank you card
Caregivers can express their gratitude toward family members and friends who have spent valuable time with the elderly loved one. A note of appreciation reinforces positive feelings from the visit. Plus, the recipients are more likely to be supportive of the caregiver's efforts.
While stress can accompany the holidays, caregivers do not have to suffer alone. Home care agencies, like Assisting Hands Home Care, are available to lend extra support when it is needed most. We offer a range of flexible care options to ensure aging adults remain physically and emotionally healthy.
Respite care is a sought-after care option during the holidays. Our professional respite caregivers pick up caregiving duties where the original caregiver leaves off. Duties our caregivers perform include help with personal hygiene tasks, transportation to doctor's offices, medication reminders, and light housekeeping.
Our elder care services are non-medical in nature yet comprehensive. We tend to both the physical needs of seniors as well as the emotional ones. We ensure seniors hydrate, eat nutritiously, and live in a clean home. Plus, we support their emotional health by serving as friendly companions.
Assisting Hands Home Care supports seniors with all the activities of daily living. Our licensed and bonded caregivers are available during the holidays as well as every day of the year. Contact our office today to schedule an in-home consult and start compassionate caregiving services.