Over 5 million Americans over the age of 65 are affected by some form of dementia. These are degenerative, cognitive diseases that impact the memory as they slowly develop over time. In later stages, the need for assistance becomes more crucial. Alzheimer's and dementia patients will require a special type of care service in order to stay in their homes. In fact, it's best for them to stay there because of the familiar environment; it helps to calm the feelings of agitation and anxiety which are common symptoms of the disease. Caring for dementia patients can be difficult for family caregivers, which is why it's recommended to work with a professional home care agency such as Assisting Hands Home Care. Our caregivers at Assisting Hands Home Care are trained and experienced to provide specialized Alzheimer's and dementia care services for seniors living in Chicago suburbs or Wisconsin. These caregivers are also licensed, bonded, and insured by the agency to ensure that your loved one is safe at all times. We will work to create a safe environment for your loved one to make them feel comfortable, and we engage them in memory exercises that can slow the effects of memory loss.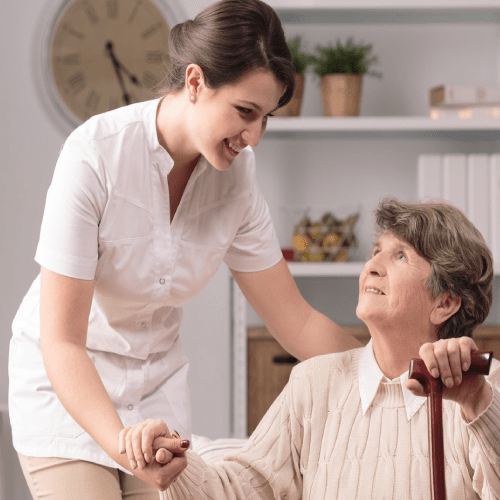 Why Choose Assisting Hands?
Alzheimer's and Dementia Symptoms
Alzheimer's and dementia are rarely identified in their early stages; this is because they develop slowly and worsen over time. But if you notice any signs of this disease, it's important to develop a plan to help them manage their symptoms to live safely.
All of the following are common signs of Alzheimer's and dementia:
Wandering: Those with the disease get confused often and wander around. This will usually happen when they are looking for someone or something.
Incontinence: Alzheimer's and dementia patients in their later stages may experience incontinence due to the loss of control in their bodies.
Forgetfulness: This is known as one of the earliest stages of dementia, especially short-term memory. They will forget about small things, such as losing their phone, but this will become worse over time as they won't be able to recognize friends or even family.
Agitation: If dementia patients know they are limited, they can become frustrated easily.
While these are common symptoms in dementia and Alzheimer's patients, our caregivers are trained to look for them and will respond appropriately. If your loved one starts to wander, we will make sure they don't fall and/or hurt themselves. We can also help them from becoming agitated.
Call (888) 559-3889 for your free in-home consultation
Memory Care Services
When contacting Assisting Hands Home Care for Alzheimer's and dementia care, we will develop a comprehensive care plan designed to meet their needs. Our caregivers will ensure that their environment is safe while responding to their symptoms and providing the personal care needed throughout the day.
All of the following are included in our Alzheimer's and dementia care services:
Meal Preparation: Dementia patients are usually incapable of preparing their own meals, even in the early stages of the disease. Our caregivers will help to make sure they are getting the nutrients they need while staying within their dietary limitations.
Companionship: Our licensed caregivers are dedicated to providing the companionship needed for your loved one. We know it's important to develop a personal relationship with the patients as it can stabilize their mood and ease stress. To do this, we will keep them engaged in conversations, talking about their hobbies and personal history as well as keeping them engaged in stimulating activities to slow memory loss.
Personal Care: We provide a range of personal care services, including bathing, toileting, getting dressed, and more. Our caregivers can also help with immobility.
Wandering: Alzheimer's and dementia patients may always wander, but it's important that they do it safely. Our caregivers will accompany them to make sure they don't fall.
Medication Reminders: It's common for these patients to forget to take their medications or which one they need to take. We will help and remind them to take the proper medications on time.

Contact Us
At Assisting Hands Home Care, we understand the difficulties faced on a daily basis with elderly relatives suffering from Alzheimer's or dementia. That's why our caregivers are trained to respond to all symptoms while providing specialized care to keep them safe and comfortable in their home.
To schedule a free consultation regarding Alzheimer's and dementia care services in Chicago suburbs or Wisconsin, contact Assisting Hands Home Care at (888) 559-3889.