To keep costs low, many family caregivers opt to take care of their elders themselves. This is easy during the day, but at night, it can be dangerous to leave them alone. It's understandable that family caregivers can't always be there for their senior loved ones, but even if they do spend the night with them, they may not get the sleep they need or react fast enough if an emergency were to occur. Assisting Hands Home Care provides professional overnight care services in Illinois and Wisconsin to react to any emergencies or help seniors around the house at night. During these services, our caregiver will arrive before they go to bed and stay awake to help them if needed. Their presence will ensure your loved one is safe and provide you with the peace of mind knowing they are cared for.
Why Choose Assisting Hands?
Trusted Overnight Care Services
Before our caregiver is sent to the loved one's home, they will go through extensive training and a detailed background check. It's crucial to send only qualified, trusted caregivers to your loved one's home to provide the level of care and companionship they need. Our caregivers are also licensed, bonded, and insured for your protection. At the beginning of the shift, the caregiver will arrive before the loved one goes to bed. We will help them with bathing, dressing, and any other tasks needed to ensure they get to bed safely. Our caregiver will then monitor them throughout the night, helping them get to and from the bathroom if needed or changing positions in bed if they have limited mobility. They will then be awake during the night to respond to any problems or emergencies. The caregiver can also stay in the room with your loved one if requested or stay in another area of the home while making regular checks on your loved one.
Our overnight care services can help with the following:
Morning and nightly routines, including bathing and dressing
Changing positions in bed
Medication reminders
Going to and from the restroom during the night
Call (888) 559-3889 for your free in-home consultation
Overnight care services should be considered if your loved one is going through the following:
Dementia: If your loved one is a dementia patient, they may wander during the night, which poses a physical threat to their safety. Our caregivers will respond immediately if they see this, helping them get back to bed.
Falls: Falls are one of the most common causes of injury and hospitalization. Our overnight care services can reduce this risk by helping them get around the house at night.
Post-Surgery: If the senior recently just got out of the hospital, they may have trouble sleeping at night. Our caregiver will monitor their condition after the surgery and help them move throughout the house, if necessary.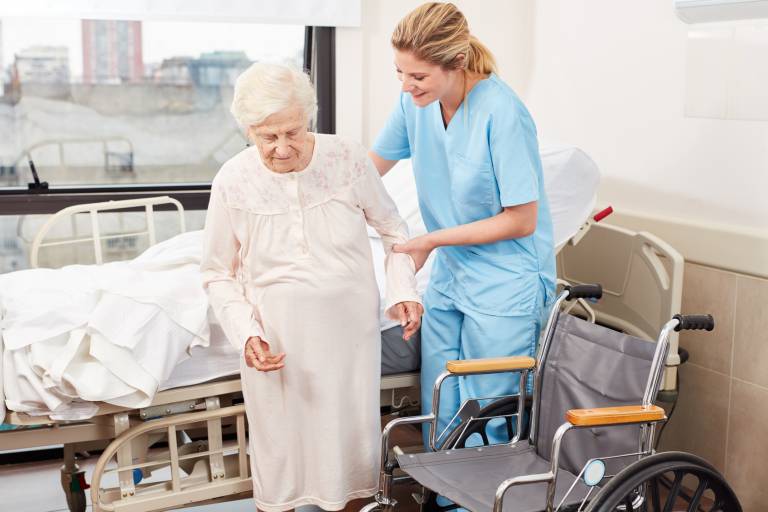 Contact Assisting Hands Home Care
Leaving your senior loved one alone at night can be scary due to the emergencies that can occur while you're gone. That's why the caregivers of Assisting Hands Home Care in Illinois always provide overnight care services to keep them safe. With one of our caregivers present, you can have the peace of mind knowing they are safe and comfortable in their own homes.
Call (888) 559-3889 for professional overnight care services from Assisting Hands Home Care in Chicago suburbs and Wisconsin.