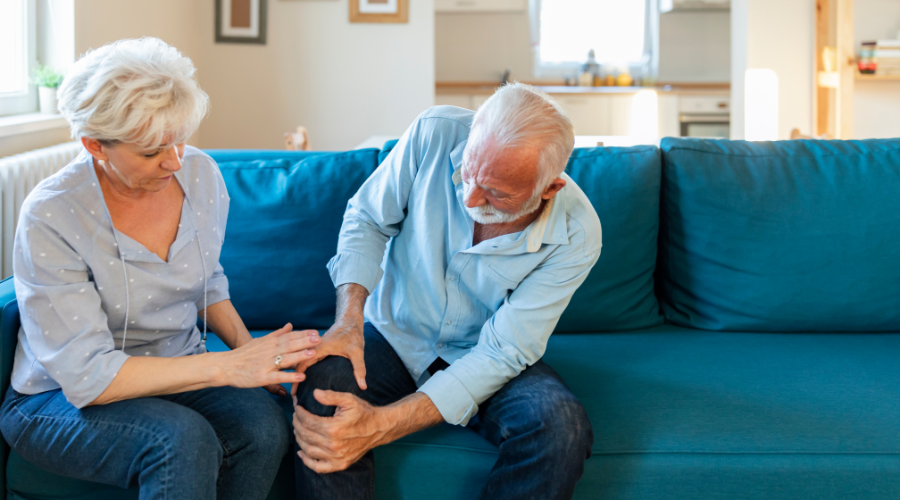 Arthritis is a prevalent form of joint disease that affects millions of seniors in the United States. Aging adults affected by arthritis can suffer from joint pain and stiffness. While medications might ease pain, seniors can turn to other forms of treatment that do not require prescription drugs.
The Centers for Disease Control (CDC) reports that between 2013 and 2015, an estimated 58.5 million adults were diagnosed with some type of arthritis. In just two decades, an estimated 78 million adults are projected to receive an arthritis diagnosis from a healthcare provider.
Arthritis is essentially a disease of the joint. Redness and swelling may occur in the joint in people diagnosed with arthritis. A rheumatic disease, arthritis causes pain, stiffness and swelling in the joints, muscles, tendons, ligaments, or bones. Over 100 different arthritic diseases exist.
Since a cure is unavailable for arthritis, sufferers must turn to alternate means to relieve pain and stiffness. Treatment depends on the individual's age, symptoms, and overall health. The severity of the disease and type of arthritis also impact the course of treatment.
Seniors who live with arthritis may be given short- and long-term treatments. The goal of treatment is to limit pain and inflammation and improve joint function. Medications, such as ibuprofen and acetaminophen, are a go-to form of short-term treatment and relieve pain and inflammation.
But taking either over the counter or prescription drugs comes with risks. Aging people with arthritis may, as a result, decide to seek non-drug forms of treatment. Several non-medication treatments are available and include topical creams, meditation, exercise, and choice of footwear.
1. Apply Heat and Cold
Applying heat to an area of pain increases blood flow, thereby reducing arthritic pain. Warmth also relaxes the muscles. Heat is a recommended form of treatment for osteoarthritis pain, especially. Seniors may apply heat via heating pads, heat patches, warm baths, warm compresses or hot waxes.
Cold therapy is also beneficial for reducing swelling and inflammation; it works by constricting blood vessels. Seniors who wish to use cold therapy should apply cold packs to inflamed areas two to four times per day in 15-minute increments, until the pain and swelling improve.
2. Exercise
Exercise is an extremely effective non-drug treatment that eases arthritic pain. In fact, physical activity is as effective as over-the-counter medications. Seniors who suffer from arthritis might elect to receive physical therapy to improve posture, strength, function, range of motion, and pain.
Safe physical activities aging adults can pursue on their own include swimming, walking, water aerobics or aqua jogging and bicycling. Medical experts agree that low-impact workouts come with fewer risks for injury than high-impact ones, such as running and jumping.
3. Wear Proper Footwear
Flat, flexible shoes are a better choice for seniors with arthritis, since they reduce the force placed upon knee joints. Closed, flat shoes with arch support are recommended over clogs, flip-flops, and special walking shoes to relieve pain from osteoarthritis of the knee and hip.
4. Receive Acupuncture Treatments
An ancient Chinese therapy, acupuncture is a natural pain reliever. This form of treatment works by increasing the production of endorphins, which is a morphine-like substance. Blood flow to the area may also increase, reducing lactic acids and other byproducts that cause pain.
5. Try Massage or Acupressure
Lightly massaging painful muscles increases blood flow and brings warmth to the muscles. Similarly, pain may also be reduced via acupressure. Caregivers may use their fingers, knuckles, and palms to apply light pressure to the painful areas, thereby easing the senior's arthritic pain.
6. Meditate
A regular meditation practice has the potential to ease any kind of pain, including pain caused by arthritis. Relaxation techniques work by reducing stress—and stress produces bodily chemicals that increase inflammation. When stress is decreased, inflammation and pain are likewise reduced.
7. Get Steroid Injections
Corticosteroids, such as cortisone, prednisone, and hydrocortisone, reduce inflammation. A medical professional injects the corticosteroid into the joint to ease inflammation. The pain-reduction effects of the injection last for days or months and is recommended for seniors with inflammatory arthritis.
8. Apply Topical Medications
Topical NSAIDs provide a direct anti-inflammatory benefit. Gels, creams, and patches work by blocking pain signals to the nerves. Other types of topicals work as counterirritants, producing a cooling sensation that distracts from the pain rather than affecting the inflammation.
9. Wear a Splint
Seniors with arthritis may wear a splint or brace to help rest the joint and protect it from injury. Resting splints may be worn during nighttime sleep to reduce pain or swelling. Working splints are worn while performing an activity to support a joint that might otherwise be painful.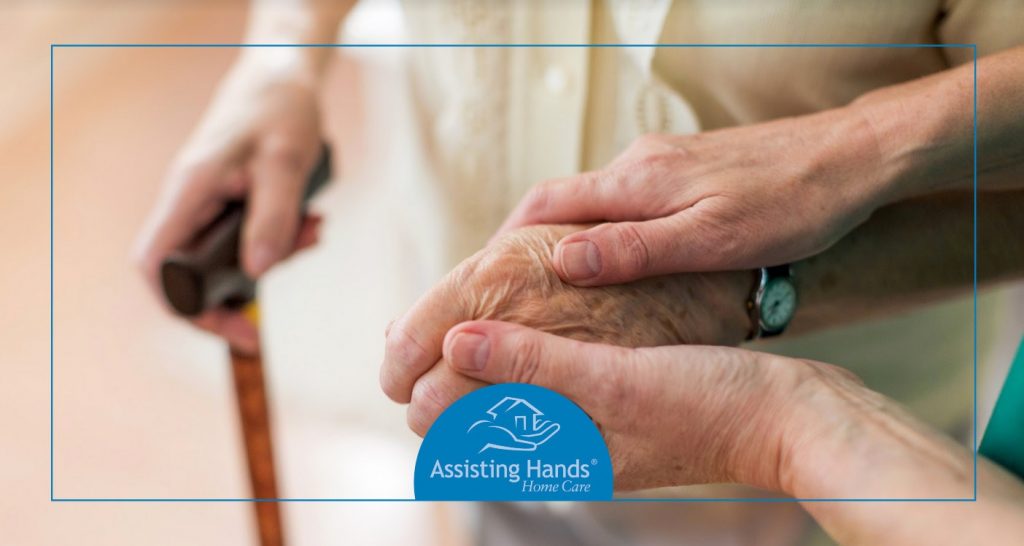 Managing arthritic pain can be successfully done without the use of medications. Seniors can implement the abovementioned methods to reduce their pain and inflammation. Aging adults who need help with any of these methods will find caregivers from Assisting Hands Home Care to be invaluable.
We are a recognized leader in non-medical home health care. Staffed with professional caregivers, our home care agency promotes the physical and emotional well-being of aging adults in their own homes. Caregivers support the daily non-medical needs of seniors of any ability level.
Companion care is an important part of the home care services we provide. Our companion caregivers build strong relationships with the seniors we serve, thereby reducing loneliness and isolation. We take care recipients on safe outings, play stimulating games, and hold pleasant conversations with them.
While we satisfy the emotional needs of seniors in our care, our caregivers also assist them with the activities of daily living. We help seniors with personal hygiene tasks, meal preparation, transportation, medication reminders and light housekeeping. Your loved one's daily non-medical care needs are met.
The comprehensive home care services provided by Assisting Hands Home Care are available to families with elderly loved ones living in Medinah, IL | Glendale Heights, IL | Itasca, IL | Elmhurst, IL | Villa Park, IL | Addison, IL | Lombard, IL and surrounding areas. Choose us when the senior in your life would benefit from quality companion care. Contact us at (630) 526-6522 today to schedule an in-home consultation.