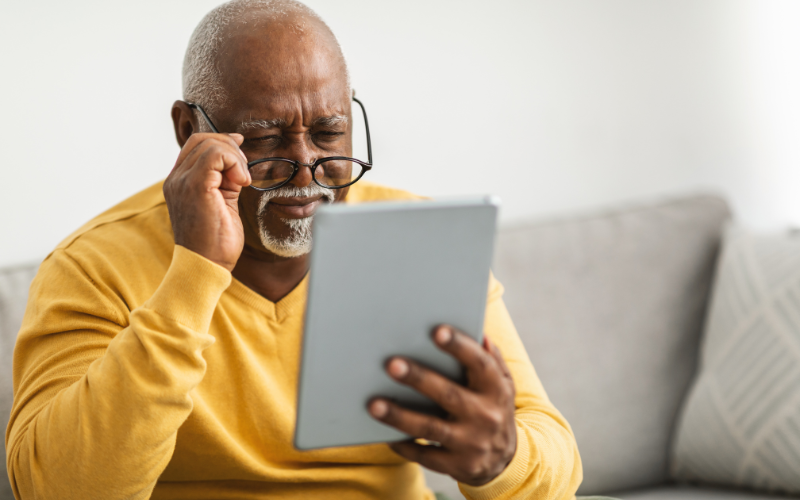 Preserving vision should be an integral part of healthy aging practices. Seniors expect vision to decline with age; but by implementing efforts to protect their eyesight, they can enjoy optimal vision for years to come. Following are tips the elderly and their caregivers can use to ensure healthy eyes.
Advancing age puts seniors at risk for eye diseases. Vision impairment affects approximately 6.5 million adults aged 40 and older. Nearly one million individuals in this age group suffer from some type of blindness. These statistics are expected to double as the population ages.
Age-related eye diseases are common. Problems with focus, known as refractive errors, are expected as seniors grow older. Presbyopia, for example, is a refractive error frequently experienced by people aged 45 and older. The nearsightedness causes difficulty focusing on up-close objects.
Vision impairment and blindness are caused by major diseases, such as cataracts, glaucoma, and age-related macular degeneration. The risk for developing these age-related eye conditions increases significantly once older adults reach the age of 65. Diabetic retinopathy can lead to eye issues, too.
In glaucoma, the optic nerve, located at the back of the eye, becomes damaged. Seniors diagnosed with glaucoma can experience vision impairment in one or both eyes. Cataracts, a familiar eye disease that affects more than 24 million seniors in the US, is a clouding of the eye lens.
Age-related macular degeneration develops when the light-sensitive tissue in the eye breaks down; the damage causes a loss of central vision. Diabetic retinopathy is a complication of diabetes. One-third of adults over 40 who have diabetes will develop this eye disease.
Tip 1: Get Yearly Eye Exams
If the abovementioned eye diseases are caught early by an eye care professional, the senior can take steps to prevent vision impairment. Regular eye exams are therefore the number one protection. By detecting eye issues early, seniors can act to protect their vision.
Tip 2: Know Family History
Hundreds of eye diseases are hereditary. Some of these diseases include glaucoma, age-related macular degeneration, and cataracts. Night blindness can also be due to genetic factors. Seniors are encouraged to learn about their family history so they can seek early treatment.
Tip 3: Eat a Healthy Diet
Seniors who eat a nutrient-rich diet reduce their chances of developing age-related macular degeneration and cataracts. Vitamins C and E, as well as zinc and lutein, are eye-friendly nutrients. Foods high in these antioxidants include green leafy vegetables, like spinach and kale, and fruits.
Tip 4: Treat Glaucoma
Seniors who develop glaucoma may not experience early symptoms or pain. Ensure glaucoma does not advance by scheduling a yearly visit with an eye doctor for a dilated eye exam. If glaucoma is diagnosed, it can be treated with eye drops, lasers, or surgery.
Tip 5: Treat Cataracts
Most seniors are aware of the possibility of developing cataracts. The cataracts that develop can remain small and have little or no impact on vision; conversely, they can grow large and reduce vision. If cataracts develop, seniors can opt for surgery to restore vision.
Tip 6: Treat Age-related Macular Degeneration
A dilated eye exam allows an eye doctor to look for signs of age-related macular degeneration. Effective treatments to slow or stop vision loss that results from this eye disease include photodynamic therapy (least common) and anti-VEGF injections in their eye once per month (most common).
Tip 7: Prevent or Treat Diabetic Retinopathy
Seniors living with diabetes are at risk for developing diabetic retinopathy, which produces no early warning signs. A dilated eye exam once annually can detect this disease. Aging people can prevent the condition by controlling their blood sugar, cholesterol, and blood pressure.
Tip 8: Prevent or Treat Dry Eye
Dry eye is common among the elderly but more so for older women. Tips for preventing the stinging, burning, or sandy feelings associated with dry eye include running a humidifier or air purifier in the home and using special eyedrops (known as artificial tears). Ointments can also treat dry eye.
Maintaining healthy eyes while aging is critical to avoiding a range of outcomes that can impact a senior's quality of life. Older adults who are visually impaired have a higher risk of falls and subsequent injuries, for example. Poorly lit hallways and stairs can result in falls and life-threatening injuries.
Seniors who are unable to clearly see and read the instructions on their bottles of prescription medications are at risk for taking the wrong dose, which can have severe health consequences. Similarly, vision impairment can affect how well an individual reads health-related written instruction.
An aging adult's emotional well-being can suffer due to vision loss. The senior may feel socially isolated or become depressed. Due to maintaining both physical and emotional health, it is important that seniors follow the abovementioned tips to ensure healthy eyes as they age.
When seniors need extra help in their efforts to commit to healthy vision, they can trust Assisting Hands Home Care. Our professionals are dedicated to improving the lives of elderly care recipients. We help seniors with all the activities of daily living in the comfort of the home environment.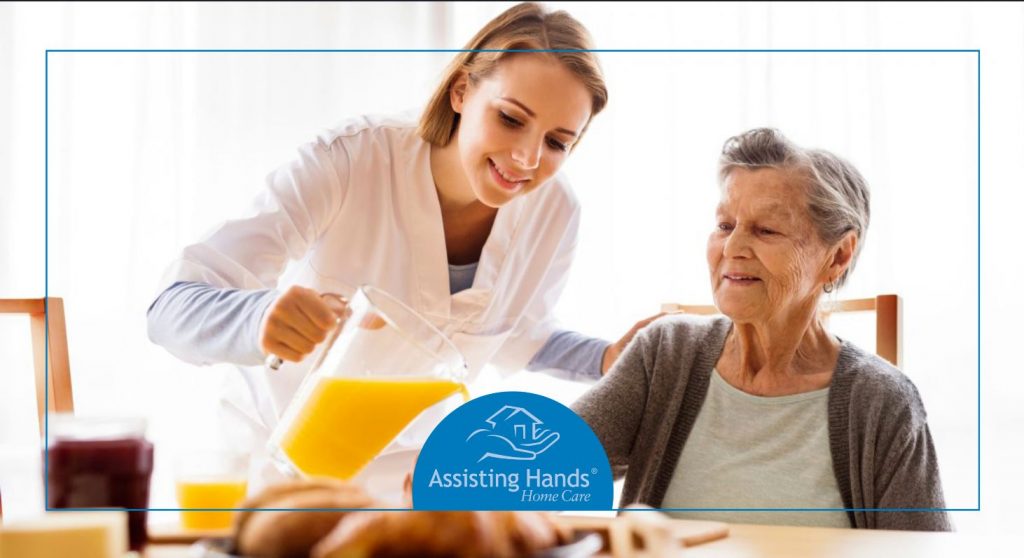 Caregivers from our elder care agency provide transportation to eye doctors for yearly exams; we're also available to drive seniors to senior centers and yoga classes, for instance. Additionally, caregivers prepare healthy meals, ensuring care recipients consume enough nutrients for optimum eye health.
Responsibilities include light housekeeping, medication reminders, and help with personal hygiene tasks. Your elderly loved one will receive comprehensive, nonmedical care from our caregivers. Care options are flexible, too. We offer live-in care, 24-hour care, respite care, and hospice care, among others.
Families with seniors living in Buffalo Grove, IL | Deerfield, IL | Lake Zurich, IL | Lake Forest, IL | Lincolnshire, IL | Mundelein, IL | Vernon Hills, IL | Highland Park, IL | Libertyville, IL | Round Lake Beach, IL, and the surrounding areas choose Assisting Hands Home Care for reliable support. Home care starts with an in-home consultation. We develop a suitable care plan that can be updated as care needs change. Call us at (224) 268-9068 to learn more about senior home care.