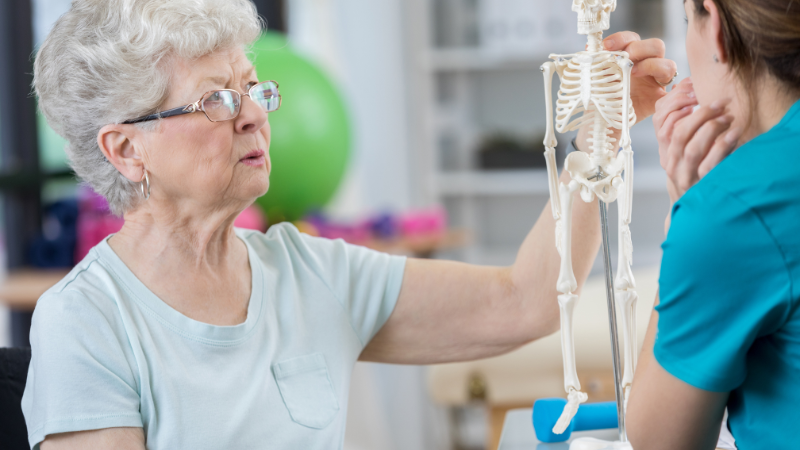 Bone fractures can occur in seniors who live with osteoporosis. The term osteoporosis translates as "porous bone." Since the progression of the disease weakens bones, it is important for seniors to prevent osteoporosis or treat the condition when it develops.
What is osteoporosis?
Osteoporosis can silently develop in individuals without them feeling pain or symptoms. Only when a senior suffers from a fracture is the disease discovered. Older adults with osteoporosis have a higher risk for sudden and unexpected bone fractures, since they have less bone mass and strength.
In the US, approximately 54 million people live with osteoporosis. Women are four times more likely than men to develop the condition. The disease strikes people after age 50; in fact, after this age, one in two women and one in four men will experience a fracture related to osteoporosis.
People with osteoporosis lose bone mass at a higher rate than those without the disease. Bones consist of living, growing tissue. The inside of healthy bone resembles a sponge; when osteoporosis develops, the holes in the bone grow larger in number and size, thereby weakening the inside of the bone.
What are symptoms of osteoporosis?
Known as a silent disease, osteoporosis may not have symptoms. However, seniors should be concerned when they lose height by an inch or more or their posture changes and they stoop or bend forward. Shortness of breath should be worrisome, since compressed disks can cause smaller lung capacity.
What are risk factors for osteoporosis?
Advancing age is a risk factor for osteoporosis. The risk increases for women over age 50 and those who have entered the postmenopausal stage. In the first 10 years after undergoing menopause, women lose bone rapidly, especially given the slowed production of estrogen, which protects against bone loss.
Men are not immune to developing osteoporosis. In men over 50, bone fractures caused by osteoporosis are more likely than prostate cancer. Each year, 80,000 older men are expected to break a hip; more men than women are likely to die in the year after the injury.
Petite women and those with slender frames are more likely to develop osteoporosis than females of average weight and those with larger body frames. The reason is that women in the former group have less bone to lose than those in the latter group.
Family history, too, plays a major role in whether or not an individual is affected by osteoporosis. When parents and grandparents show signs of osteoporosis, such as experiencing a fractured hip after a minor fall, it increases the likelihood of subsequent generations developing the disease.
Certain medications can lead to side effects that damage bones and cause osteoporosis. Examples of such drugs include steroids, those that treat breast cancer and those that help manage seizures. Seniors who take these medications are encouraged to speak with their doctor about the drugs' effects on bones.
What are treatment options for osteoporosis?
Aging individuals who have been diagnosed with osteoporosis may be treated with vitamin and mineral supplements, medications, and an exercise program. A single medication is not recommended to treat the disease; rather, the best drug is one that works for the senior.
Hormone-related therapies used to treat the condition include estrogen, testosterone, and raloxifene, which is an estrogen receptor modulator. Due to the potential for blood clots and heart disease, estrogen therapy is likely to be used in younger women and those who need to treat menopause symptoms.
How can osteoporosis be prevented?
A healthy lifestyle and a nutritious diet are two pivotal factors for controlling osteoporosis or preventing it. A balanced diet rich in calcium can help seniors maintain strong, healthy bones. Dairy products, like skim milk, are recommended, as are salmon, broccoli, sardines, and other good sources of calcium.
Regular physical activity can help reduce the degree of bone loss. Exercises that strengthen bones are ones that force the muscle to work against gravity, such as walking, jogging, aerobics, and weightlifting. Balance-strengthening exercises can help reduce the risk of falls and improve bone health.
Lifestyle modifications that also help prevent osteoporosis include not smoking and limiting alcohol. Smoking decreases the blood supply to the bones and reduces the production of bone-producing cells. Women who drink should limit themselves to one drink per day, while men may have two.
Seniors who fall increase their chances of a bone fracture. A fall-risk assessment performed by a qualified caregiver can prevent a fall. The professional caregiver will remove clutter and trip hazards, including wires and rugs. Families are also advised to install handrails to help seniors stabilize.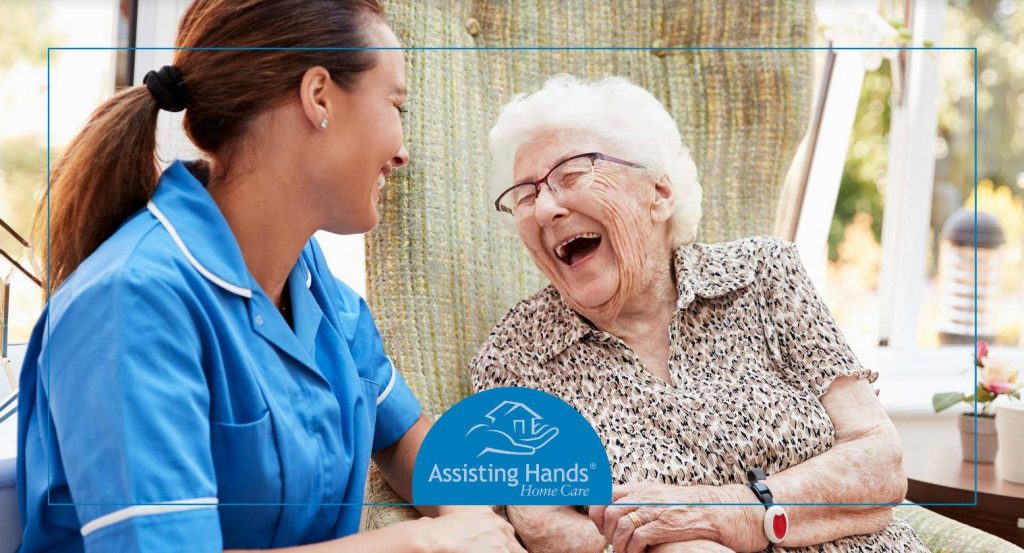 Aging adults with osteoporosis can lead productive lives. Nonmedical in-home health care from a reputable home care agency, such as Assisting Hands Home Care, is an invaluable source of support to both seniors and their families. We'll ensure care recipients remain healthy and safe at home.
Our responsibilities include help with all the activities of living, such as personal hygiene tasks. We offer transportation to doctors' offices and to conduct errands. Caregivers shop for fresh groceries and prepare nutritious meals so that seniors stay nourished. We also perform fall-risk assessments.
Assisting Hands Home Care services are comprehensive yet flexible. Our professional caregivers are available for short-term care, such as respite care, or long-term care, like 24-hour or live-in care in  Deerfield, Lake Zurich, Lake Forest, Lincolnshire, Vernon Hills, Highland Park, Libertyville, Round Lake Beach, IL and surrounding areas.
Care services from Assisting Hands Home Care include several additional care options, such as hospice care and post-surgical care. No matter what form of elder care a senior would benefit from, we will customize the ideal care plan. Call us at (847) 595-1222 for an in-home assessment and start quality senior care today.