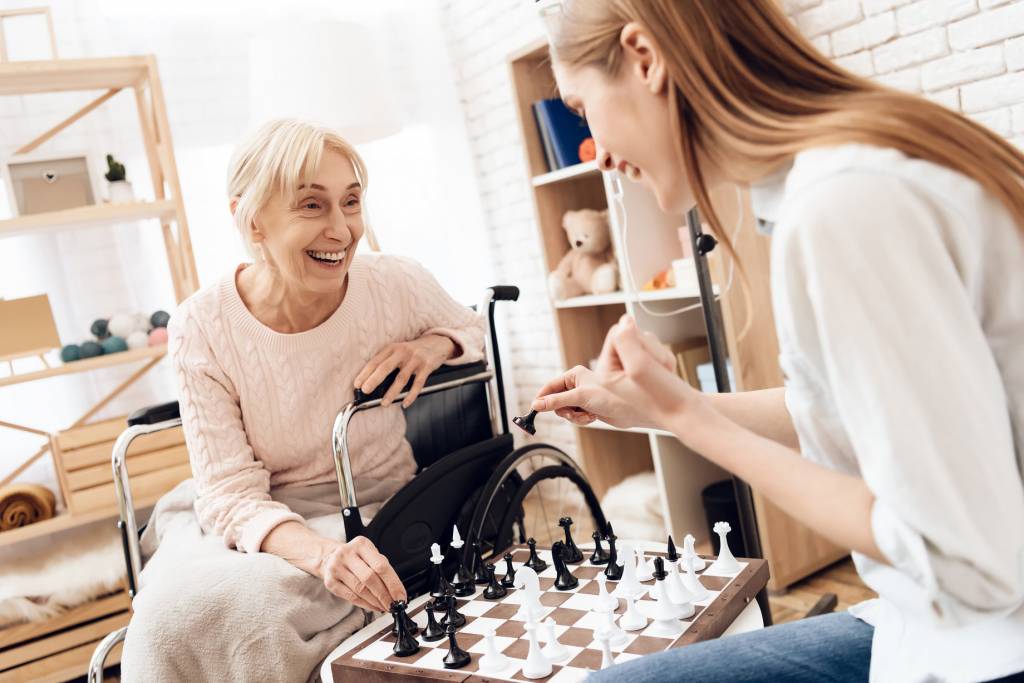 Cognitive health is as important as physical health. Brain health is simply the ability to think, learn and remember clearly. Exercising the aging mind is crucial to warding off ill health, such as cognitive decline. Plus, a healthy mind is essential for daily and independent functioning.
Brain games for the elderly are heavily advertised. While brain games have not been scientifically proven to deter severe cognitive impairment, participating in stimulating activities, like hobbies and volunteering, works toward improving cognitive reserve and allows the brain to become more adaptable.
Seniors may choose from any number of activities to nurture optimum brain health. Intellectual engagement leads to health as well as happiness. Thinking abilities and memory also improve in seniors who learn new skills. Here are enjoyable ways seniors can keep their minds active.
1. Exercise
Engaging in regular physical activity has shown to benefit brain health. Through exercise, the network connections in a senior's brain are maintained; and, new connections are formed. Physical activity also enlarges the size of brain structures related to memory and learning. https://www.nia.nih.gov/health/cognitive-health-and-older-adults
Unless the senior is a fitness enthusiast, simple exercises are beneficial. Ongoing studies point to the health benefits of brisk walking and other aerobic activities. Seniors should aim for 150 minutes of exercise each week, or 30 minutes several times weekly.
2. Stay Social
Being among friends and family is not only a welcome event, but social activities are linked with a decreased risk of dementia and cognitive impairments. Social activities may be sought out in senior centers, community programs, day centers and through volunteering.
Playing bingo at the local senior center is a fun way to stay connected with others. Seniors' senses are stimulated simply by playing the game. Hearing, touch and sight are worked as the older players respond to numbers, hold the bingo cards and see their progress.
3. Volunteer
Volunteering replaces the social contacts lost after retirement. Seniors' brain health improves with a wider social circle; in fact, studies reveal a 60 percent increase in the risk of developing dementia in elderly individuals who possess a limited social network.
Opportunities to volunteer for those 50 and older are plentiful. Feelings of well-being are achieved through various activities, like caring for animals, reading to youth, or helping a local charity shop. Along with reducing social isolation, volunteering gives seniors the chance to develop new skills.
4. Learn a New Language
New abilities are also developed through learning a foreign language. Seniors challenge their brains and reduce the effects of aging as they pick up a few words from online language classes, community centers or language lesson audiobooks. Learning with friends dually enhances seniors' sociality.
5. Read
While most seniors attempting to learn a new language will be less inclined to read a foreign language novel, reading books of all genres improves vocabulary and cognitive skills. Seniors triple the benefits of this immersive activity by retelling the story to others, thereby boosting memory skills and sociality
Older people might have a liking for reading newspapers, magazines or online articles, if not books. Some seniors enjoy reading children's books because they are easy to follow. At whatever level the senior chooses to read, the act of reading exercises the brain in the most entertaining way.
6. Identify Plants
Seniors with green thumbs will jump at the chance to be in the garden, bursting with wildflowers and other plants. While being in the great outdoors has its own set of health benefits, caregivers can challenge seniors' memories by asking them to identify the various botanical names of plants.
7. Play Chess
Chess players are known to play the game outdoors under the mid-morning sun. As an ancient game, chess can boost brain health. The development of strategy and need to plan ahead stimulate the brain. After a few months of playing, seniors with concentration issues see their focus improve.
Caregivers who play chess with senior care recipients should not worry if the centuries-old game is played correctly or not. Simply staying engaged and creative is sufficient to stimulate the brain. Furthermore, playing chess with a friend, caregiver or family member is entertaining.
8. Do Arts and Crafts
Creative seniors who enjoy crocheting, knitting or painting simultaneously boost their hand-eye coordination. The fingers and hands remain dexterous. The imaginations of older people are worked as equally as their brains. Arts and crafts projects are also affordable and accessible.
Even simple projects, like making a paper collage, exercise the senior's mind. Knitting socks for babies offers the aging crafter a sense of purpose. Upcycling photo frames and presenting them to friends and family are meaningful ways to add joy to a senior's life while engaging their brains.
9. Live a Healthy Lifestyle
No matter how many brain activities a senior participates in, cognitive function remains at its optimum level by leading a healthy lifestyle. Cognitive impairment is reduced by eating nutritious foods, like those in the Mediterranean diet. Seniors should also get adequate sleep and limit alcohol intake.
Seniors who increase their daily mental stimulation are more likely to remain independent for longer durations. Older adults may still need support at home. For these seniors, Assisting Hands Home Care is available and ready to provide compassionate home care.
Memory care providers from Assisting Hands Home Care are trained to engage the minds of elderly care recipients with brain games, such as puzzles and cards, as well as pleasant conversation. We keep our seniors company through our companion care services, which reduces social isolation.
When your loved one desires to attend a social event at the local senior center, our caregivers provide safe transportation to the center. As a part of our home care services, we shop for fresh groceries and prepare nutritious meals, which helps promote optimum brain function in the elderly.
Seniors living in Yorkville, Bolingbrook, Plainfield, Joliet and surrounding communities are encouraged to contact Assisting Hands Home Care for our quality in-home support. Our caregivers are skilled in helping older adults remain mentally vibrant and physically healthy. Call us at (815) 201-5445 for the best in-home care.