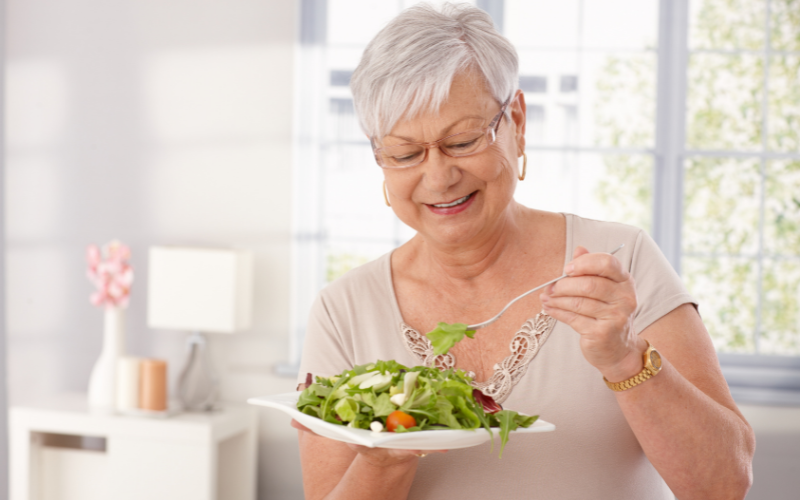 Good nutrition is important throughout life. Consuming the recommended amounts of vitamins and minerals can prevent chronic diseases in the elderly. It's never too late to begin eating balanced meals and experiencing the health benefits. Following are guidelines to support healthy aging.
Eating nutritious meals is essential for maintaining health. Older individuals are at greater risk for developing chronic ailments, such as heart disease and cancer; osteoporosis and other conditions that cause changes to the aging body's muscle and bone mass are also common in this age group.
Fortunately, seniors can lower their risk of developing these health conditions by eating foods that are rich in nutrients. An active lifestyle that includes aerobic exercise, strength training, balance exercises, and flexibility exercises is also advised to keep the body fit and strong.
What impacts seniors' appetite?
A balanced diet is one that includes a variety of foods from different food groups. However, older adults may be less inclined to eat nutritiously because they have low calorie needs. This may be due in part to any of many reasons associated with the natural aging process.
For example, aging individuals are less physically active, which causes them to eat less. Changes in metabolism can also affect their appetite. Chronic health conditions, age-related loss of muscle or bone mass, prescription medications, and changes in body composition can impact their daily nutrient needs.
It is therefore critical for optimal health that seniors make good food choices. Because every bite counts, caregivers are urged to help their care recipients follow a healthy dietary pattern. Friends, family, and health professionals can help seniors meet nutrient recommendations.
What are the dietary guidelines for seniors?
1. Vegetables
Consuming vegetables is a major component of improving diet quality. Seniors can choose from a range of vegetable options: dark green vegetables (broccoli, spinach), red and orange vegetables (carrots, tomatoes), and beans, peas, and lentils (kidney beans, split peas, and chickpeas).
Starchy vegetables, such as yams and white potatoes, should also be included in a senior's diet. Other vegetables that deliver ample nutrients include cucumber, brussels sprouts, mushrooms, seaweed, and snow peas. Daily helpings of vegetables can be eaten fresh, frozen, or canned.
2. Fruits
Fruits are rich sources of vitamins and older adults should incorporate plenty of them in their diet. Berries include blackberries and kiwifruit. Eat citrus, such as oranges and pomelos. Watermelon and honeydew are fruits that have a high water content and provide both nutrients and hydration.
3. Protein
Eating protein helps seniors prevent the loss of lean muscle mass. Protein can be found in foods, like eggs, meat, and poultry. Older adults should also be aware that seafood, dairy, and fortified soy alternatives are excellent sources of protein and provide calcium, fiber, and vitamin B12.
Seniors are advised to consume seafood that is lower in methylmercury, such as catfish, flounder, salmon, and tuna. Nuts (opt for unsalted nuts), seeds, and soy products are rich in protein. Soy products include tofu, tempeh, and foods made from soy flour and soy protein concentrate.
4. Dairy
When choosing dairy products, look for fat-free or low-fat options. Buttermilk, kefir, cheeses, and yogurt can be found in any grocery store. Dairy products can be fluid or dry versions yet still deliver important nutrients. Similarly, lactose-free, lactose-reduced, and fortified soy beverages are recommended.
5. Grains
Dietary guidelines for seniors include both whole and refined grains, whether they are whole-grain products or whole grains used as ingredients. Examples of whole grain products are brown rice, quinoa, oats, and popcorn. Seniors may also eat wild rice, whole-grain cereals, and crackers.
When opting for refined grains, choose foods that are enriched. White breads, corn grits, cream of wheat, and cream of rice are excellent options. Pasta, white rice, and barley (pearled) are good food choices for fulfilling the daily recommended amount for grains.
How do seniors increase vitamin B12?
The aging body is less able to absorb vitamin B12. Seniors are advised to meet this nutrient need through foods, like breakfast cereals. They can also increase their vitamin B12 intake with dietary supplements; talk with a healthcare provider before starting supplements.
How does home care improve dietary quality?
Following dietary guidelines helps seniors fuel and support their bodies. Take the guesswork out of eating by allowing a caregiver to create a shopping list for budget-friendly foods, plan nutritious meals in advance and stay within the number of calories to maintain a healthy weight.
Caregivers can encourage older adults to eat by sharing meals with them. Companionship during mealtimes enhances the enjoyment of food and improves dietary patterns. Caregivers can also prepare appealing soft foods for aging individuals who have trouble chewing or swallowing.
Seniors benefit from knowledgeable caregivers who support them in their efforts to eat nutritiously and reduce their risk for developing chronic health conditions. Assisting Hands Home Care provides the essential services, such as meal preparation and grocery shopping, to keep seniors healthy.
Professional caregivers from our reputable home care agency prepare balanced meals in accordance with the care recipient's dietary plan. We ensure seniors remain hydrated throughout the day. Included are medication reminders, light housekeeping, transportation, and help with personal hygiene tasks.
Families are offered a wide variety of elder care services. Our caregivers are available for respite care, 24-hour or live-in care, post-surgical care, compassionate Alzheimer's and dementia care as well as home hospice care. Companion care ensures seniors remain socially engaged and active each day.
Assisting Hands Home Care services are designed to promote the dignity of aging care recipients. We support them with all the activities of daily living but encourage independence when it is safe. Seniors feel increased confidence when our caregivers provide extra help at home.
When your aging loved one aims to eat healthy, exercise more, or wishes for help with daily activities, Assisting Hands Home Care is the solution. We fulfill the non-medical care needs of seniors in  Buffalo Grove, IL | Deerfield, IL | Lake Zurich, IL | Lake Forest, IL | Lincolnshire, IL | Mundelein, IL | Highland Park, IL | Libertyville, IL | Round Lake Beach, IL , Vernon Hills, IL and the surrounding areas. Call Assisting Hands at (224) 268-9068 to schedule a free in-home consult and learn how in-home care promotes healthy aging.