When an elderly person falls, it can be a very dangerous situation. The CDC estimates that more than 1 in 4 people aged 65 or older fall every year. Also, if they fall one time, the risk that they will fall again is doubled. Seniors can experience major injuries such as hip fractures and head injuries when they fall as one out of five falls results in injuries. Falls can also be fatal as thousands of seniors die from falls each year.
If you have senior loved ones, it is important to take any steps necessary to prevent falls. If your loved one does fall in your presence, you have to be careful when helping them up because there is a chance that they could be injured. It is very important to know what to do to help your senior loved one without injuring them further in case they do fall.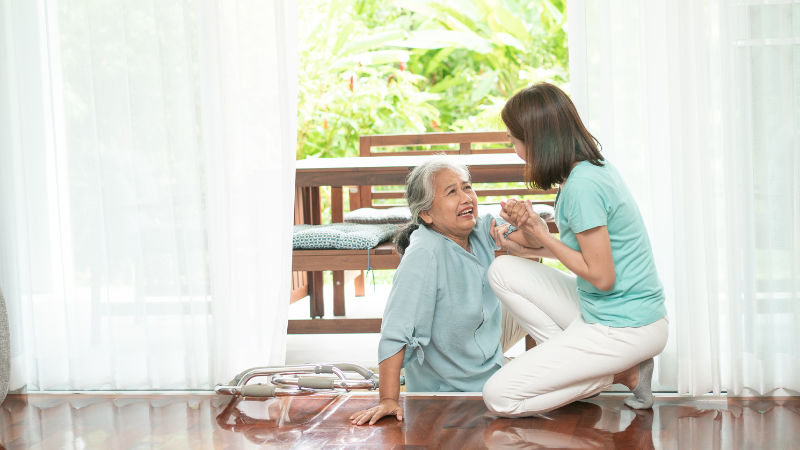 Steps to Take if your Senior Loved One Falls
If your senior loved one falls, you must come to their aid immediately. Only once you confirm that they have not suffered a serious injury should you help them up. Here are some steps to take if your loved one falls so you can safely get them back up.
You should remain calm and try to help them take deep breaths so they can be calm.
Check them for any injuries such as bruises, sprains, or broken bones.
Ask if they are hurt and try to determine if the injury is severe.
If you do notice that your loved one has an injury such as a broken bone or bleeding, don't try to move them. Instead, you should call 911 and comfort them until emergency services arrive.
If they don't have an injury and simply want to get up, you should help them up slowly. If they get tired, are feeling pain, or are stuck, you should stop.
Take two chairs and put one by their head and another by their feet. You should be aware that your loved one should be able to have the strength to pull themselves up. You will be their guide through the steps and make sure to keep them steady. Do not try to lift them. However, if you do realize that you are unable to do this, call for a lift assist.
Your senior loved one can roll over to one side so they can try to get on their hands and knees.
The chair that was placed by their head can now be put in front of them so they can rise up and place their hands on the seat of it and get into the kneeling position.
They should try to lean forward on the seat and bring the leg that is strongest forward, starting with the knee which will help them get to where they can put their foot flat on the floor.
The second chair should be moved behind them. Then, they should use both arms and legs to put themselves up and sit into the chair. You can help them by using your hands to keep them steady. You should keep your back straight so that they are doing the physical work to lift themselves.
The senior should stay seated until you are sure they can stand and you are sure they are not going to fall and hurt themselves.
Their doctor should be notified that they've fallen and keep monitoring them in case they have any pain or emerging injuries.
The same steps can be taken if the senior does not have a caregiver present during their fall. However, they can use a sturdy piece of furniture to do these steps.
Always Notify the Doctor About Falls
Many seniors 65 and older fall each year. However, according to the Centers for Disease Control and Prevention (CDC), they do not report the falls to their physicians. Most seniors are embarrassed, as a fall for them indicates that they are unable to be independent and that they need assistance. However, not telling their physician about the fall will prevent them from getting the support they need to prevent them from further falls and possible injuries.
Unfortunately, a senior falling once doubles their chances for falling again. However, if their falls repeat, that means that there is an underlying problem that needs medical attention and should be addressed. If your senior loved one falls frequently, there is a chance that they can injure themselves by breaking their hip or they can suffer something more serious such as a head injury. If a senior falls once, they may have a fear of falling again and might limit their activities to avoid another fall.
When a senior falls and tells their family, it gives them a chance to get help including putting safety measures in place and working with their doctor to find different solutions. This is especially important if falls are frequent. It is always best to reduce clutter, have grab bars installed, use a mobility aid, change prescription medicine, do some physical therapy, and get a medical alert system which can make all the difference. Therefore, it is crucially important that your loved one notifies their doctor about their fall. This will help ensure that they haven't suffered any injuries and they can give suggestions on how to prevent future falls.
Senior Care from Assisting Hands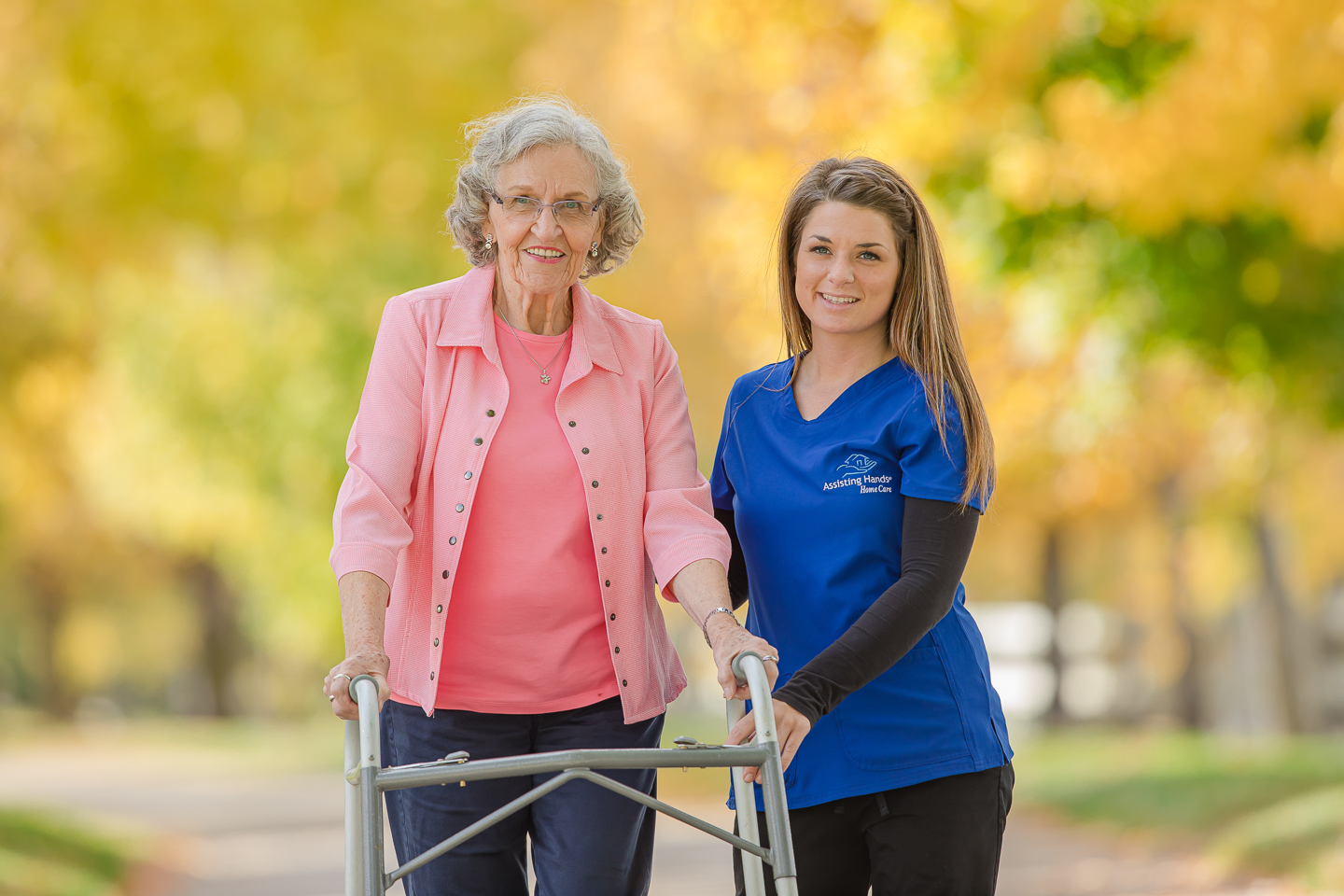 Have you or a senior loved one suffered a fall? Assisting Hands Home Care can help. Our highly skilled caregivers provide senior home care services that cater to the needs of your loved one. We will create a care plan that encompasses all of their needs as well as a schedule that works best for them. The care plan can be modified as the needs of your loved one change. If your loved one has chosen to age at home, it is extremely important for them to get help with any activities they are no longer able to do. Our caregivers will gladly help with fall prevention techniques and make sure your loved ones can get around their home safely.
For professional senior home care make sure to call Assisting Hands Home Care at  (630) 948-8193 to learn more about our services.