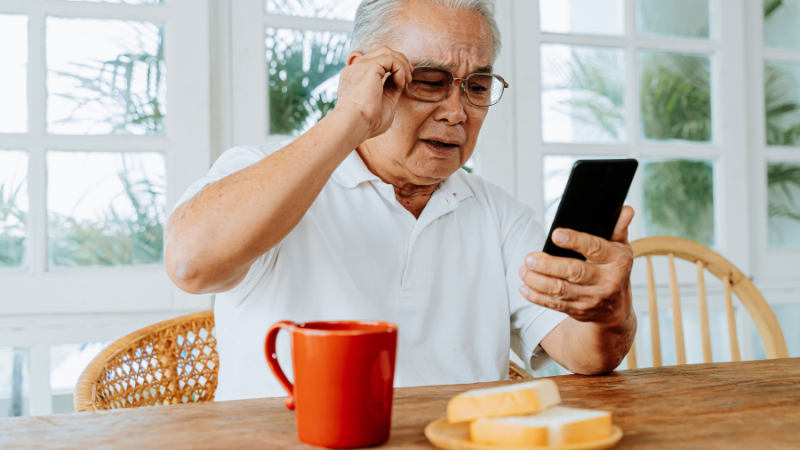 Vision loss is a common condition affecting seniors over age 60. While the loss of vision largely affects the senior, the family, too, is impacted. Seniors, however, can learn new adaptive strategies to cope with their vision loss and lead safe and independent lives.
By the age of 65, approximately one in three individuals experiences some type of vision impairment. The loss of vision in this age group is considered to be a major healthcare problem, as it reduces a senior's ability to independently perform the activities of daily living.
What are the causes of vision loss?
Cataracts are one of the most prevalent eye conditions that impact the elderly. The risk for developing cataracts increases with age. Certain chronic diseases can cause eye problems, too. In seniors who live with diabetes, diabetic retinopathy is a leading cause of blindness.
Optic nerve damage and visual field loss occur as a result of glaucoma. Like diabetic retinopathy, it is a leading cause of blindness. Age-related macular degeneration (AMD) is another leading cause of vision loss in seniors over age 65. Advancing age, smoking, and hypertension are risk factors for AMD.
Eye disease, like those mentioned above, can drastically reduce a senior's ability to function in daily life, since vision affects nearly every aspect of life. Impaired vision can cause some seniors to withdraw, fall depressed, or become inactive. Despite the limitations, seniors can still lead active lifestyles.
1. Understand the eye condition
Families and caregivers are urged to understand the underlying cause of the vision impairment. A routine eye exam should be scheduled once a year. An ophthalmologist will assess the senior's eyesight, looking for new or worsening eye conditions. Early detection and treatment can prevent lasting damage.
2. Install ample lighting
The senior's surroundings should ideally be well-lit and without glare. Specialized lamps and bulbs are available to provide ample contrast and reduce glare. Install task lighting for specific activities, such as reading, knitting or other crafts and playing games, like cards.
3. Organize the household
Caregivers who establish and maintain organization within the household will make life easier for seniors with low vision. Designate spots for specific items. For example, place the TV remote, keys, or other small objects in the same basket so that the senior knows where they are located.
4. Use tactile and visual systems
A senior with poor vision can better navigate the environment when a combination of tactile and visual systems is implemented. Tactile systems may include rubber bands or felt on objects to mark their placement. Visual systems use colored stickers to differentiate individual items.
5. Implement contrasting colors
Items with similar coloring, like onions cut on a white cutting board, can be difficult for seniors to manage. Embrace color contrast by providing a dark cutting board to cut light-colored foods, and vice versa. In the bathroom, choose towels and bathmats that contrast sharply with the wall colors.
Visual impairment can be a safety hazard since it is harder to detect doorways and stairs that blend in with the surroundings. Improve physical safety by painting door jambs in a contrasting color and adhering brightly colored tape to highlight the edges of steps.
6. Choose larger print
Some everyday items come in versions that feature larger print. Example of items that come with bigger print or numbers include checkbooks, calculators, calendars, senior-friendly smartphones, remote controls, clocks, watches, and playing cards. Magnified goods are essential for seniors with low vision.
When specific items are not available with larger print or numbers, magnifiers from low vision supply companies are an alternative. Electronic magnification units can be utilized to read bills and books, write checks, look at photos, and complete detailed tasks, such as filling an insulin syringe.
7. Consult a low vision specialist
Low vision specialists possess the knowledge to develop customized solutions for seniors with vision impairment. Vision rehabilitation professionals are experts in providing mobility training as well as helping the elderly locate low vision aids and providing instructions for their use.
8. Provide a medical alert system
A wearable medical alert system can be a lifesaver if a senior with low vision falls or is otherwise injured and requires emergency attention. Some systems offer features, such as fall detection. A medical alert system provides peace of mind to older adults whose goal is to live independently.
9. Offer moral support
New or worsening vision problems are concerning, so it's important for caregivers to provide seniors with unwavering moral support. Encourage the elderly to continue socializing and pursuing activities they enjoy. Offer to accompany them on outings to boost their confidence in their abilities.
Caregivers may notice seniors struggling, and low vision may be to blame. Misplacing the phone or remote, spilling foods or liquids frequently, stumbling over steps, failing to recognize people, calling the wrong phone number often, or signing off the line in paper documents are signs of poor vision.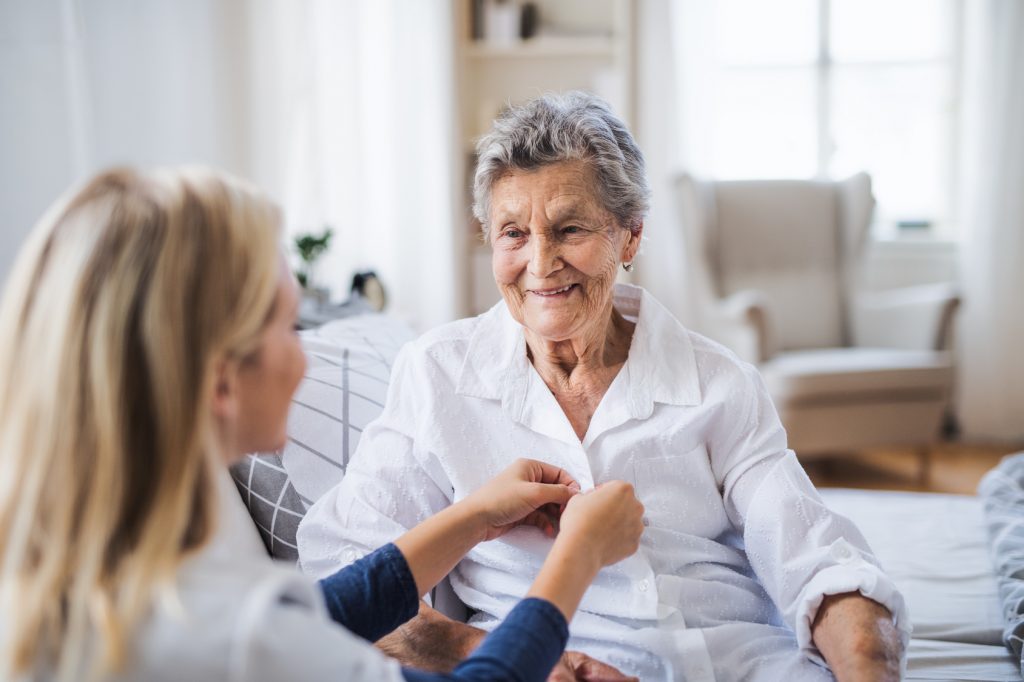 When your elderly loved one's vision has declined, the desire to live independently may persist. The senior's safety and independence at home can be dramatically improved when a professional caregiver from Assisting Hands Home Care supports the senior with quality nonmedical home health care.
As a home care agency with a reputation for excellence, we provide seniors with the right level of elder care in the comfort of home, making it possible for older adults to age in place. Families, too, are comforted knowing a professional is readily available to provide aid.
Companion care, for instance, ensures seniors stay socially active. Our caregivers play card games, carry on pleasant conversations, and take care recipients on safe outings. We also assist seniors with grocery shopping, personal hygiene tasks, transportation, medication reminders, and light housekeeping.
Seniors living in Addison, Bensenville, Elmhurst, Glendale Heights, Itasca, Lombard, Medinah, Villa Park, IL  or the surrounding areas, have plenty of reliable elder care options from Assisting Hands Home Care. We'll schedule an in-home consultation to evaluate care needs and develop a flexible care plan. Call us today at (630) 526-6522 and help your elderly loved one with vision loss live safely and independently.