At one point or another, most seniors feel the need to downsize their homes. When children move out and retirement age is reached, there just isn't a need anymore for a home with enough space to fit a whole family. In addition, the responsibility of repairs and maintenance becomes increasingly burdensome on older adults who may be beginning to lose their physical capacities. Downsizing is a great solution for seniors looking to maintain their independence while keeping their expenses and responsibilities minimal.
Despite all the benefits of downsizing, the experience can be emotionally and logistically tasking for everyone involved. From finding a new place to doing all the work required to actually get there, the senior in your life may need your support to execute the plan and ensure a smooth transition. Here are six tips that will help you through the process.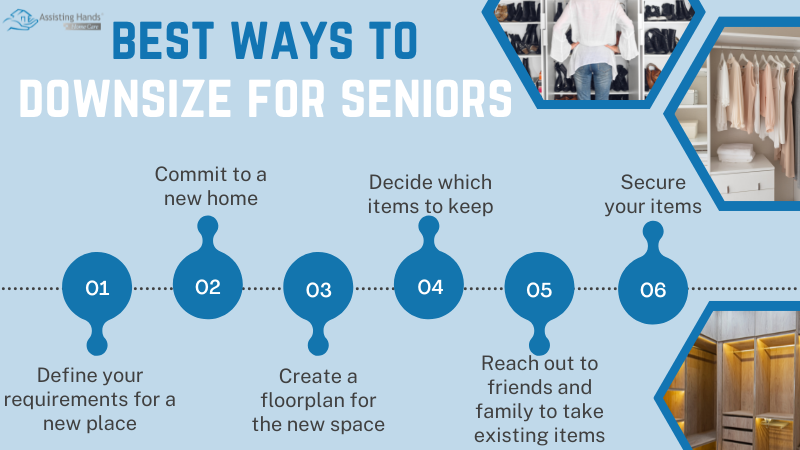 1. Define your requirements for a new place
Before you start packing up boxes to help your seniors leave their existing homes, it's helpful to get an idea of where they'll be headed next. Figure out what you're looking for in a new home including the price, location, size, etc. These will give you some direction when you begin searching for a suitable future home.
2. Commit to a new home
Once you've laid out your standards, zero in on the option you want to move forward with. Deciding on a new place before leaving the old one is helpful because it will tell you exactly how much space your senior will have to work with when they leave their current home. Having this information will be useful in determining what stays and what goes as far as furniture, electronics, etc. In addition, knowing the next destination gives you and your loved one something exciting to look forward to as you do the work required to downsize.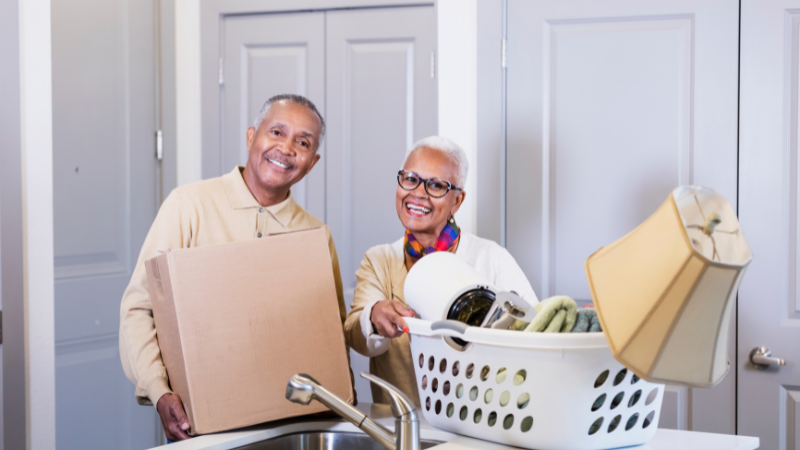 3. Create a floorplan for the new space
Before seniors move, the elderly need to try and picture themselves in their new homes. They also need a good understanding of what will fit into the rooms that are available. To ensure that your loved one is bringing an appropriate amount of items into their new home, create a floor plan. Find out what furnishings they plan to take with them when they move, then measure each piece of furniture and use these measurements to create a room-by-room floor plan of the new space. This can help you determine what items are truly essential and which ones are more discretionary, so your loved one can make decisions about what's worth keeping and what should be left behind.
4. Decide which items to keep
When selecting which items to keep and which ones to toss, start by asking your loved ones what they can't live without. These could be essential pieces of furniture, clothing, or keepsakes that are dear to their hearts. These items must be accommodated in the new space. From there, make a separate list of items they don't want to get rid of completely, but might not fit into a smaller home. These items can be put in storage or left with close friends and family for safekeeping. Items that don't make either list can be tossed or donated to a charitable organization that will find them a new owner.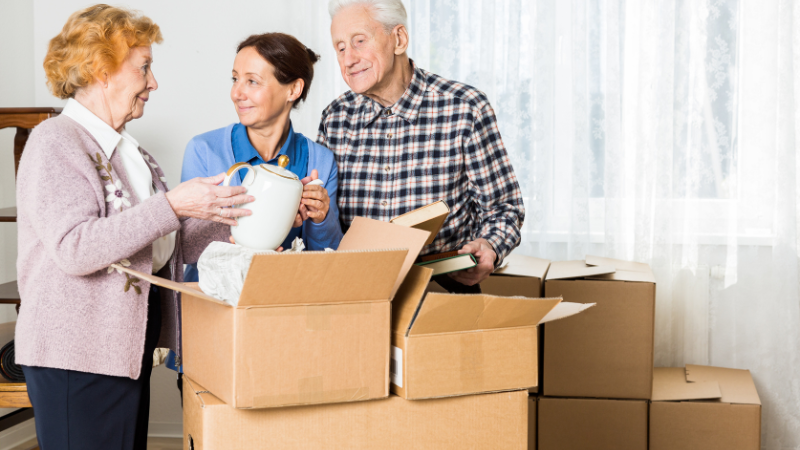 5. Reach out to friends and family to take existing items
If there are items your loved one won't be needing in their new home, you'll need some way to get rid of them. The easiest way to go about this is to reach out to immediate friends and family first to see if they can make use of anything, and then donate or sell any leftover items. Many charities offer item pickup services for donations, so be sure to check for that if there are any pieces of furniture or other large items your senior no longer needs.
It's important that seniors with Alzheimer's and Dementia maintain their routine. Moving to a new home can be a challenging time for them. That's why it's important to take the time to help them settle in and feel comfortable in their new home. Keep boxes with items that are familiar and connected to memories, or remind them of how they used to enjoy life.
6. Secure your items
Downsizing and moving are never easy. Downsizing a home while attempting to sell can be even more difficult. You want to be sure that your loved one's belongings are secure and not damaged during this process, and that the home appears presentable for showing to new buyers. Renting storage units or borrowing family members' garages are great options for safely storing valuables and giving your loved one's home a less cluttered appearance for potential buyers.
When the time comes to help a senior loved one downsize to a smaller home, it's helpful to have a plan. Knowing where they'll be headed, which items they can't live without, and having the support of outside friends and family will all help to make the transition as smooth as possible.  Once your loved one is settled into their new place, a trusted senior care provider can assist with giving them the support they need to continue living on their own safely. Contact Assisting Hands Home Care in Sarasota, FL at (941) 444-2515 to see how we can assist your loved one with our elderly home care services in Sarasota, Siesta and Longboat Key, North Port, and Bradenton, FL.