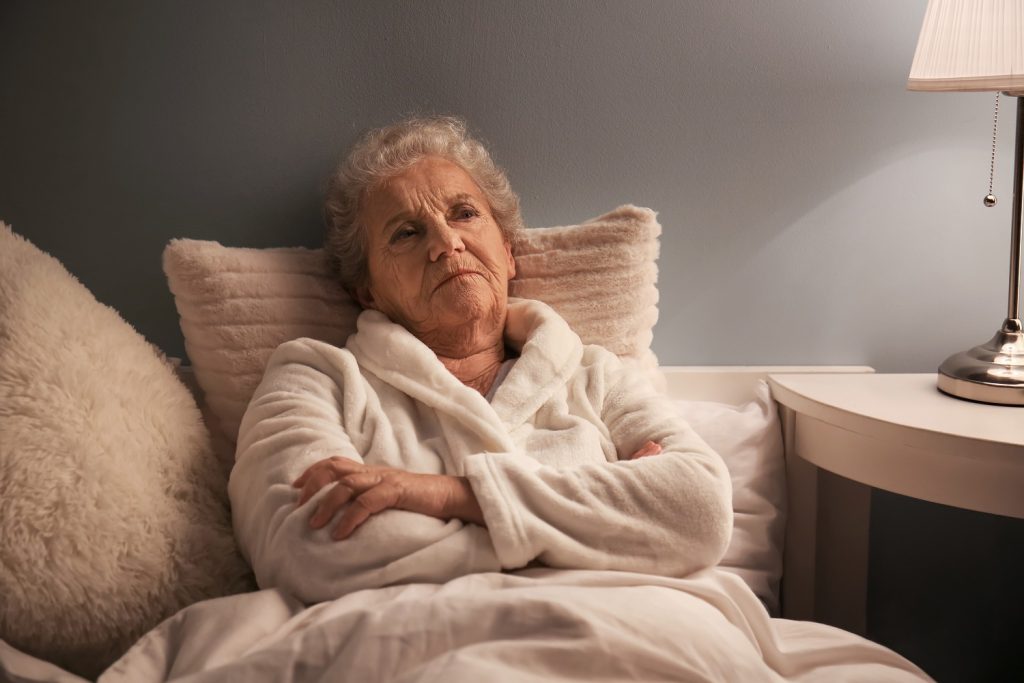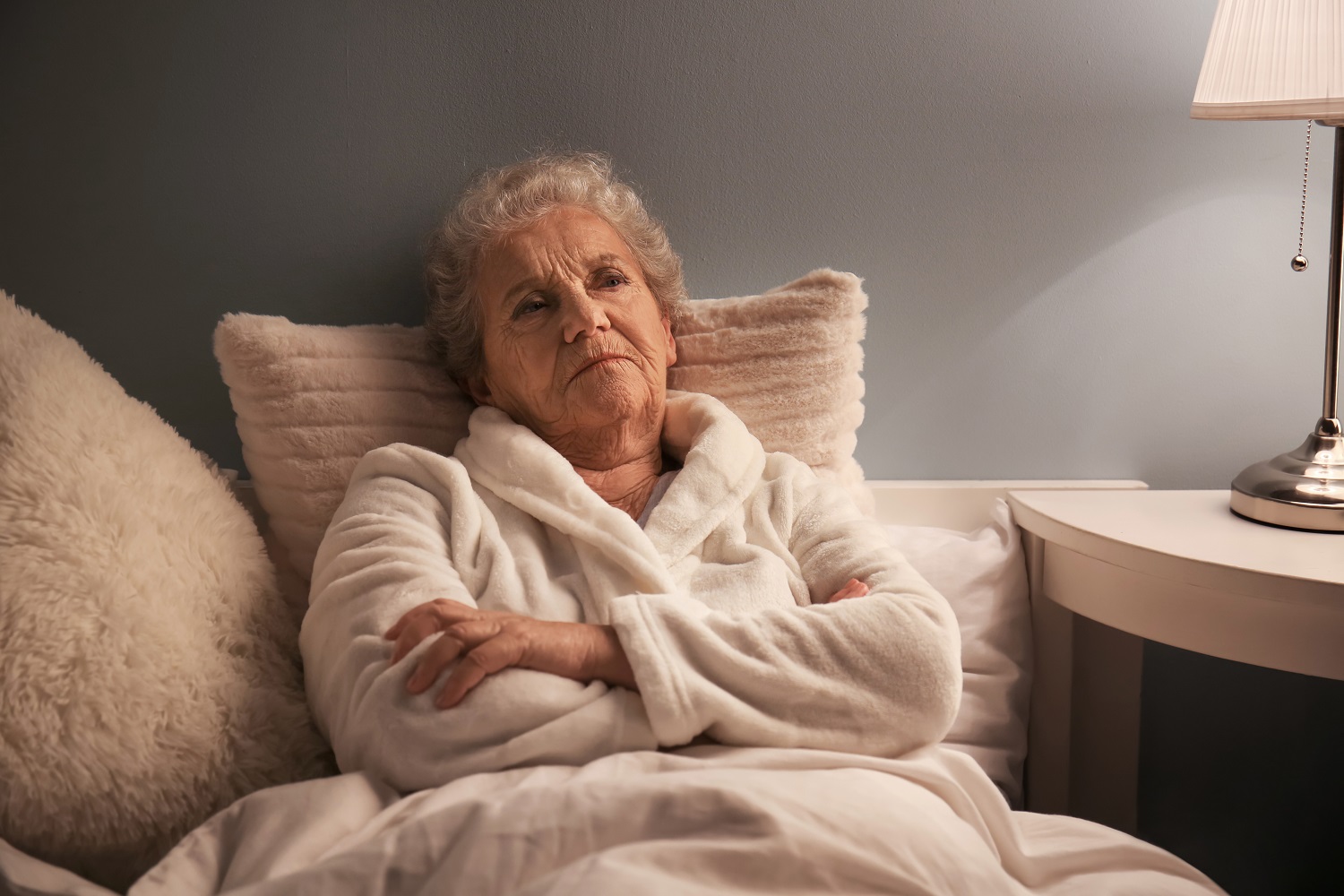 Sleep patterns change in the elderly. Some seniors may have a more difficult time falling asleep or staying asleep. When awake, they may have a need to get out of bed, which can pose as a safety issue. Here's how to ensure elderly parents stay in bed throughout the night.
Why do seniors experience disrupted sleep?
Melatonin is a natural hormone that regulates sleep cycles. The aging body, however, produces less melatonin, which can affect the sleep patterns of elderly individuals. In addition to hormones and chemicals, health conditions can cause aging people's sleep patterns to change.
Diabetes and prostate issues, for instance, can cause a senior to feel the need to urinate several times per night. Heart failure or kidney disease will make it difficult for older people to lie flat. Being uncomfortable makes it harder to get a good night's rest.
Insomnia is common, too. The Journal of Clinical Sleep Medicine concludes that up to 48 percent of seniors experience symptoms of insomnia. Chronic insomnia makes falling asleep a challenge. Other individuals wake up several times throughout the night and have difficulty falling back to sleep.
Dementia and Alzheimer's disease are known to contribute to insomnia. Certain medications, such as those to treat depression or high blood pressure, also lead to sleep quality issues. Caffeine and a lack of daytime physical activity can make falling asleep harder to do.
Why is it unsafe for seniors to get up at night?
Senior safety is the primary reason to keep the elderly in bed at night. Falls that occur at night are prevalent. The dark nighttime environment combined with seniors' poor vision can lead to trips and falls. As a result, an elderly parent may become injured or be hospitalized.
Click here if you are interested in knowing more about What to Do If Your Senior Loved Ones are Afraid to be Alone at Night
How do caregivers keep seniors in bed?
Families and caregivers can prevent seniors from getting out of bed by eliminating their need to do so. Create a comfortable sleep environment, ensure the seniors' needs are met and establish a nighttime routine to keep elderly individuals in bed throughout the night.
1. Meet Bathroom Needs
One of the main reasons aging parents get out of bed at night is to use the bathroom. By providing bathroom assist products, the senior will have little need to exit the bed. Examples of useful products include bed pans, urinals, under pads and overnight adult diapers.
Caregivers are encouraged to decrease the senior's fluid intake before bedtime to reduce urine production, and, therefore, the need to urinate at night. Ensure the senior avoids consuming bladder irritants, such as coffee and alcohol, eight hours before bedtime. Remember that hydration is still important.
2. Set Up a Bedtime Organizer
Seniors may leave the bed at night in search of snacks, medications, or drinks. Set up a bed stand or organizer stocked with food, bottled water, medications and pain killers so that the elderly parent has no need to leave the bed.
A bedtime organizer that is set up within arm's reach may also hold various sources of entertainment. An elderly parent who cannot fall asleep may pick a book from the shelves and turn on the reading light—all without exiting the bed.
3. Prepare for Nighttime Rest
Family caregivers who schedule physical activity into their parents' days will help promote the latter's sleep at night. Daytime exercise helps older people get a good night's sleep. Also limit daytime naps to no longer than 20 minutes. Ensure the senior goes to bed at the same time every day.
4. Install Safety Rails
Safety rails installed along the sides of the bed prevent seniors from falling out of bed at night. In the event the aging parent needs to leave the bed at night, the safety rails provide support; the senior may hold onto them while climbing into or out of bed.
5. Practice Safety
Despite taking safety precautions and limiting a senior's need to get out of bed at night, occasions may arise when they need to leave the bed. Modify the surrounding environment to make it safer for elderly parents to walk around in the darkness of night.
Rearrange the furniture to prevent accidental tumbles. A layout may appear safe during daylight hours, but at night, the same layout can be a fall risk. Create a clear path for the senior to travel when heading from the bedroom to the bathroom or kitchen.
Install railings along the hallway walls for added support as they navigate dark corridors. Smart lights that sense movement will switch on when seniors move; extra lighting can prevent a nighttime fall. Replace throw rugs with nonslip mats and ask the senior to wear house shoes for traction.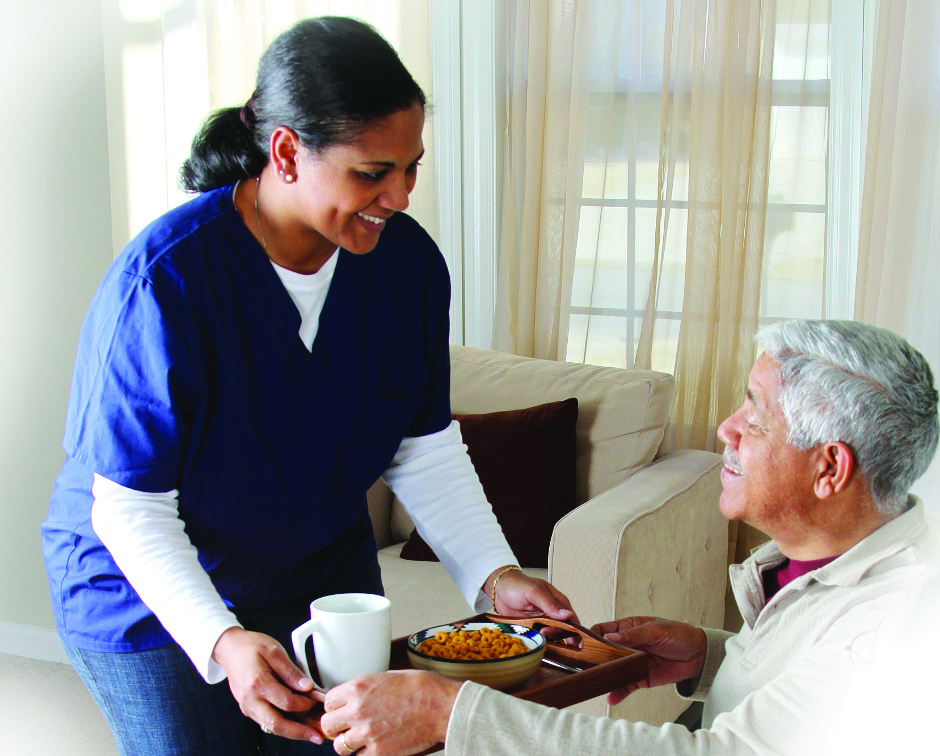 Family caregivers may have concerns about their elderly parents' safety at night. Family members may return to their homes or fall asleep at night, leaving the senior unmonitored. When you worry about your aging parents' nighttime safety, choose an overnight caregiver from Assisting Hands Home Care.
We offer compassionate senior home care to care recipients throughout the night. Overnight caregiver responsibilities include assistance with personal hygiene before bed, getting into and out of bed, changing sleep positions and medication reminders. We help with nighttime toilet runs, too.
Assisting Hands Home Care offers reliable in-home care services for families with seniors who have vision loss, suffer from dementia, or have just returned from a hospital stay. We guide seniors who have poor vision, help wandering seniors with dementia return to bed, and increase physical comfort in post-surgical patients.
Vulnerable seniors should not be left alone at night. Families and their elderly loved ones will benefit from the dependable overnight care provided by Assisting Hands Home Care. Our professional caregivers are licensed, bonded and insured so that families have maximum peace of mind.
When you aim to ensure the safety of your aging parents at night, consult Assisting Hands Home Care for the most reliable overnight care services in Matteson, Illinois. Our representatives conduct an initial assessment to develop a flexible care plan that meets care needs. Call us at (708) 880-7711  for a free consultation.