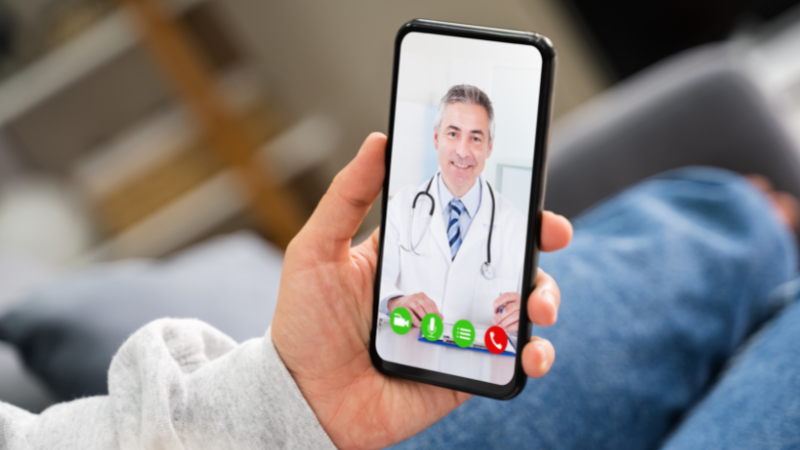 The COVID-19 pandemic has greatly changed the way we communicate with others. This also includes changes in the way we communicate with our doctors. To keep safe, many seniors have chosen to use telemedicine as opposed to meeting in person with their doctor. Telemedicine refers to being able to connect with a doctor in real time over video or phone, email, an app, or an online portal.
Telemedicine has been around for a while; however, it has become more popular during the pandemic. It is a great way to easily connect a patient and a health care provider. It removes most obstacles that may be preventing seniors from going to a doctor such as having to drive and park, instead they can connect with their doctor online.  It has also been helpful for patients who live far away with chronic conditions such as diabetes as the health providers can monitor their condition via telehealth.
However, telemedicine or telehealth is not meant for every health situation. If your senior is having a medical emergency, it is best to go to a hospital as opposed to trying to use telemedicine, as it will be too difficult to diagnose the illness.
If you are wondering how a telemedicine session is set-up where you live, you should check with your doctor's practice for the specific instructions as they will vary based on location, physician's practice, and your current history with a physician. However, there are specific steps you can take to get ready for a telemedicine call. Here are a few:
Get your technology ready:
Have a smartphone or a tablet ready so you can set-up your telemedicine appointment. You should also have a good connection to the internet, especially if you are planning to have a video call.
Check if your insurance covers telemedicine visits:
You should always check with your insurance and your physician if they cover telemedicine visits before you schedule one. Every insurance is different so you should always double check to avoid additional charges.
Set-up an appointment:
Reach out to your doctor's office and get the instructions on how to set-up a telemedicine appointment. In some cases, you may need to go to a patient portal, a special website, or an app where you will be able to set-up an appointment and later log in to have the virtual visit. At times, you may get a link to a special website that you will need to visit about ten minutes prior to your visit so you can get ready for your appointment. Make sure to fill out any paperwork needed prior to your visit as well. This may include HIPPA (Health Insurance Portability and Accountability Act), and any other consent forms your physician may require.
Talk about your symptoms:
Make sure to let your physician know your symptoms just like you would in an in-person appointment.
Good Security is Important:
Make sure that you are aware of how your physician's office will protect your privacy. Always pick a secure password and use a private space for your appointment such as your home.
Understand that you may have to wait:
Based on demand you may have to wait for your appointment in a digital waiting room before your session starts. This may be due to high demand or if your physician's last appointment ran a little longer.
You will see the doctor's face once they are there:
Once your appointment starts, you will either hear or see (or both) your physician on the screen and go through the appointment with them as you would in person.
Video exams can be helpful in diagnosing your illness:
When you use video, it can help your physician examine you. They can look inside your mouth, look at your skin and for mental health appointments, it can help the physician see the body language and behavior of the patient to help diagnose their condition.
Your doctor may request an in-person visit:
After your virtual visit, your doctor may request to see you in person or have you do additional testing in-person. This includes X-rays, biopsies, or a step test for example.
Your physician can call-in your prescription:
Once you have your virtual session with your health provider, they can call-in a prescription for you to your local pharmacy.
Are you in need of senior care for your loved one? Assisting Hands Home Care can help. We offer home care services for the elderly who live in their homes in Fox Point, Franklin, Kenosha, Milwaukee, Lake Geneva, Waukesha, West Allis, Whitefish Bay, and the surrounding areas of Wisconsin (See all served areas). Call us today at (262) 510-0905  for a free consultation. We will assess the needs of your loved one and create an effective care plan to take care of them.