Today's nursing homes provide high-quality care. Admitting an elderly parent into a facility is usually done when the senior develops a disability and is no longer able to perform the activities of daily living. Here's how to make the decision to move an elderly parent into a nursing home.
Nursing homes have changed dramatically over the past few decades. Nowadays, facilities provide sophisticated care to seniors who suffer from severe physical health problems and cognitive impairments. Nursing home care is guided by different regulations than those of assisted living facilities.
The majority of seniors who live in nursing homes are 85 years or older, with a minority being younger than 65. Nearly three-quarters of nursing home residents are women who do not have a spouse; these seniors also have limited social support from friends and family.
Deciding whether to admit an elderly parent into a nursing home can be a difficult one. However, when daily care needs are high or the senior suffers from a serious medical condition that requires constant, ongoing monitoring, a nursing home can be a safe living environment.
Factors that can help adult children make the decision about moving a parent into a nursing home are many and varied. Since nursing homes provide highly specialized and intensive types of care, it's important for families to consider the following scenarios to help them decide.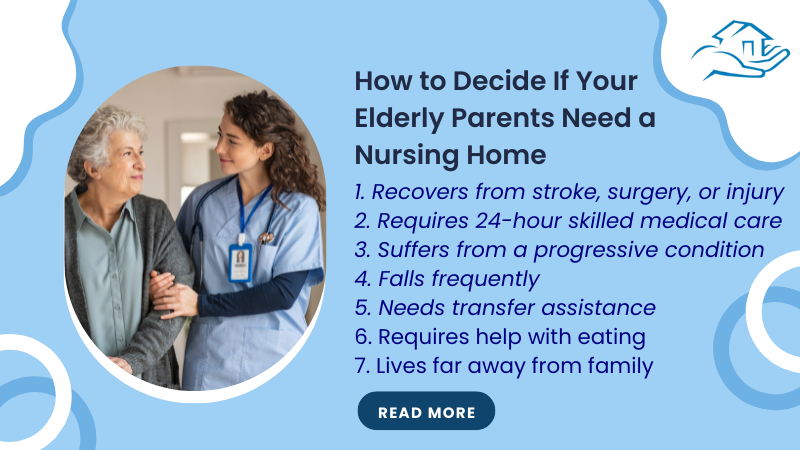 1. Recovers from stroke, surgery, or injury
While families may believe nursing home stays are lengthy, some seniors remain in these facilities for a short term. A temporary nursing home stay is ideal for individuals recovering from a major health event. A nursing home can deliver frequent medical care and provide the best results.
Skilled nursing facilities, for example, give recovering seniors beneficial therapies five or six days a week. The experienced nursing staff also determine when it is safe to discharge the senior back home. On average, short stays in nursing homes range from four to six weeks.
2. Requires 24-hour skilled medical care
When an elderly parent's condition deteriorates significantly and becomes debilitating, a nursing home may be a solution. Healthcare staff work around the clock, overseeing care plans and providing constant care. Nursing home staff provide support with all the activities of daily living.
Nursing home staff include registered nurses, licensed practical nurses, certified nurse assistants, physical therapists, occupational therapists, and other specialized professionals. Aging adults who suffer from unpredictable health issues will benefit from the 24/7 care provided by the nursing home staff.
3. Suffers from a progressive condition
Seniors with progressive, cognitive conditions, like Alzheimer's or Huntington's disease, may benefit from the advanced medical support offered in nursing homes. Similarly, seniors with chronic physical conditions, like cancer or diabetes, may need nursing home care to manage their condition.
The level of assistance required influences the decision to admit the senior. An elderly parent may require a ventilator, a catheter, or IV drips. Or complications from diabetes may prevent the senior from managing blood sugar. The greater the care needs, the likelier a nursing home will be beneficial.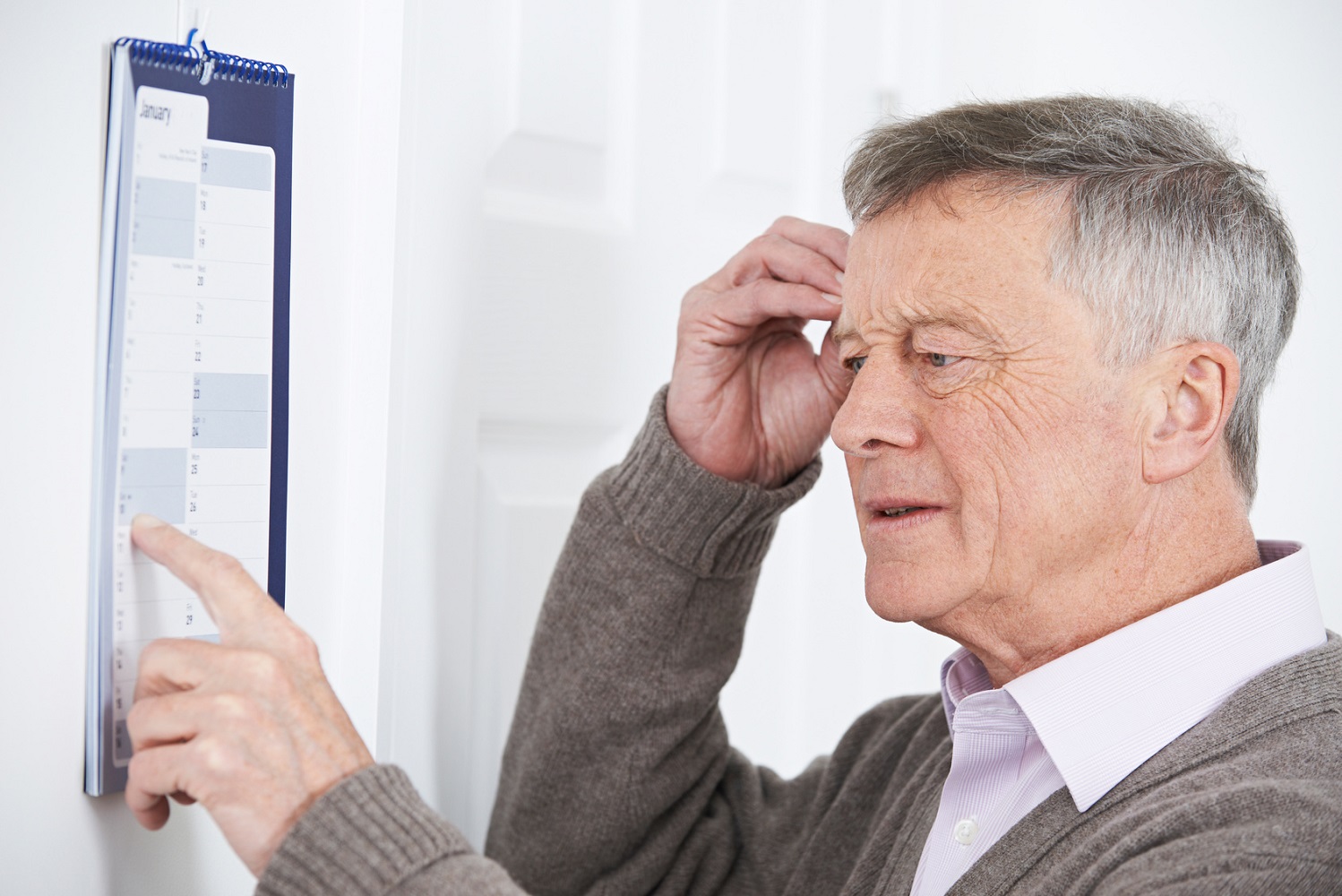 4. Falls frequently
When an elderly parent falls frequently, it can compel families to seriously consider a nursing home. Falls are dangerous and sometimes fatal. If the senior falls often, living at home is no longer safe. Nursing home staff are experienced in caring for elderly individuals with mobility challenges.
5. Needs transfer assistance
A greater level of care may be required for seniors who use a wheelchair. These individuals require transfer assistance to move to and from the bed. Escorts to medical appointments, meals, and social events will also be necessary. Nursing homes have the resources to meet these needs.
6. Requires help with eating
Eating is one of the many activities of daily living. When seniors are no longer able to independently complete the activities of daily living, including eating, families may want to consider a nursing home. Nursing home staff not only help with eating but promote dental health with cleanings and exams.
To learn more about how to assist seniors with eating, read Best Soft Food Options for Seniors – Food without Chewing
7. Lives far away from family
Other reasons to consider a nursing home include instances when families are too busy to provide the quality of care the elderly parent needs. Family members may also live too far away to monitor the health of their aging loved ones. In such cases, a nursing home is an option.
The preferred alternative to nursing home care, however, is home care. The majority of seniors would rather age in place. The comfort and familiarity of home are desirable. An in-home caregiver provides the support with the activities of daily living and allows the senior to safely live at home.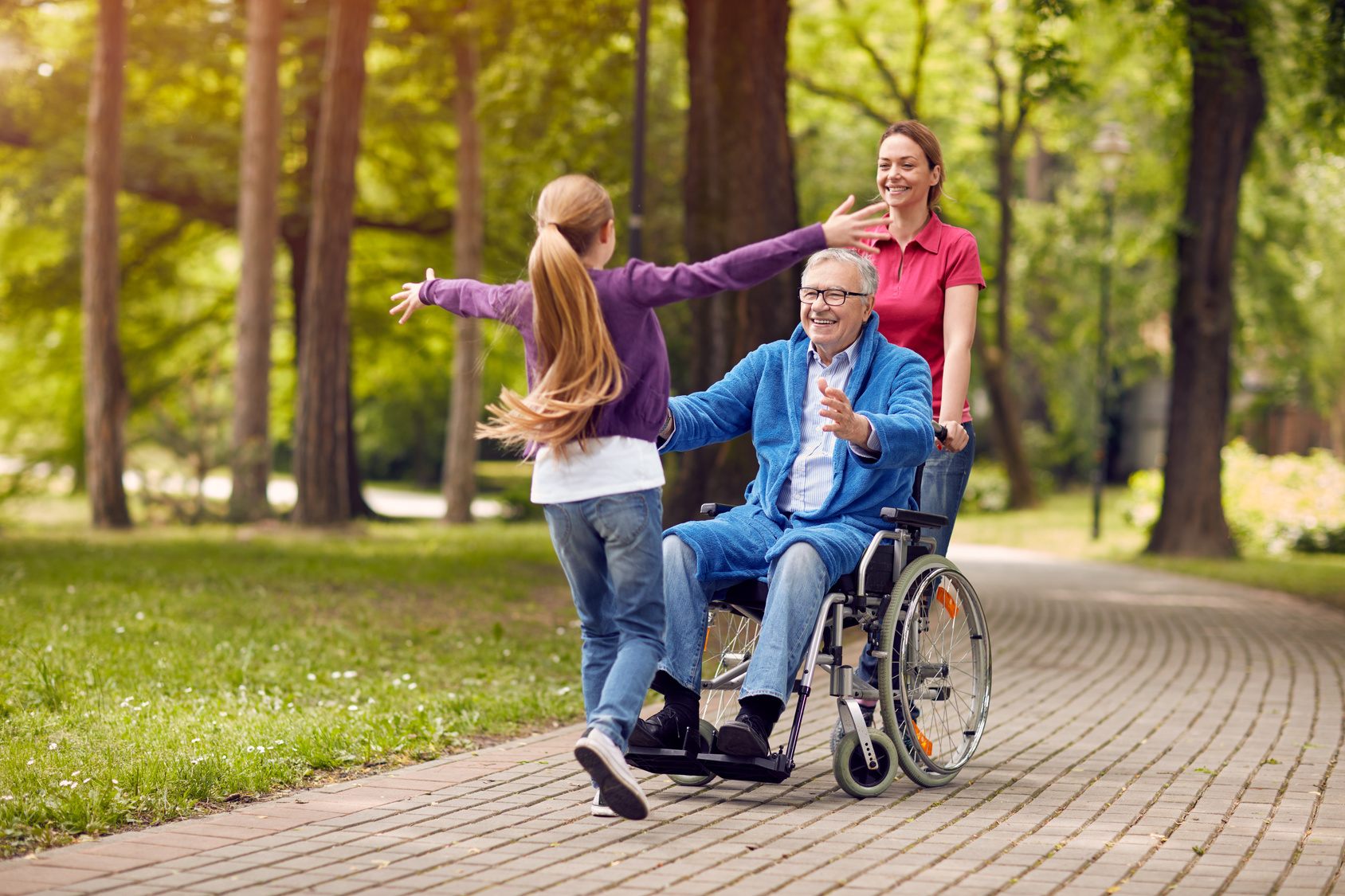 A trusted home care agency that specializes in all aspects of nonmedical elder care is Assisting Hands Home Care. We provide quality home care to seniors of all physical and cognitive ability levels. Our services are ideal for families that are unable to support their elderly parents around the clock.
Responsibilities performed by our experienced caregivers include help with personal hygiene tasks, such as bathing and toileting, as well as light housekeeping, transportation to doctors' offices and social events, meal preparation, medication reminders, and fall risk assessments. We're also dependable companions.
Seniors thrive in the care provided by our professional caregivers. We meet all the daily non-medical needs of seniors, thereby reassuring families that they are in good hands. Our caregivers are also background checked, which gives maximum peace of mind to families and care recipients.
Elder care from Assisting Hands Home Care is available to ensure your aging loved one remains physically and emotionally healthy. We support seniors with all the activities of daily living and boost their confidence by encouraging them to perform activities independently when it is safe to do so.
Families with elderly parents living in Aurora, Bartlett, or Batavia, Illinois, are urged to consult Assisting Hands Home Care for compassionate senior care at home. We can provide around-the-clock care so that your loved one remains safe and comfortable. Call today to schedule an in-home consultation.