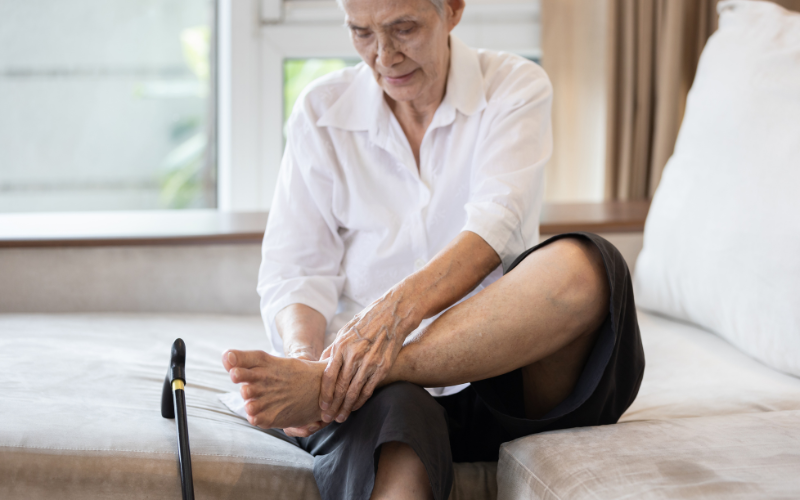 Seniors may expect their skin, hair, and muscle strength to change as they age. But older adults may be surprised to learn that their feet age, as well. As they grow older, seniors become more vulnerable to foot infections and injuries. Foot care is thus important for the elderly.
Geriatric foot issues creep up on seniors after decades of wear and tear on their lower limbs. Pain is also common in the aging population, making it especially important to maintain proper foot care. Seniors can become more intentional about caring for their feet with the help of caregivers.
Changes in the feet develop after decades of standing on them. The cushion underneath the heels and balls of seniors' feet are lost over time. Their arches become flatter; ankle and foot joints stiffen; and the length and width of their feet increase.
Foot problems are not uncommon. In fact, one in three individuals aged 65 and over experience foot pain, stiffness, or aching feet. Painful feet occur in approximately 87 percent of elderly people in the United States. Seniors living in long-term care facilities experience even higher rates of foot issues.
What types of foot problems can develop?
Many issues concerning the feet stem from shoes that fit poorly, such as high-heeled shoes and pointy-toed footwear. The frequency of foot problems is high among seniors with chronic health issues, like diabetes, osteoporosis, cardiovascular disease, and knee, hip, or back pain.
In older people, foot pain most often comes from corns, calluses, and toe deformities, three-quarters of which are bunions. About one-third of the aging population suffer from bunions. Calluses occur in 30 percent of seniors with foot pain, and 15 percent live with corns on their toes.
Fungal infections in the toenails are also prevalent in seniors, occurring in about one-third of all older adults. The likelihood of developing a fungal infection increases in elderly individuals who are diagnosed with psoriasis, diabetes, reduced immunity, poor circulation, or obesity.
Foot problems that result from diabetes include foot ulcers that are difficult to heal, a loss of feeling and issues with circulation. Rheumatoid arthritis and gout can cause foot problems that arise from deformities. Ingrown, thickened, and discolored toenails are also common in seniors.
What are recommended foot care routines?
Due to the concern of developing issues in their feet, seniors should practice good foot care. Especially if an older adult lives with diabetes, caregivers should perform regular foot inspections for cuts, splinters, blisters, calluses, and pressure sores. If these do not heal within 24 hours, contact a doctor.
Daily footcare is necessary for elderly individuals. Seniors' feet must be cleaned and inspected every day. Caregivers should wash the care recipients' lower limbs with warm water and soap, patting them dry afterward. Apply moisturizer to the feet, except in between the toes.
As caregivers clean a senior's feet, take the time to check for changes, such as unusual colors, cuts, unexplainable bruises, nail distortions, and strange bumps. If any of these abnormalities appear, schedule an appointment with the senior's doctor to have them evaluated.
Toenail care is also important. Ingrown toenails can lead to severe consequences, such as an amputation, in seniors with circulation issues. Caregivers should not only trim the older adult's toenails but file them straight across and rounded at the edges, which prevent ingrown toenails.
Poorly fitting shoes are a major cause of foot problems. Seventy-five percent of seniors wear shoes that are too small. Footwear without protection or support or shoes with slippery soles increase the elderly person's chances of pain, a fall or injury.
Caregivers can prevent foot problems related to ill-fitting shoes by ensuring the care recipient wears footwear with roomy toe-boxes at the front. Look for shoes featuring a cushioned rubber sole with a good grip. Avoid slip-on shoes; instead, opt for shoes with Velcro fastening so they fit securely.
Seniors may wear slippers at home. But slippers should be replaced regularly, since they can become worn and loose over time. Caregivers should avoid giving care recipients slippers without straps or backs and with high or narrow heels. Ensure the senior wears slippers briefly, not all day.
How Caregivers Can Help with Foot Care
Problems in the feet are a concern, as pain can limit the senior's mobility and independence. The ability to get out of a chair or climb stairs can be hampered. Immobile seniors can gain weight and become weak. Foot issues also cause balance issues and increase the risk of falls.
Although aging can lead to a number of foot problems, seniors do not have to live with foot pain. By taking care of their feet, older people can continue to walk. Walking is one of the best ways to stay physically fit and remain independent at home.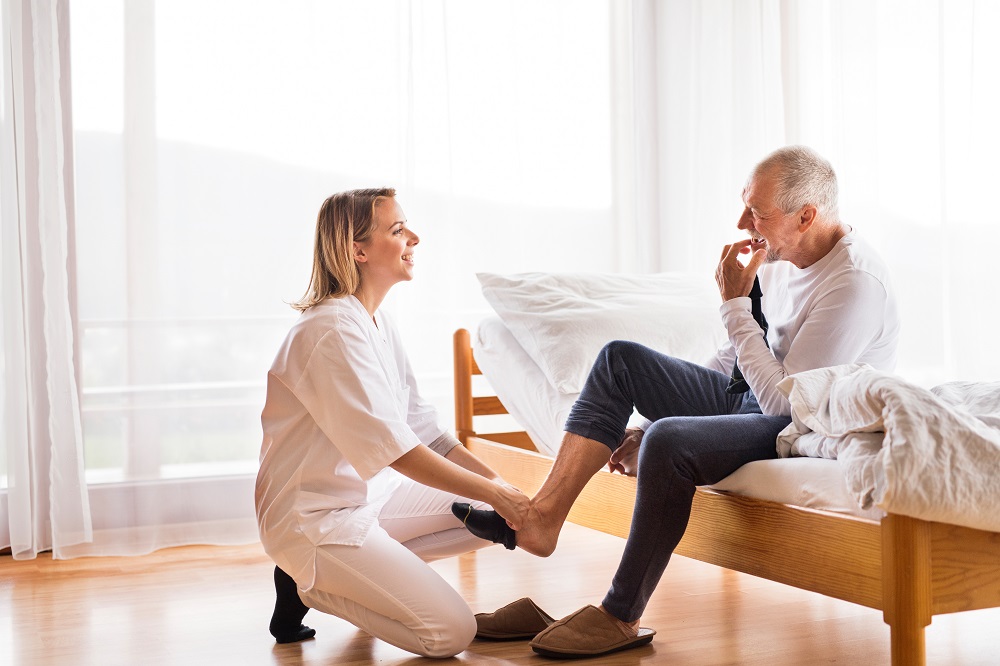 The professional caregivers at Assisting Hands Home Care are invaluable in helping seniors maintain not only optimum foot health but overall physical and emotional well-being. Reliable senior care from our home care agency allows the elderly to age in place, stay safe, and live a high quality of life.
Key responsibilities performed by our dedicated caregivers include help with mobility (getting into or out of bed or a chair), discreet assistance with personal hygiene tasks (grooming, toileting, and bathing), meal preparation, grocery shopping, medication reminders, light housekeeping, and pleasant companionship.
We also provide reliable transportation. Care recipients enjoy outings to social events or exercise classes, for instance. Caregivers provide transportation to doctors' offices, where seniors can receive regular medical checkups of their feet or an evaluation for any health concerns.
Home care from Assisting Hands Home Care is flexible. We offer a variety of services that meet the nonmedical care needs of seniors. Alzheimer's care, hospice home care, post-surgical care, live-in care, 24-hour care, and respite care are a few of the many available care options.
Choose Assisting Hands Home Care when an elderly loved one could benefit from extra support at home. Our compassionate home care services are available to seniors living in Medinah, IL | Glendale Heights, IL | Itasca, IL | Bensenville, IL | Elmhurst, IL | Villa Park, IL | Addison, IL | Lombard, IL and the surrounding areas. Call us today at (630) 526-6522 to schedule a complimentary in-home consult.