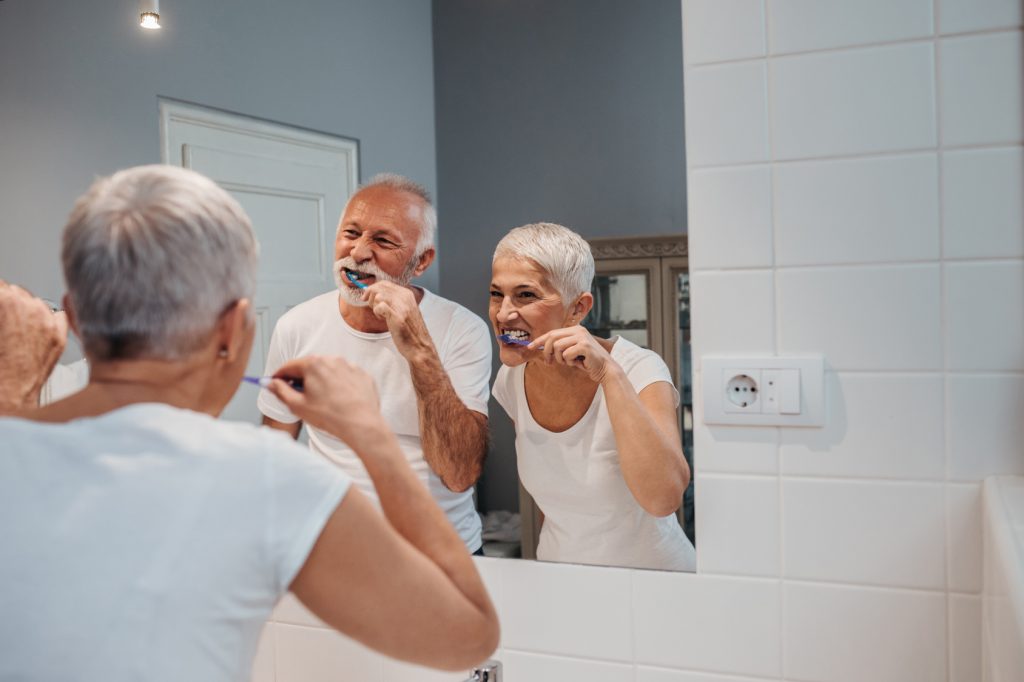 Routine oral hygiene is necessary for seniors. But older adults suffering from dementia may be unable to communicate issues they may be having with their teeth. Such scenarios make it important that caregivers schedule regular dental appointments and assist with daily oral hygiene.
1. Schedule dental cleanings
Brushing and flossing daily are central to promoting dental health. Since dementia patients are likely to be reluctant to committing to doing both twice a day, caregivers should consider paying for two extra dental cleanings (most dental insurance plans cover cleanings twice a year). Seeing the dentist for a cleaning every three months is essential to removing plaque and tartar buildup. Regular dental appointments also keep diseases, like periodontitis and gingivitis, at bay. Gum conditions like these can lead to tooth loss or decay. Existing oral diseases are also monitored by dentists. Dementia can turn a willing dental patient into an unwilling one, especially as the disease progresses. The discomfort during dental cleanings can arouse agitation in dementia patients, resulting in noncompliance. One solution is to find a dentist who is experienced in working with the elderly. Despite finding a dentist who works with dementia patients, the disease can make regular cleanings unbearably traumatic for the senior. When this occurs, the next step is to simply assist the senior with brushing, flossing and rinsing as often as needed to maintain their oral health.
2. Assist with toothbrushing
When a dementia patient does comply with a tooth brushing regimen, caregivers should insist that the senior use fluoridated toothpaste. Replace the senior's toothbrush every three to four months. Take care to floss between the teeth, where cavities tend to grow. Caregivers may assist care recipients with brushing daily by offering a child-size toothbrush. A children's toothbrush features a smaller head and extra-soft bristles, making the job of brushing teeth relatively simpler. Caregivers can access the senior's hard-to-reach areas more comfortably, too.
3. Care for dentures
Gum disease and tooth decay cause tooth loss in approximately 36 percent of older adults in the US. Given this data, nearly half of seniors are missing some or all of their natural teeth. On the other hand, half of elderly adults still retain most of their natural teeth. Many people assume that having dentures eliminates the need for dental care. However, bacteria adhere to dentures as readily as they do to natural teeth. Whether the senior wears partial or full dentures, care must be taken to maintain oral hygiene. Oral hygiene in denture wearers is two-fold. The senior (or caregiver) must clean the mouth as well as the dentures each day. Once the dentures are removed, brush the gums, roof of the mouth, and tongue. A caregiver should examine the senior's mouth for evidence of oral sores. Denture care requires they first be rinsed to dislodge food particles. Clean the dentures with a soft-bristled toothbrush and non-abrasive cleaner. Once the dentures are thoroughly brushed, rinse them with water. Caring for dentures is a task that should be done daily.
4. Engage in daily oral care
Despite sugary foods causing dental issues, some seniors must satisfy their sweet tooth. Caregivers are free to indulge their care recipients with sugary treats, like candies, cookies or cakes. The key to preventing dental problems is to have seniors drink water or rinse out their mouths afterward. Caregivers should offer the senior water that contains fluoride, a mineral that helps to prevent cavities. If fluoridated water is unavailable in the community, consider buying bottled water containing fluoride. When using a water filter, be aware that some types of filters remove fluoride.
5. Promote healthy eating
Food, despite causing dental problems, can also prevent them. Crunchy, raw fruits and vegetables, like apples and celery, naturally scrape away plaque from teeth. Citrus fruits, like oranges, contain acids that break down the starch and sugar from the senior's mouth. Remember to wash down the foods with water. Nutrient-dense foods are also necessary for good oral health. A diet rich in calcium, Vitamin D and phosphorous is an excellent contributor to a healthy body—and healthy teeth. Caregivers should take care to prepare balanced meals for their care recipients in order to promote a healthy mouth.
6. Ward off disease
Promoting oral hygiene even in dementia patients is one key to minimizing the risk of developing health issues. Poor oral care could cause mouth pain, which contributes to difficulty while eating. Malnutrition due to pain will cause the senior to lose weight and contract illnesses. Heart disease, clogged arteries, and stroke are linked to poor oral hygiene. Without daily oral care, bacteria inside the mouth multiplies, leading to inflammation and infection. Oral bacteria can spread to the bloodstream, which travels to other parts of the body, including the heart.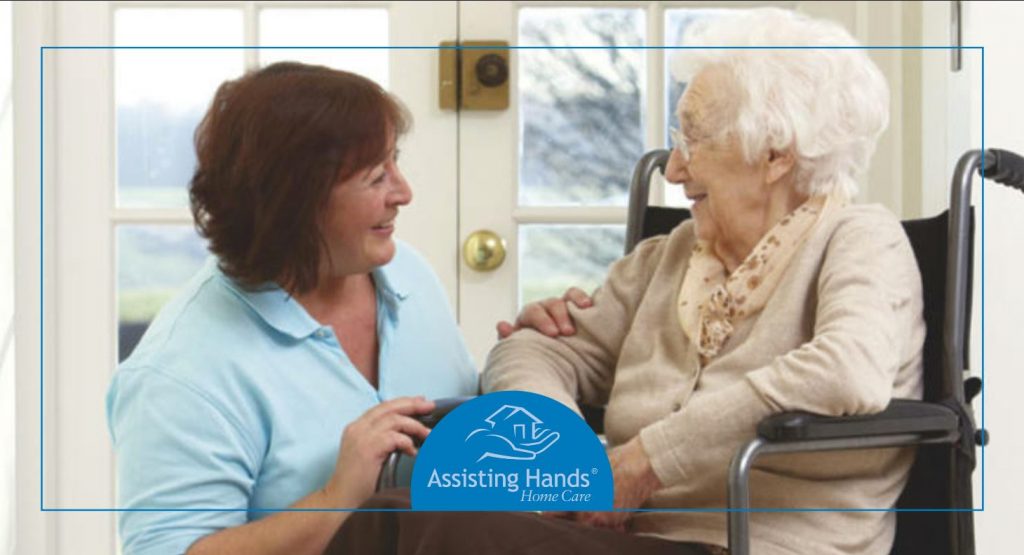 When your elderly loved one has dementia and is no longer able to brush and floss daily, caregivers become instrumental. A caregiver from Assisting Hands Home Care is trained to physically assist seniors, who are weakened due to diminished hand-grip strength, arthritis or pain, with brushing and flossing. Dementia patients may no longer remember how to handle a toothbrush or realize when to brush and floss. Assisting Hands Home Care memory care providers are essential to promoting oral health by reminding dementia patients to brush their teeth and providing assistance as needed. In addition to supporting dementia patients with oral hygiene, Assisting Hands Home Care provides help with a range of issues related to dementia care. We guide seniors who wander back home. Our caregivers provide discreet assistance with incontinence issues. We also calm agitated seniors. If your loved one takes medication, our caregivers provide medication reminders, ensuring the right doses are taken. Memory care providers also prepare nutritious meals and help with eating. Our companion care services ward off the loneliness and isolation that often plague dementia patients. When compassionate memory care becomes necessary for your aging loved one, consult Assisting Hands Home Care for a complimentary in-home assessment. Our home care services are available to seniors living in the surrounding communities of Milwaukee, Waukesha and Franklin, Wisconsin.