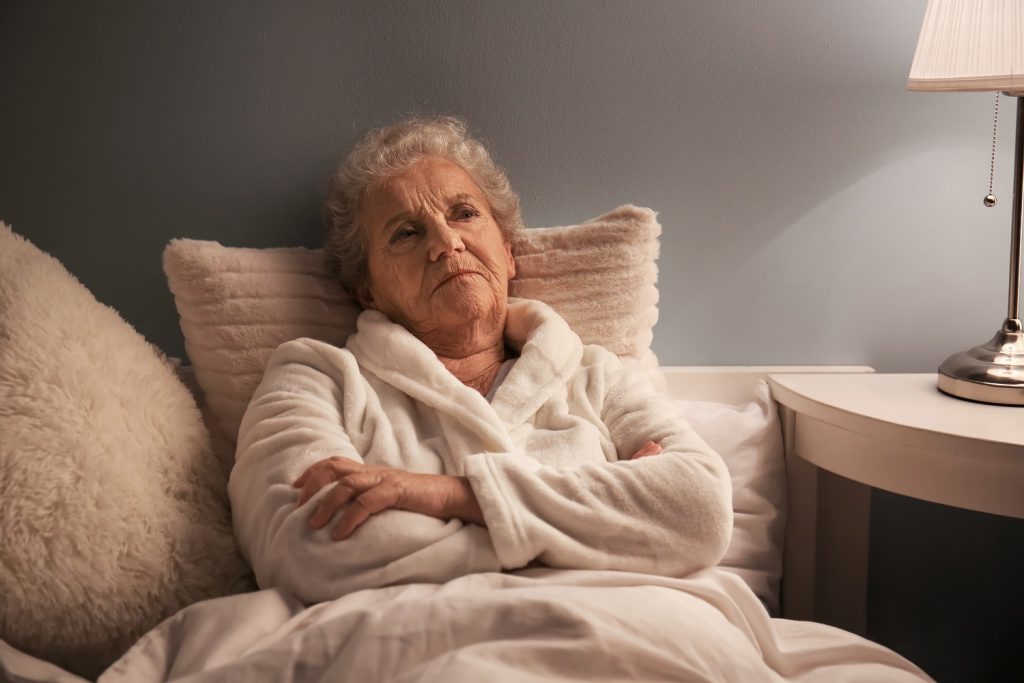 Hospital patients are frequently confined to their hospital beds. Periods of inactivity during these times cause the body to undergo physiological changes. The process of deconditioning is harmful to hospitalized patients, and the global movement End PJ Paralysis aims to prevent overall decline.
Nearly 13 million seniors are hospitalized annually, and older patients remain in the hospital longer than their younger counterparts. Aging adults are already weakened by multiple chronic health conditions and the effects of prescription medications. A hospitalization can sometimes cause seniors further harm.
Older people have unique medical needs, and hospitals rarely face consequences when seniors decline in those facilities. One poor experience in a hospital can start a downward spiral, known as deconditioning. Seniors become more impaired and less functional during their stay in a medical facility.
Prolonged bed rest, which many hospitalized seniors experience, is harmful to both physical and psychological health. Extended periods of inactivity have the potential of setting off a chain of adverse health consequences that affect nearly all systems of the human body.
What is deconditioning?eld
Deconditioning is the term given to the decline in both cognitive and physical functioning that occur as a result of lengthy periods of hospital bed rest. All bodily systems, including the heart, lung, urinary, digestive, muscle, and skeletal systems undergo physiological changes.
Heart
Cardiovascular changes include a decrease in cardiac output, rapid resting heart rate, increased heart rate during activity, and lower blood pressure upon being in an upright position. Seniors may also experience a decrease in their ability to exercise or remain physically active.
Lungs
Pulmonary (or lung) changes occur with physical deconditioning, as well. Older adults enduring lengthy hospital stays may experience mild lung collapse, pneumonia, the delivery of less oxygen to the organs and difficulty breathing during periods of both rest and activity.
Muscles and Bones
Corresponding with extended bed rest is the deterioration of muscles and bones. Seniors' muscle sizes decrease. They may experience greater weakness (atrophy) and less flexibility. Osteoporosis and osteoarthritis may be outcomes of long bouts of physical inactivity during hospital stays.
Digestive, Urinary and Skin Systems
Older hospital patients' digestive systems are equally affected. Constipation may occur; or seniors will have a loss of appetite. Urinary systems alter and can result in bladder infections, loss of bladder control (incontinence), and electrolyte imbalance. Skin issues include pressure ulcers or wounds.
Blood and Endocrine Systems
A hospital patient's blood is adversely affected by extended bed rest. Blood clots and blood thickening are more likely to develop in patients who are inactive. Endocrine system changes include nausea, high blood sugar (hyperglycemia), and an impaired response to insulin.
How does deconditioning affect seniors?
The physical effects of deconditioning are so severe that many seniors who leave the hospital after a lengthy stay are no longer able to perform the activities of daily living as independently as they did prior to the hospitalization. Balance and coordination also undergo adverse changes.
Deconditioning does not solely affect the physical body. Post-hospitalization, seniors who had been on extended bed rest may experience psychological decline, as well. Confusion and disorientation are likely. Plus, anxiety and depression may occur as an outcome of long hospital stays.
As a result of the physical deconditioning that happens in seniors who have been hospitalized, instances of limited mobility can develop. The aging adults may no longer be able to engage in leisure activities, provide self-care, or even walk as easefully as they once did.
A decline in muscle mass and strength can lead to falls, increased immobility, and frailty in the elderly. The aforementioned effects of deconditioning also have the potential to lengthen a senior's hospital stay. Lingering in a hospital bed for prolonged periods adversely impacts seniors' health.
How does End PJ Paralysis combat deconditioning?
In response to the observable physical and psychological effects of deconditioning in older hospital patients, organizations have developed a movement known as End PJ Paralysis. The global movement is intended to encourage elderly patients to be more active during their hospital stays.
The End PJ Paralysis movement aims to motivate elderly hospital patients to change out of their pajamas, take frequent walks, and have meals out of their hospital beds. The goal of the movement is to improve the seniors' chances of healing quicker and being discharged to a home environment sooner.
The End PJ Paralysis movement recognizes that physical activity is essential to recovery and overall health. Exercising during a hospital stay helps maintain muscle strength and prevents the harmful effects of deconditioning. In fact, walking more while in the hospital shortens the length of the hospital stay.
Another important goal in the End PJ Paralysis movement is to give hospital patients the choice to wear their own clothes rather than hospital gowns, which leave patients feeling exposed. Comfort is critical when in a hospital, and seniors' own clothing preserves their comfort and dignity.
Seniors are entitled to a high-quality life, and equally so after being released from a lengthy hospital stay. If the older adult in your life experiences deconditioning as a result of a long hospitalization, turn to Assisting Hands Home Care for invaluable after hospital care in the comfort of home.
Our professional caregivers are instrumental in ensuring seniors stay physically active and mentally alert. Personal care aides from our reputable home care agency engage the elderly on a daily basis, helping them pursue enjoyable hobbies and recreational activities that keep their minds sharp.
Assisting Hands Home Care professionals also support care recipients with the activities of daily living. We shop for groceries, prepare nutritious meals, and provide transportation to run errands or visit the doctor. We also keep the home clean and hygienic with light housekeeping services.
Senior care from Assisting Hands Home Care is essential to the physical and emotional well-being of seniors. When your aging loved one needs extra in-home support, choose us. We are privileged to serve the elderly in Naperville, Illinois, and DuPage County. Call us at (630) 352-3656 for an in-home consult to get started.