Unusual, unruly and disruptive behavior can startle elder caregivers. While some seniors have always been challenging to deal with, for others, the unruly tendencies may emerge due to an illness. Caregivers who face difficult seniors are urged to manage them with patience and compassion.
What causes difficult behavior in seniors?
Seniors with difficult personalities may have been this way since their younger years. The concern arises when older adults manifest their difficult behaviors as they advance in years. A urinary tract infection (UTI), medications, or chronic pain can cause dramatic personality changes.
In addition to physical pain, signs of a UTI can include confusion, angry outbursts, and irritability. A senior living with depression may be prescribed antidepressants, which can cause side effects, like personality changes. Statins and drugs that control blood pressure also cause behavior changes.
Chronic pain can cause an increase in negative mood states. Anger, hostility, depression, fatigue, and anxiety can emerge in elderly chronic pain patients. These seniors perceive pain differently, and their negative mood states interfere with the efficacy of pain management tactics.
The boredom that comes with retiring from the workforce and no longer being directed by a strong purpose can provoke the tendency to complain. Reduced energy levels, limited mobility, and other age-related forms of decline that impact independence can also cause seniors to fixate on the negatives.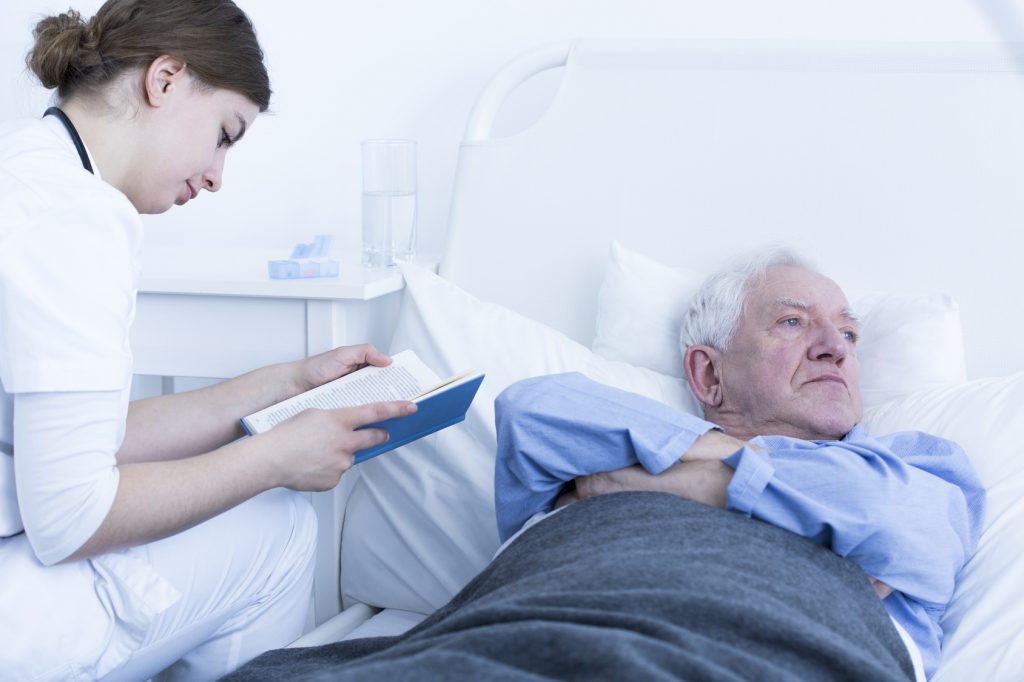 How do caregivers manage difficult behaviors?
Angry Outbursts
Both increasing age and health problems can worsen undesirable, long-standing personality traits, like irritability. Unprovoked hostility and rage are oftentimes directed at the senior's primary caregiver. The elderly individual may become demanding and impossible to please. Angry outbursts become commonplace.
Managing anger in seniors starts with pinpointing the cause. Memory issues, chronic pain, and losing friends are legitimate reasons to feel upset. Caregivers are urged to take frequent breaks. Seniors reserve their worst behaviors for their closest relatives, making respite care a welcome form of relief.
If the anger is due to Alzheimer's disease or other forms of dementia, it is important that caregivers do not take the outbursts personally. Rather, focus on what is positive. Set boundaries and make an intention to respond only to positive, rather than negative, behaviors.
Abusive Behavior
Emotional abuse can be an extension of the anger mentioned above, especially when left unaddressed. Lashing out is an unhealthy way for some seniors to vent their frustrations. While caregivers may elect to express the emotional hurt they feel when being abused, talking does not go far with these seniors.
Instead, caregivers are advised to take a break from caregiving duties in an effort to help the senior realize the extent of care being given. The caregiver may also remove herself from the situation to clearly convey that abusive behavior is not tolerated.
Excessive Cursing
The sudden use of profanities is concerning, especially when the senior was known to be mild-mannered. Crass behavior may worsen as dementia progresses. A sudden onset of offensive language may be due to a UTI, which presents differently in older people than younger ones.
Dementia patients can be effectively distracted from their angry tirades. Change the subject by bringing up the happy times of days gone by. Help the senior understand her behavior is unacceptable by instilling guilt: "Would you want your grandkids to hear you speak like that?"
Demanding Behavior
Some seniors resort to attention-seeking tactics once a family member becomes a caregiver. Caring for a senior who requires extensive support is valid. However, the physical and emotional demands can be frustrating when the senior is capable of independently handling tasks.
Family caregivers have their own families, careers, and homes to manage. Effectively dealing with a needy senior requires that the caregiver prioritize herself and set boundaries. Consider enrolling the senior in a book club or senior center so that she no longer focuses her attention on the caregiver.
Also helpful is introducing other people into the picture. Social engagement with others can prevent the senior from focusing solely on a caregiver. Ask friends, relatives, and members from the senior's religious community to visit, which is especially valuable if the older adult is homebound.
Complaining
Constant complaints may be a result of boredom. Without children to raise, a career to manage, or a purpose to direct them, older adults can start to focus on the negative and begin to complain. Seniors who slow down at this stage of their lives may find enjoyment in complaining.
Manage the unpleasant situation by introducing positive activities or events into their lives. Encourage the senior to volunteer for an organization that has meaning for her; volunteering can readily deliver the sense of purpose she lacks. Or, provide art supplies so that she can pursue an artistic hobby.
It is not unusual for family members to feel overwhelmed by the difficult behaviors that some seniors present. Families, though, can turn to the elder caregivers from Assisting Hands Home Care for reliable support. We understand how to motivate and effectively manage seniors with difficult behaviors.
Our caregivers are experienced, having compassionately cared for hostile seniors and those refusing to bathe. We approach each situation by considering illness, medications, or boredom and take proactive measures to remedy them. Our senior care services are designed to enhance overall well-being.
The comprehensive in-home elder care services provided by Assisting Hands Home Care include help with personal hygiene, meal preparation, grocery shopping, fall-risk assessments, light housekeeping, and medication reminders. We also transport seniors to doctors' appointments, senior centers, and for errands.
Your aging loved one needs plenty of regular social engagement to avoid feelings of loneliness and isolation. A part of our services is dependable companion care. We start conversations, encourage hobbies, take seniors on safe outings, and support them emotionally.
Assisting Hands Home Care provides the best non-medical home health care in Buffalo Grove, Deerfield, Grayslake, Lake Zurich, Lake Forest, Lincolnshire, Mundelein, Vernon Hills, Highland Park, Libertyville, Round Lake Beach and the surrounding areas. We will assess their care needs, whether the senior would benefit from respite care, post-surgical care, 24-hour care, or dementia care. Contact us at (847) 595-1222 for a free consultation, and we'll customize the ideal care plan.