Caring for a loved one who is a senior after a surgery is tough for the senior and their caregiver. Before the surgery, it is normal for both to be stressed out and anxious and after the surgery, and depending on the procedure, the senior may require extra help with daily activities until they fully recover.
It is highly important for the caregiver to ensure that the senior fully understands all the actions that need to be taken before and after the surgery.  This will help them get through this difficult time easier as they will know what is happening every step of the way. Talking to the senior's doctor and having them explain the procedure in detail will put everyone at ease as they will know what is about to happen and the next steps after the surgery.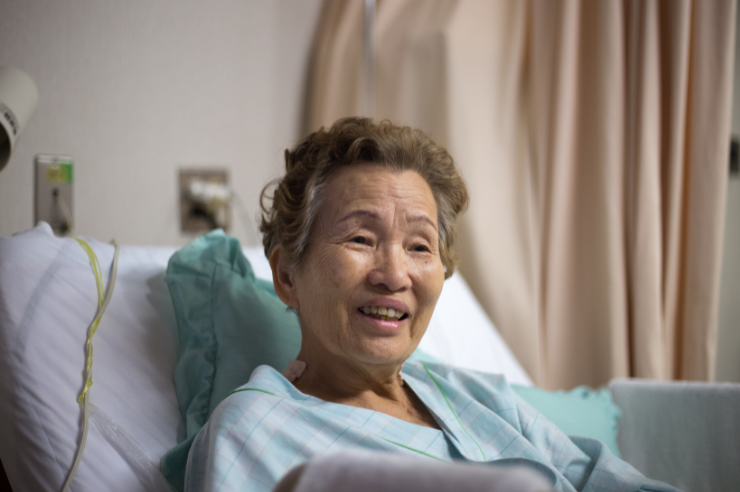 Here are some things that a caregiver can do to help properly care for a senior after surgery:
Get all post-surgery items before the surgery
Caregivers should prepare ahead of time when taking care of a senior post-surgery. They should have a conversation with their doctor to understand what the senior will need after the surgery. This may include medication or special equipment (wheelchair, compression socks, bathing chair etc.) as well as special discharge instructions and follow-up care they may need. Most of these can be arranged ahead of time by communicating with the doctor's office and having an understanding on what will be needed before the surgery happens.
The home should be ready for their return
The senior's home should be prepared for their return after surgery. The caregiver should place all the items they use daily close to them. This includes water, phone, remotes, and books. The senior should also have a clear path to move around the home. This path should be free of any type of clutter that they could trip over or slip on. Finally, their fridge and pantry need to have easy to grab foods and snacks that are healthy and promote healing.
Ensure their comfort

The caretaker should ensure that the senior is comfortable as they are recovering. Surgery is tough on seniors and healing can be painful and can take some time. It is very important that they follow proper instructions when it comes to elevating their legs to ensure comfort and proper healing. Finally, the best comfort a caregiver can provide is some emotional comfort. After surgery, the senior may feel like they are unable to do much for themselves and that can feel difficult and cause sadness. Make sure to cheer them up with a favorite book, meal, movie or even arranging a friend to visit them. These can all bring a smile to their face.
Go with them to follow-up appointments
The caretaker should take the senior to their follow-up appointments. Even if the senior can go to the appointment themselves, it is always great for them to have a support system there. In the case that the senior suffers from memory issues, the caregiver can let the doctor know their recovery progress and answer their questions. It is beneficial to bring a pen and paper so that the caregiver and the senior can write down all the details of the conversation. This is also a great time to ask the doctor questions so that everyone understands the next steps to ensure the best care.
Visit Why is Respite Care Important? to understand how a caregiver can help share responsibilities with family members during a challenging time.
Understand their limitations
When a senior is recovering from surgery, this process may take time and cause frustration. Therefore, the caregiver and the senior should understand the limitations that were set by the doctor and follow them closely. It the senior forgets the instructions and limitations given by the doctor, the caregiver should remind them gently to ensure that they understand them and not hurt themselves by doing something they were not supposed to do.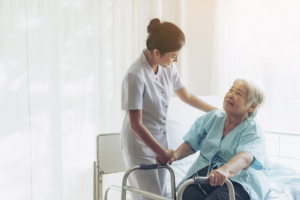 Be prepared for hospital delirium
Some seniors experience post-operation delirium that may last for weeks or months. It is seen often with seniors, and it may cause them to heal slower and make the post-operation experience very scary for them. If your loved one has experienced this type of confusion previously, the hospital staff should be notified of this. If they experience it again, the caregiver should provide support and contact the doctor right away so they can help them figure out triggering factors and ways to improve the situation. This condition may take time to fully disappear, but it is not life-threatening.
Ask for help
If as a caregiver you are experiencing burn out, you should ask for help. Sings of burn out include feeling stressed out and irritable. You can hire a professional care worker or a health aide who can help you take a break. This will allow the senior to have help with daily activities they need from someone other than you. The caregiver can take some rest and the fill-in aide can help with bathing, dressing, feeding etc. It is important that you take care of yourself so that you can take care of your loved one.
If you are in need of care for your senior loved one post-surgery, we are here to help. Assisting Hands of Batavia offers a full range of after-surgery care for seniors in Batavia, Aurora, Bartlett, Geneva, St Charles, Illinois locations at (630) 332-2203 . Whether your senior loved one needs post-operative care or just emotional support while going through the healing process, we can help. Call us today at (630) 332-2203 to get more information.