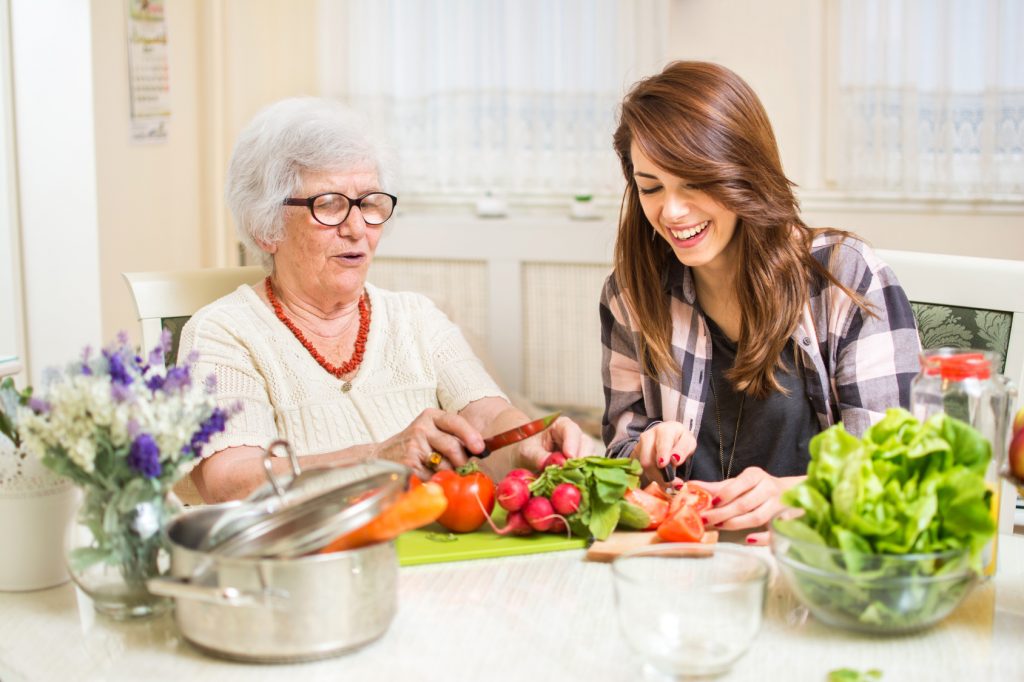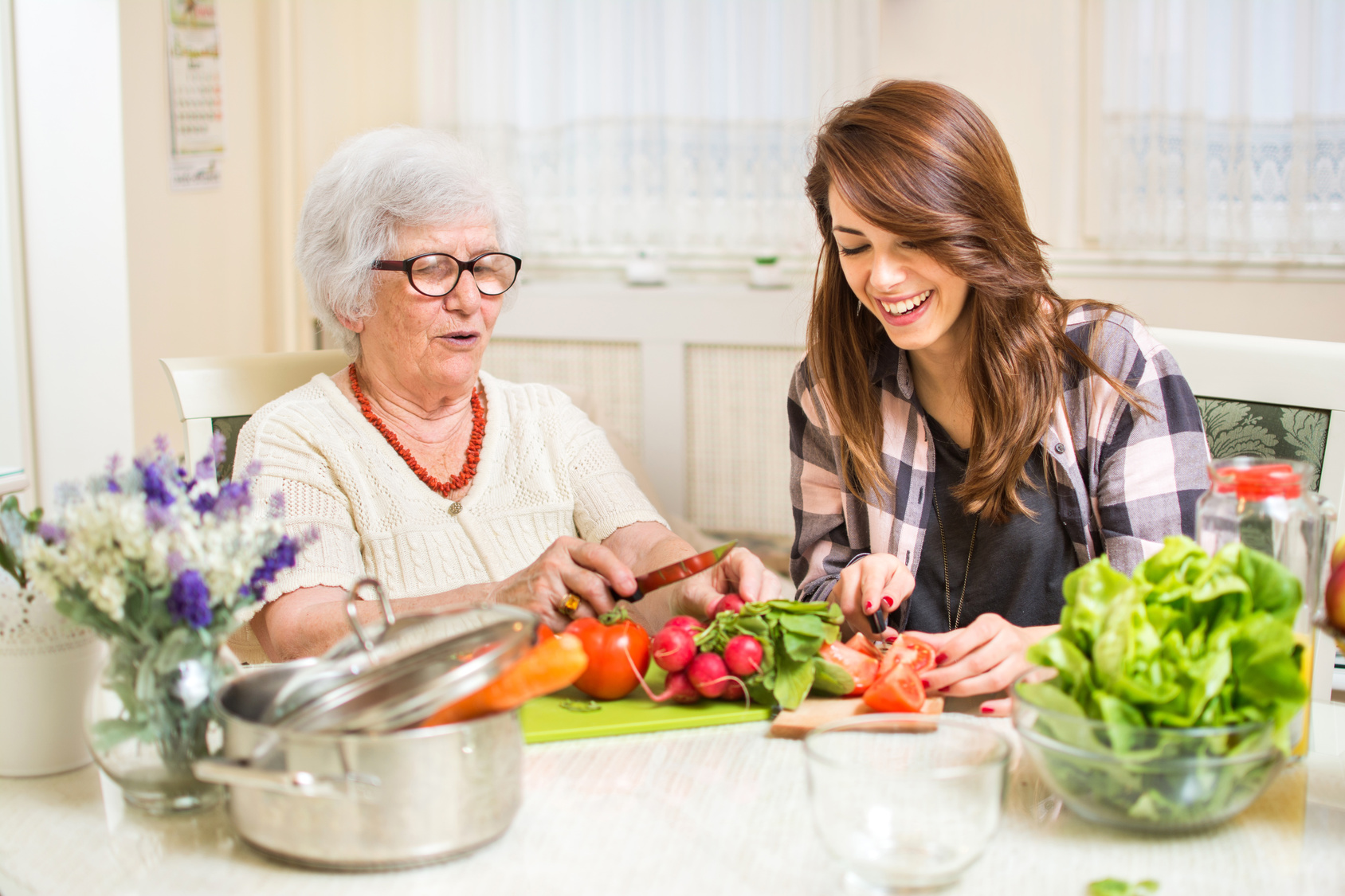 Nutritious foods are packed with essential vitamins and minerals. Seniors living with dementia must consume healthy meals in order to keep their bodies strong and healthy. Certain foods are recommended for dementia patients to help maintain physical strength and overall health.
As dementia progresses, the condition gradually worsens a senior's judgment, memory and thinking skills. Eating habits are affected by the onset of cognitive decline and memory loss. A dementia patient may not recall how to cook, or, worse, may forget to eat altogether.
Additional causes of a poor appetite in dementia patients include no longer having the ability to recognize familiar foods, a decreased sense of smell and taste and a lack of physical exercise. Some medications also adversely affect appetite. Poorly fitting dentures can prevent a senior from eating.
Despite the daily challenges in eating healthily, dementia patients benefit significantly from consuming a balanced diet. Eating meals rich in nutrients is known to affect the brain's biological mechanisms, like oxidative stress and inflammation, which are associated with Alzheimer's disease.
Can Dementia Be Slowed Down with Diet?
Although research is still underway, some evidence points to a slow in cognitive decline when dementia patients follow a Mediterranean diet. Anti-inflammatory and antioxidant properties found in specific nutrients in the Mediterranean diet may protect the brain and lead to slower cognitive decline.
A variation of the Mediterranean diet is the MIND diet (Mediterranean—DASH Intervention for Neurodegenerative Delay). The MIND diet focuses on plant-based foods associated with dementia prevention. Those who follow the MIND diet may choose from ten healthy food groups.
A senior who consumes plenty of fresh fruits, vegetables, whole grains, legumes, olive oil and fish follow the Mediterranean diet. The consumption of red meats, sweets and eggs is reduced. The MIND diet similarly encourages eating adequate amounts of leafy greens, berries, fish, beans, poultry and nuts.
1. Leafy Greens
Caregivers are advised to prepare salads, soups and stews that include leafy greens. Kale, collard greens, Swiss chard and spinach are examples of leafy greens that are high in essential B vitamins. Folate and B9 are effective in reducing depression and boosting cognition. Serve leafy greens six times per week.
2. Berries
Boost a senior's brain health with berries. Cherries, blueberries, blackberries and raspberries are filled with antioxidants and vitamins that help reduce inflammation. Caregivers should try to serve at least two servings of berries per week to dementia patients. Fruits are also convenient finger foods.
3. Fish
Consuming fish plays a pivotal role in influencing higher cognitive function and slowing cognitive decline. Salmon, tuna and mackerel are high in omega-3 fatty acids. Fish sticks are easier for dementia patients to handle, thereby making eating more comfortable. Incorporate one to three servings of fish per week.
4. Nuts and Seeds
Bite-sized and packed with flavor, nuts and seeds are loaded with nutrients. Vitamin E, vitamin B6, folate, magnesium, omega-3 and omega-6 fatty acids are abundant in peanuts, walnuts, almonds and cashews. The nutrients in nuts boost mood and help protect the aging brain from memory loss.
Seeds, too, provide a healthy dose of vitamin E, which is linked with lower rates of cognitive decline. Cognitive function improves when sunflower seeds (contains choline), pumpkin seeds (a good source of zinc) and flax seeds (rich in omega-3) are consumed. Aim for five weekly servings of seeds and nuts.
5. Vegetables
Cauliflower, broccoli, brussels sprouts and cabbage burst with nutrients, such as vitamin B, carotenoids and folate. These nutrients reduce levels of homocysteine, which is an amino acid linked with cognitive decline and dementia. Sautee vegetables or serve in soup at least once per day.
6. Spices
Season daily meals and snacks with a variety of spices, such as cinnamon, cumin and sage. Popular spices like these are filled with polyphenols, which benefit brain health. Additionally, these spices reduce the brain plaque and inflammation associated with cognitive impairment. 
7. Liquids
Solid foods provide nourishment, but the regular consumption of liquids is necessary to prevent dehydration. Caregivers should offer dementia patients small amounts of water, milkshakes or smoothies throughout the day. Alternately, serve foods with high water content, such as fruits.
The aforementioned foods are essential in a healthy diet, but certain foods are to be avoided. Butter, lard, shortening and fatty cuts of meat contain high saturated fats and cholesterol. While consuming a limited amount of fats is healthy, these fats are bad for heart health.
Similarly, limit sweet foods that contain refined sugars. Many processed foods contain empty calories but lack vitamins, fiber and minerals. Healthier options include fruit or baked goods made with fruit juice. Sweetening foods with sugar is an option to encourage eating in dementia patients.
Dementia and Eating Issues
A dementia patient may resist eating. Caregivers, however, can encourage the consumption of meals by serving meals in quiet, less distracted areas and checking the temperature of foods prior to serving. Serve one or two foods at a time, so that the senior does not struggle with decision-making.
Caregivers should allow plenty of time for the dementia patient to eat; an hour or more is expected. Keep the senior company during mealtimes to encourage eating. A dementia patient may also suddenly crave or reject specific foods, so it is important to be flexible with food preferences.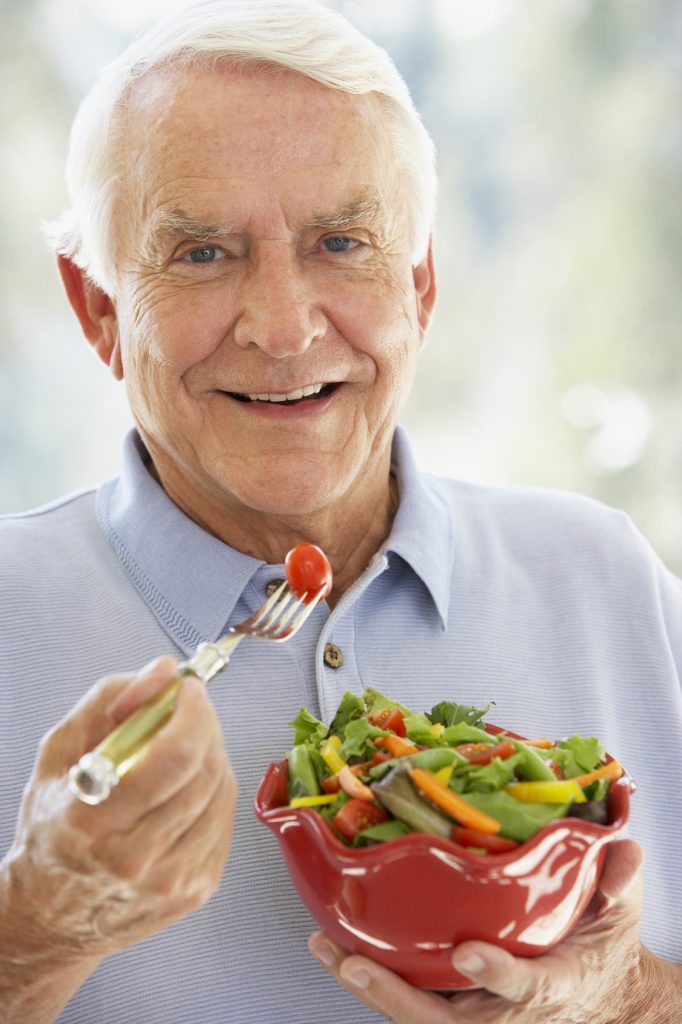 When your aging loved one requires extra support with meals, Assisting Hands Home Care professional caregivers are ready to meet those care needs. Preparing nutritious meals and shopping for fresh groceries are just two of the many memory care services provided by our skilled caregivers.
Assisting Hands Home Care's comprehensive home care services also include assistance with personal hygiene, transportation to doctor's offices, light housekeeping, companionship and medication reminders. Dementia care providers are trained to compassionately handle wandering, agitation, memory problems and other symptoms of dementia.
If your elderly loved one suffers from Alzheimer's disease or other forms of dementia, consider the reputable dementia care services from Assisting Hands Home Care. We are dedicated to serving the residents living in Addison, Lombard, Villa Park, Elmhurst, Illinois, and its surrounding areas. Call us at (630) 313-6160 for an in-home assessment.
Sources:https://www.agespace.org/dementia/tips-to-help-someone-with-dementia-to-eat-more,https://www.alz.org/help-support/caregiving/daily-care/food-eating,https://www.nia.nih.gov/health/what-do-we-know-about-diet-and-prevention-alzheimers-disease
Learn about Daily Care Checklist for Dementia Patients