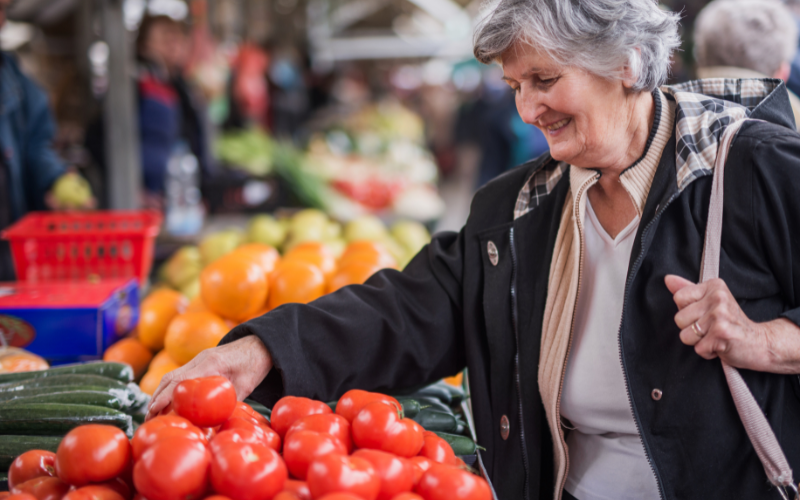 Spring is here and seniors have plenty of activity options. The warm weather, the brighter days, and the help from family or professional caregivers can make this season one to feel joyous about. Take advantage of all spring has to offer and enjoy these senior friendly spring activities.
1. Visit a farmer's market
Farmer's markets pop up again in springtime, catering to the fresh produce needs of seniors. Leisurely stroll the markets, picking strawberries, tomatoes, and pumpkins. Or stop by a roadside stand to buy sweet corn and muskmelons. Seniors can also attend the events held at some farmer's markets.
Spring is also the season when the Annual Rhubarb Festival is held in Illinois. While rhubarb pie may be a main attraction, so are the festival's museum, Taylor Schoolhouse, and old car display. The live entertainment is sure to keep elderly visitors enthralled for a few hours.
Sample the tasty foods at the markets, then bring home a basket full of plump vegetables, tantalizing fruits, and flowers. The elderly and their caregivers can whip up a delectable, nutritious meal and bake a mouth-watering dessert. Enjoy the meal with a centerpiece of cut flowers.
2. Enjoy nature
The warm springtime temperatures and sunny days are inviting. Seniors, accompanied by their caregivers, can bask in the sunshine and breathe in the fresh air by taking a walk at the local park, along scenic nature trails or simply around the neighborhood.
Seniors who aren't mobile can still enjoy the fresh spring air by opening up the windows. Sit inside by the windows or outside on the porch. Either option allows the elderly to appreciate the budding trees and blooming spring flowers. Set up a hummingbird feeder nearby and birdwatch!
The elderly and their caregivers can also enjoy nature by having lunch outside. Set up a table and share the meal and beverages. Similarly, a scenic drive along winding roads will boost a senior's mood. Caregivers can drive as the senior watches the gorgeous scenery from the passenger seat.
3. Spring clean
Springtime is the ideal season to get rid of clutter. Cleaning the house does not have to be a chore. Rather, caregivers and seniors can transform the task into a meaningful activity. Simply go through keepsakes and old photos together. This activity can encourage seniors to reminisce.
While looking back on pleasant life events is joyful, springtime cleaning offers a double benefit: exercise. Cleaning the home is a low-impact aerobic activity. Older adults who sweep the floors and polish the cabinets get a physical workout, strengthening muscles and burning calories.
4. Plant a garden
Another great form of exercise is planting a spring garden. Seniors who like to get their hands dirty can dig the soil, plant a few seeds, and reap the rewards at harvest time. Consider narrow plots or raised garden beds, as the plants are easier for aging people to reach.
If a senior has trouble being mobile, plant an indoor garden instead. Spring is the right season to start seedlings. Plant herbs, grow flowers, or even buy a miniature bonsai tree. Do-it-yourself terrariums and hanging gardens are also indoor gardening projects seniors can start.
Indoor plants offer many benefits, including enhancing the décor of the senior's home. Gardening in general helps older people reduce their stress levels and keeps them physically active. Their mobility and flexibility get a boost when they tend to their plants.
5. Start crafting
Seniors who enjoy crafts can decorate their home with their projects. Several springtime craft projects will liven up the home. Gather a few wildflowers from the backyard and insert the stems into empty bottles or glasses; then set them up on the table to brighten up the living space.
Caregivers can also print out spring-themed coloring pages, provide art supplies, and encourage their elderly care recipients to color them in. Examples of spring themes include nature scenes and garden bees. Seniors can then hang up their projects around the home to infuse it with springtime cheer.
6. Host a family gathering
No one wants to miss a delicious springtime potluck lunch. The senior will have a grand time planning the springtime party and choosing the decorations with their caregiver. Create invitations with spring colors and send them to the family. Ask each relative to bring a favorite dish to share.
7. Exercise
Exercise should be a year-round activity for seniors. But certain activities can be performed in the warmth of the spring season. Older people might practice yoga outdoors or choose to do a variety of other low-impact activities, such as swimming, water aerobics, or walking.
When outside, seniors should dress for the weather. Layers of clothing are appropriate when the spring weather is temperate. A light scarf will keep the aging adult extra warm. Or, if the sun shines brightly, caregivers should ensure the elderly individual wears a hat.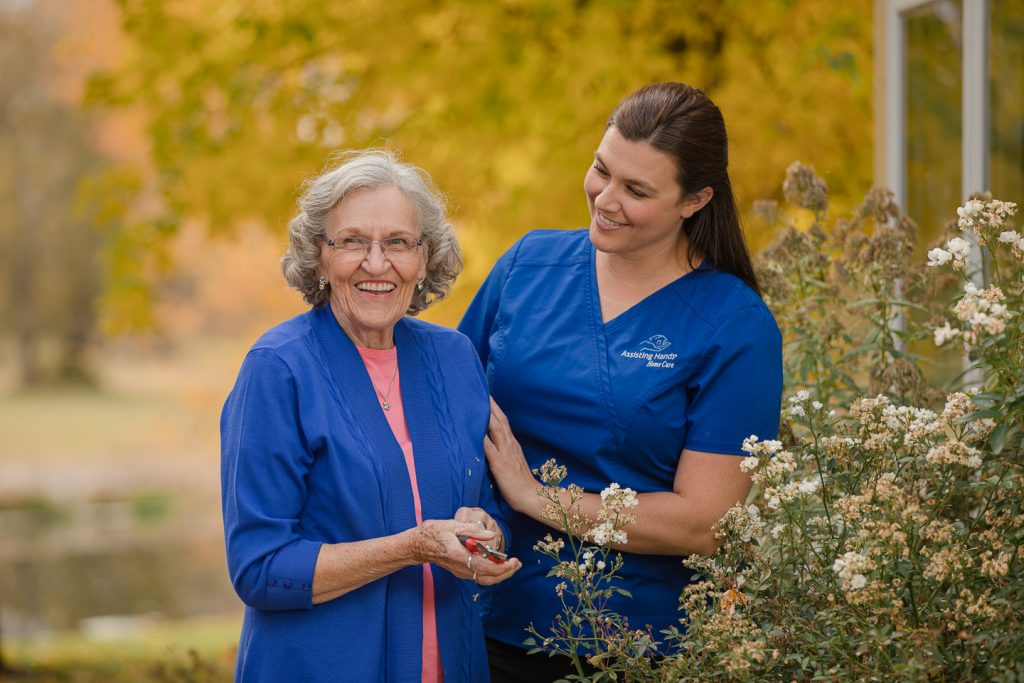 The range of spring activities is boundless. When warmer weather encourages seniors to enjoy the great outdoors, they may need extra support. The companion caregivers at Assisting Hands Home Care can help. We provide reliable custodial care and companion care to seniors of all ability levels.
Professional caregivers from our reputable home care agency fulfill the non-medical care needs of the elderly. We are there to help them with personal hygiene tasks, meal preparation, grocery shopping, medication reminders, and transportation to doctors' offices, senior exercise classes, and social events.
Our companion care keeps seniors socially active and engaged with their community—which benefits their social and emotional health. Caregivers learn about their care recipient's interests and pursue them together. We take seniors on safe outings, join them in hobbies, and hold pleasant conversations.
Caregivers from Assisting Hands Home Care are more than caregivers. We build friendships with the seniors we serve. When your elderly loved one living in Villa Park, Illinois, would benefit from senior care in spring or any time of year, schedule an in-home consult and begin quality home care.