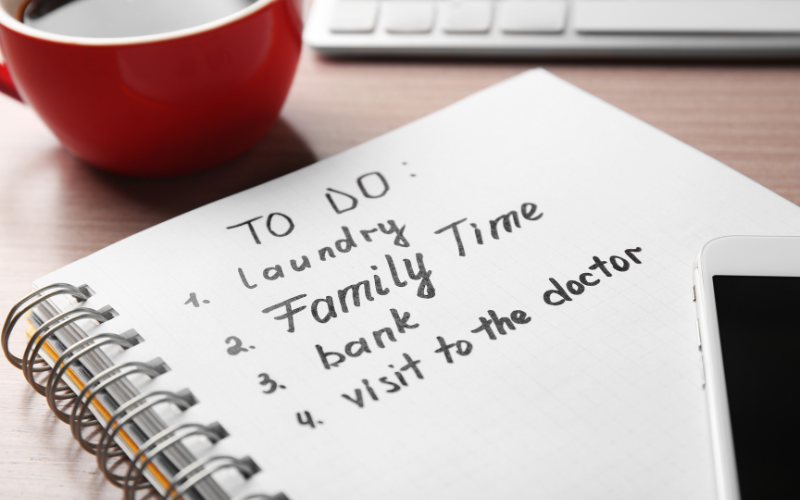 Serving as a family caregiver is a rewarding experience. But alongside the joys comes a demand for time. Family caregivers are busy with not only caring for an aging loved one but managing their own careers and families. Here are time-saving tips that can reduce the stresses of caregiving.
On average, a family caregiver spends 24.4 hours per week meeting the ongoing needs of an elderly care recipient. Time is spent managing medications, driving the senior to doctors' appointments, preparing meals, cleaning the home, and fulfilling the emotional needs of the loved one.
Family caregivers often feel they do not have enough time in the day to accomplish all they set out to do. Time is precious for the caregiver. Consequently, it's important for these compassionate individuals to manage their days wisely, even reclaiming some of their valuable time.
Tip 1: Prioritize Tasks
With little time to spare, family caregivers can avoid stress and burnout by prioritizing their tasks. Write down a short list of tasks that need to be done. Shorter lists, rather than longer ones, help caregivers feel more productive after they check off tasks they've completed.
Organize the list so that the most urgent needs are at the top of the list and the ones that can wait are positioned lower. Keep the list flexible and simple. Be sure to write down the to-do list rather than attempt to memorize it; use a spreadsheet or even a napkin to jot down tasks.
Tip 2: Merge Tasks
Another time-saving strategy is to combine tasks whenever possible. For instance, when shopping for groceries, also pick up medications at the grocer's pharmacy. By following this tip, pressing errands can be completed the same day. Similarly, make necessary phone calls in one sitting.
Tip 3: Accept Help
When a spouse offers to pitch in, accept the support. Caregivers who allow others to handle some tasks free up their own time. When a neighbor willingly drives the senior to the doctor's office, use the extra time to accomplish other tasks or use the few hours for "me time."
Tip 4: Use Technology
Just as well-intentioned friends and family can be an invaluable source of help, technology is useful. Caregivers can manage or remember a limited number of things. But by bringing in technology, they organize activities efficiently, communicate faster, and coordinate with the care team.
Today's caregiving apps are especially helpful time-savers. The senior's health information remains well-organized in CareZone, for example. This free app for iPhone and Android helps the family caregiver keep track of their loved one's medications, allergies, and insurance ID cards.
Tip 5: Utilize Shortcuts
When it comes to time management, shortcuts are a caregiver's best friend. Schedule doctors' appointments in the early mornings, so that the physician won't be behind yet. Pay bills online to avoid addressing envelopes and trips to the post office.
Likewise, make use of the slow cooker. Preparing dinner in one cooker eliminates the need to wash several pots and pans. Even simple shortcuts are helpful, like loading the dishwasher so that all similar utensils are in one compartment, making unloading the clean dishes faster.
Tip 6: Schedule Deliveries
Family caregivers who shop for basic essentials multiple times per week are encouraged to use subscription services. Set up regularly scheduled deliveries for items like toothpaste and toilet paper. Plus, many of these services offer a discount, up to 15 percent, for doing so.
Tip 7: Call Transportation Services
Show an elderly loved one how to use on-demand transportation services. GoGoGrandparent is a ride service where drivers pick up aging customers within 15 minutes. Users can pre-schedule rides for a doctor's visit, for instance, and caregivers receive text alerts to monitor the loved one.
Tip 8: Sign up for Meal Kit Deliveries
Ambitious family caregivers may aim to prepare a week's worth of meals. But preparing 21 meals over a weekend can be overwhelming. Instead, caregivers save time by signing up for meal kit delivery services. Fresh, portioned ingredients and easy recipes are delivered to their front door.
Tip 9: Manage Expectations
Perfection is an impossible goal when providing care to an elderly loved one. In fact, striving for perfection is a major time-waster. Rather, manage expectations and accept that plans may occasionally not go as intended. Accept that good is sometimes good enough.
Tip 10: Schedule Personal Time
Scheduling personal time appears selfish, but it's an effective way to recharge and be a more alert, compassionate caregiver. Feeling productive is impossible when overcome with exhaustion. When feeling run-down, set aside time to exercise, get a massage or spend time with friends and family.
Family caregivers who understand their limitations turn to their support network before stress sets in. A reliable support circle can include friends, relatives, neighbors, and home care agencies. Respite care is a great way for family caregivers to make time for themselves and ensure the senior is cared for.
When you need respite care, Assisting Hands Home Care is the solution. Our home care services are an integral part of family caregiving. By including respite services in a care plan, family caregivers have time to unwind and return to caregiving with a renewed outlook.
Respite care is designed so that the professional caregiver resumes care where the family caregiver leaves off. This allows for uninterrupted care. Your aging loved one receives the help they need in the comfort of home. All non-medical home health care needs are fulfilled by our professional caregivers.
Typical elder care duties include help with personal hygiene tasks, like bathing and toileting. Our caregivers prepare nutritious meals, give timely medication reminders, keep the home clean with light housekeeping services, and drive seniors to local destinations, like the doctor's office or post office.
Assisting Hands Home Care should be incorporated into every family caregiver's schedule. By utilizing our services, family caregivers improve their overall mental and physical well-being. We serve seniors in  Glen Ellyn, IL | Warrenville, IL | Naperville, IL | Westmont, IL | Woodridge, IL | Lisle, IL | Wheaton, IL  and the surrounding areas. Call us at (630) 634-9316 to schedule your free in-home consult and start quality senior home care.