Traveling with aging parents can be stressful—especially if it's your first time. Seniors often have unique needs that must be attended to and accommodated for to provide them a safe and pleasant experience while traveling. Whether you're planning a 7-day vacation abroad or a weekend trip to the next state over, the following planning tips will help you maintain peace of mind while providing adequate care to your elderly parent out of town.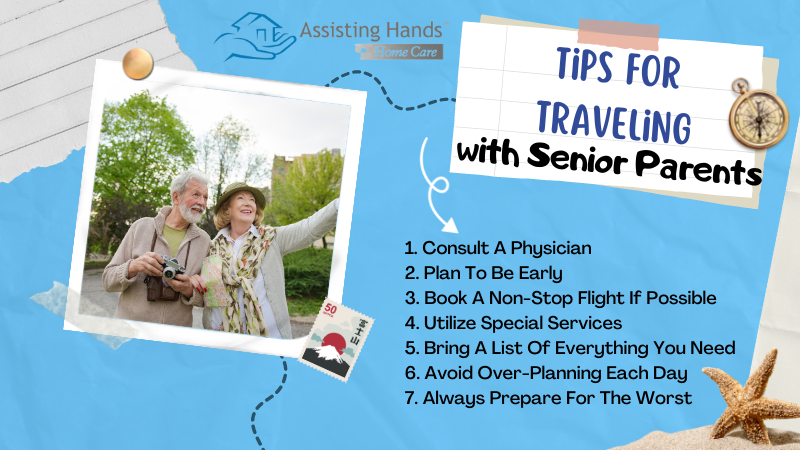 1. Consult a physician
For elderly people with complex medical conditions, traveling can be hazardous. If you are not sure if the trip is safe for your elderly loved one and their health, be sure to consult your doctor before making plans. This will ensure that your parent is in good condition to travel safely.
When discussing your plans with your doctor, also make sure you have all the necessary information regarding your loved one's medical issues and medications. You should know how often each medication needs to be taken and the correct dosage, as well as the trade and generic names of each one in case you need to replace anything.
2. Plan to be early
Traveling can be stressful no matter what age you are, but it is especially difficult for seniors who require special accommodations. Plan to be at the airport earlier than you would be if you were traveling alone, or at least two hours ahead of departure time for domestic flights.
3. Book a non-stop flight if possible
More stops means more complications when flying. The potential for long layovers, missing a connecting flight, and the added stress of getting your loved one on and off the plane multiple times make direct flights by far the most desirable option when traveling with an elderly parent. Minimize the number of possible hiccups by booking a nonstop flight to your destination if possible.
4. Utilize special services
Most transportation companies offer accommodations for disabled and elderly travelers including wheelchair services and designated seats. Taking advantage of these services will allow for smoother traveling throughout the airport and reduce the risk of running late for your flight. You may also request alternative meal options for any dietary restrictions your loved one might have, but it is important to check with the specific company if this is available beforehand. In the event that it is not, you will want to make sure you come prepared with meal and snack options to meet your senior's dietary needs before going to travel.
Keep in mind that if you intend to use special accommodations when traveling, you must request these at the time of booking.
5. Bring a list of everything you need
Staying on top of your loved one's medications and eating and sleeping schedule is essential to bringing them along safely to travel. Before leaving for your trip, consult with your senior's normal in-home caregiver to get a detailed list of all the supplies and medications you will need and the proper schedule for administering them. You should know when your loved one typically eats, sleeps, and takes their medications throughout the day. Write all of this down in a list so you'll be able to reference it while you're away.
6. Avoid over-planning each day
While it might seem like a great idea to plan 10 different activities on each day of your vacation, having such a jam-packed day can be extremely exhausting for elderly people. In lieu of back-to-back activities and excursions, plan for some time each day to allow your loved one to relax and recover. Carving out this time for rest will ensure your senior doesn't get overextended and end up missing out on the fun.
7. Always prepare for the worst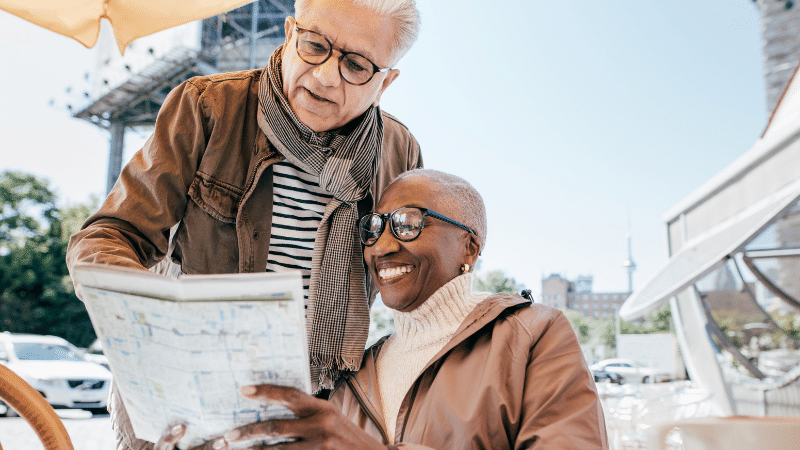 Never expect that things will go exactly as planned throughout the entire duration of your trip. Prepare yourself for the worst-case scenario by showing up earlier than you think you need to, bringing extra clothes, having your pharmacist's contact information on hand in case medication needs to be refilled, etc. Bring any medications your loved one needs with you on the plane so that you won't be stranded without them in the event that your checked bag gets delayed or stolen.
If you have a big event like a wedding or funeral coming up, or you just want to take a family vacation without leaving anyone behind, you may find yourself bringing your elderly parent out of town with you. While this may be an adjustment for everyone involved, it is 100% possible to do it safely as long as you follow a few standard recommendations and plan ahead for how you're going to meet your loved one's needs throughout the trip. We recommend preparing several days to several weeks in advance to ensure that your parent is healthy enough to travel and make sure you know how best to take care of them while away. If you feel you will need extra support keeping up with everything, you can always reach out to your in-home care provider in advance and make arrangements to bring them on the trip as well to provide care when you're unable to.
To inquire about in-home care or companionship care options offered by Assisting Hands of Batavia, reach out to us today at (630) 948-8193.