Technology advances rapidly, and seniors may face barriers that prevent them from keeping up. The good news, however, is that many older parents are already accustomed to using the internet and email. Here's how to teach aging parents how to use the latest in technology.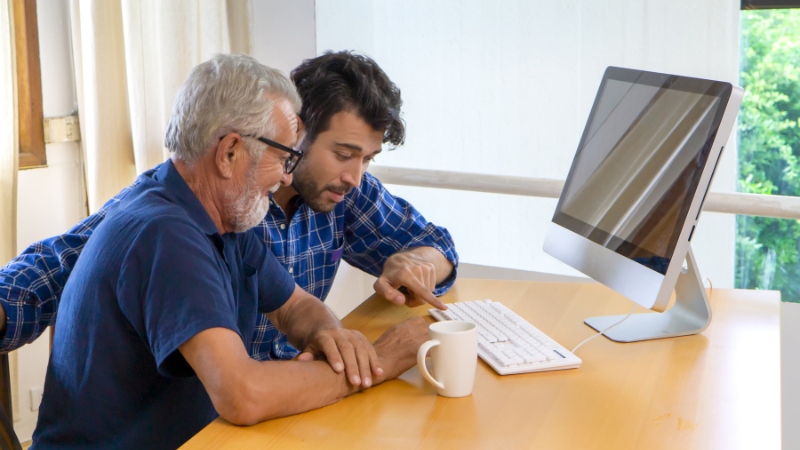 Younger generations aren't the only ones who use social media. Older adults, too, utilize the internet. In fact, 59 percent of seniors go online, and 47 percent report they have a high-speed broadband connection at home. Plus, 77 percent of seniors own a cell phone.
While the majority of seniors report they use the internet, a few remain unattached to life online. For example, 41 percent of elderly individuals do not use the internet for any purpose whatsoever; 53 percent lack broadband access at home; and 23 percent do not use a cell phone.
Many seniors who do go online struggle to adopt new technologies, unlike the younger generations. When it comes to using new digital devices, the majority say they need assistance. Specifically, 77 percent of seniors need someone to walk them through the process.
Then there are seniors who do go online but hesitate to use social media to connect with friends and family members. Approximately 56 percent of older adults report they would need guidance to use social networking sites, like Facebook or Twitter.
While technology is an integral part of today's world and utilized by a vast majority of people, keeping up with the latest advancements can be a challenge, especially for those who are unfamiliar with or who have not grown up using digital devices on an everyday basis.
Seniors, however, can be taught how to use technology. Prior to jumping in and teaching them about the various functions of computers, tablets or smartphones, it's imperative that they learn about online security. Older adults are concerned about their online privacy and data protection too.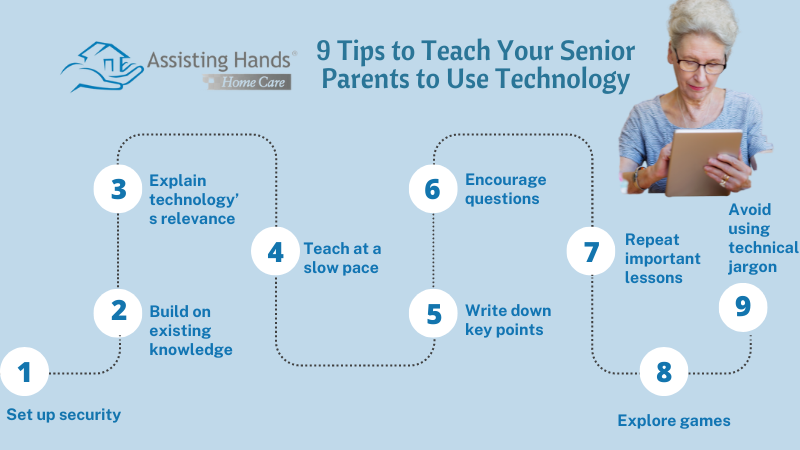 1. Set up security
Help seniors set strong passwords and download a password manager app onto their devices so that remembering a string of passwords is no longer necessary. On social platforms, assess the privacy settings and show them how to set them so that only friends can view their information.
2. Build on existing knowledge
Senior parents who are completely new to technology may not recognize website URLs. In such cases, use their existing knowledge to teach them this information. For example, web addresses may be likened to street addresses, both of which help them navigate online or around town, respectively.
3. Explain technology's relevance
If senior parents are reluctant to use social media, show them new photos of their grandkids on Facebook, for instance. Once they see how easy it is to connect with loved ones, it'll persuade them to want to learn how to use the various functions of social media.
4. Teach at a slow pace
Information from multiple short lessons is absorbed by seniors more readily than one or two long hours of teaching. Keep up a slow pace, allowing the elderly parents time to process what they learned. Ask the seniors how they feel about the steps before moving on to the next one.
5. Write down key points
Paper and pen still come in handy, and seniors will make use of both to jot down notes from the day's lessons on technology. A notebook may be used to write down passwords (in case the password manager app doesn't work), favorite URLs and how to use certain apps.
6. Encourage questions
Like all students, older people will feel more enthusiastic about learning technology when questions are encouraged. Some seniors may not want to interject with a question during a lesson. Build in regular time for questions, especially about topics that are expected to prompt curiosity.
7. Repeat important lessons
Teaching seniors about technology will require frequent repetition of the lessons. The sheer volume of information surrounding technology can overwhelm anyone of any age. Be patient and repeat key concepts when necessary to make it easier for aging seniors to absorb them.
8. Explore games
Playing online games, like Scrabble, Sudoku, and crossword puzzles, is an ideal way to get seniors engaged with technology and learn how to use it. Help them download an app or direct them to a website so that they can see the benefits of interactive games or even solitary ones.
9. Avoid using technical jargon
Generations ago, the word selfie was not in the dictionary. Now that it is, along with a host of other new technology terms, it's still important to be mindful of the words used while teaching a senior. Opt to use simple terms that the seniors will understand, and remain consistent.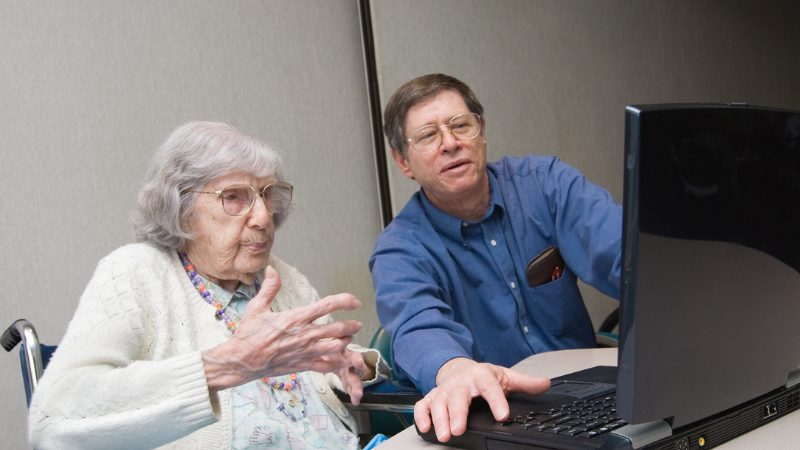 While senior parents are likely to pick up the necessary skills needed to use technology, it's important for them to keep their skills sharp. When practical, arrange for Zoom calls instead of phone calls. Doing so reinforces the lessons they recently learned and gives them more confidence in using technology.
Today's technology keeps senior parents connected with family members and friends, even if they live across the country. But sometimes a caring personal touch is necessary to help seniors live their best lives. Assisting Hands Home Care provides that beneficial human intervention.
Our home care agency provides a wide range of nonmedical home health care services that are designed to ensure older adults live healthily and safely. Companion care is among our invaluable care services. Caregivers socialize with care recipients at home, thereby preventing social isolation and loneliness.
While companionship is essential, so is our support with the activities of daily living. Our caregivers assist seniors with personal hygiene tasks, transportation to social events or doctors' offices, meal preparation, grocery shopping, light housekeeping, fall risk assessments, and medication reminders.
Senior home care from Assisting Hands Home Care is the best way to show your elderly loved one how much you are invested in their emotional and physical well-being. Our senior care services are available to older adults living in Matteson, Illinois. Call us today at (872) 713-9707 to schedule an in-home consultation.