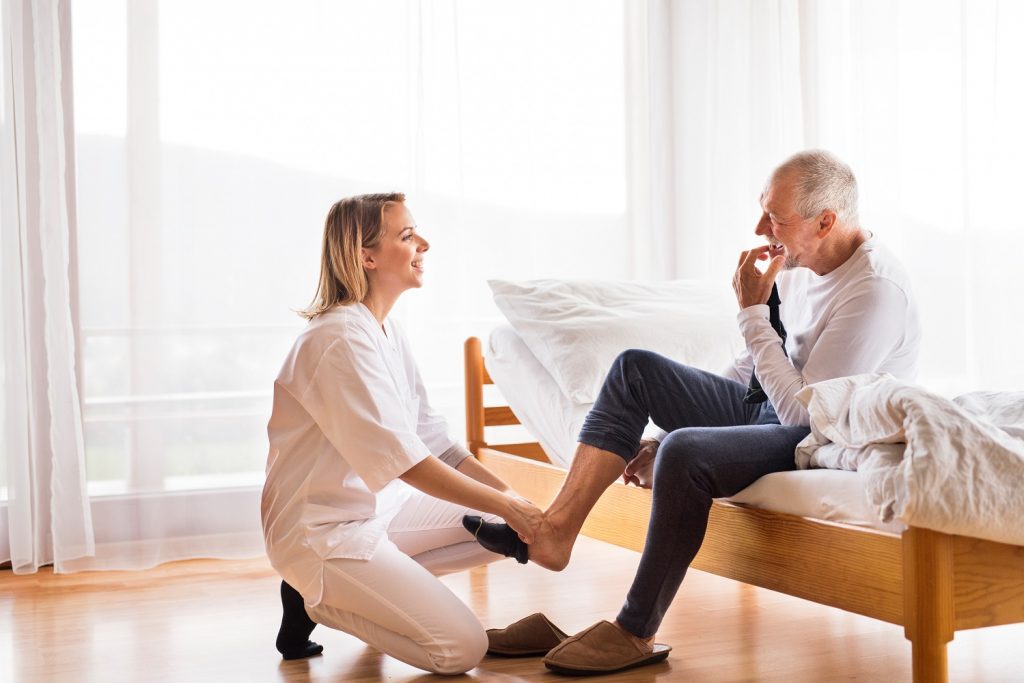 As people get older and reach their golden years, it is normal for everyday living to become more difficult. Even if seniors do not have a medical condition, your body becomes worn down and just isn't what it used to be.
For example, something as simple as standing for long periods of time might be tougher for elderly individuals to do. Extended periods of standing tire out a person's muscles and hinder blood flow. For seniors, this can be especially concerning because of their increased risks for blood clots. However, seniors have things around the home they need to get done, such as cooking, cleaning, and running errands.
In such a case, elderly individuals can use compression socks for some relief. Compression socks aid with blood circulation, making it easier for seniors to handle more pressure, weight, and work while on their feet.
If you have an elderly loved one who would benefit from using compression socks, then you and your loved one should take the time to look into the different types of compression socks available. In general, compression socks will help seniors, but it is important that they use the one that best suits their specific needs.
Continue reading to learn more about the advantages of compression socks, how they work, and how to choose the best kind for the seniors in your life.
How Do Compression Socks Work?
Compression socks help blood go against gravity and move to the heart by compressing vein walls and leg tissues. This helps prevent inflammation, swelling, and pain in muscles and joints. Furthermore, this can also help limit the potential for blood clots as the blood is encouraged to circulate.
The socks should provide pain relief to the wearer. For an elderly individual, this relief can, as a result, provide or maintain independence, as they can better handle activities they may have previously struggled with or were unable to perform themselves.
What Factors Distinguish the Different Types of Compression Socks?
1. Compression Type
There are three main types of compression socks/hosiery:
Anti-embolism stockings: These stockings are for immobile individuals to reduce the potential for deep vein thrombosis and provide a graduated compression.
Graduated compression: Graduated compression socks provide a graduated amount of pressure. The lowest pressure is at the top of the hosiery while the highest pressure is in the area that supports the ankles and lower leg. So, the pressure gradually increases as you reach the lower parts of the sock.
Nonmedical support: Nonmedical compression socks provide a uniform level of compression, so the pressure is the same at its highest and lowest points. A prescription is not required for these. Additionally, they provide less pressure than medical compression hosiery but are available for purchase at pharmacies.
2. Compression Level
Compression socks feature various levels of compression that can be as low as 8 mmHg and as high as 50 mmHg or more. The lower numbers are milder compression levels, and the firmness increases with the number. Generally speaking, people with more serious conditions that affect blood circulation will need higher compression levels.
For seniors, 15-20 mmHg and 20-30 mmHg compression levels are the standard recommendation. However, it is best to consult your elderly loved one's physician to figure out what compression level would be best for them as each person's needs are different.
3. Style of Sock
While the term may be "compression socks," not all of them are actually socks. There are different styles of compression hosiery available.
There are compression socks that are ankle length, knee-length, and longer. Some socks have a fully closed toe while others feature an open toe. There are also compression socks that have a zipper closure along the side, making it easier for individuals to put on and remove. Certain compression hosiery aren't even socks but rather sleeves, covering the lower leg but not the foot.
When considering which style of sock is best for your elderly loved one, you should make note of the materials used to make the hosiery. Spandex, nylon, and Lycra are often used to provide compression while polyester and cotton can be added for comfort and breathability. However, you need to monitor whether the sock is affecting your loved one's skin.
Professional Senior Home Care Services from Assisting Hands Home Care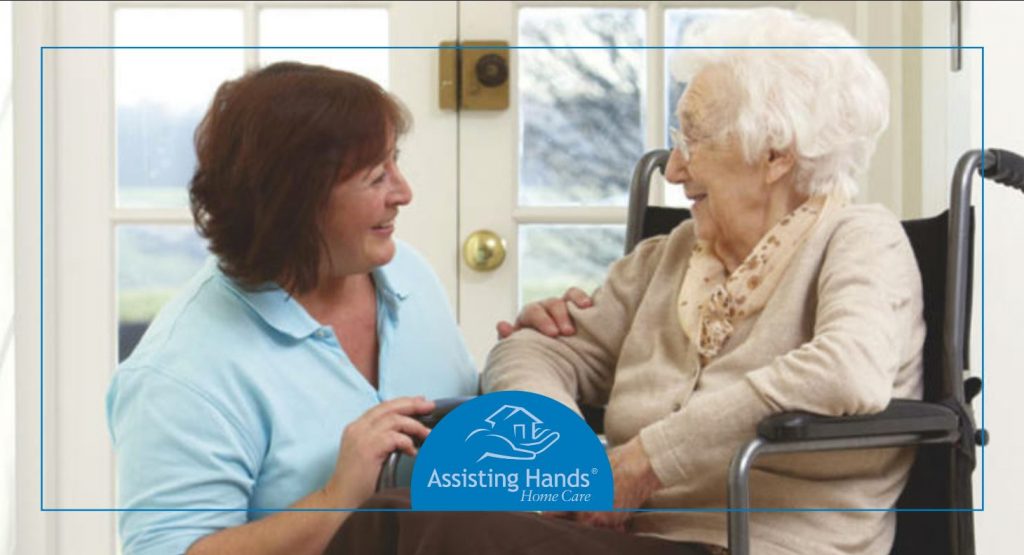 If you have an elderly loved one who needs to use compression socks, then chances are that they would also benefit from professional elderly care services.
At  Assisting Hands Home Care, we provide senior home care services to elderly individuals in need in Lombard, Glendale Heights, Villa Park, Itasca, Elmhurst, Bensenville, Addison, IL, and the neighboring areas in DuPage County. Our professional caregivers will provide help with activities of daily living (ADLs) in addition to other essential tasks like meal preparation, light housekeeping, errands, and more. With help from our elderly care services, your loved ones can have the care and assistance they need to safely live at home, and they will not have to spend long periods of time on their feet.
For more information regarding our senior home care services, call Assisting Hands Home Care at (630) 313-6160.