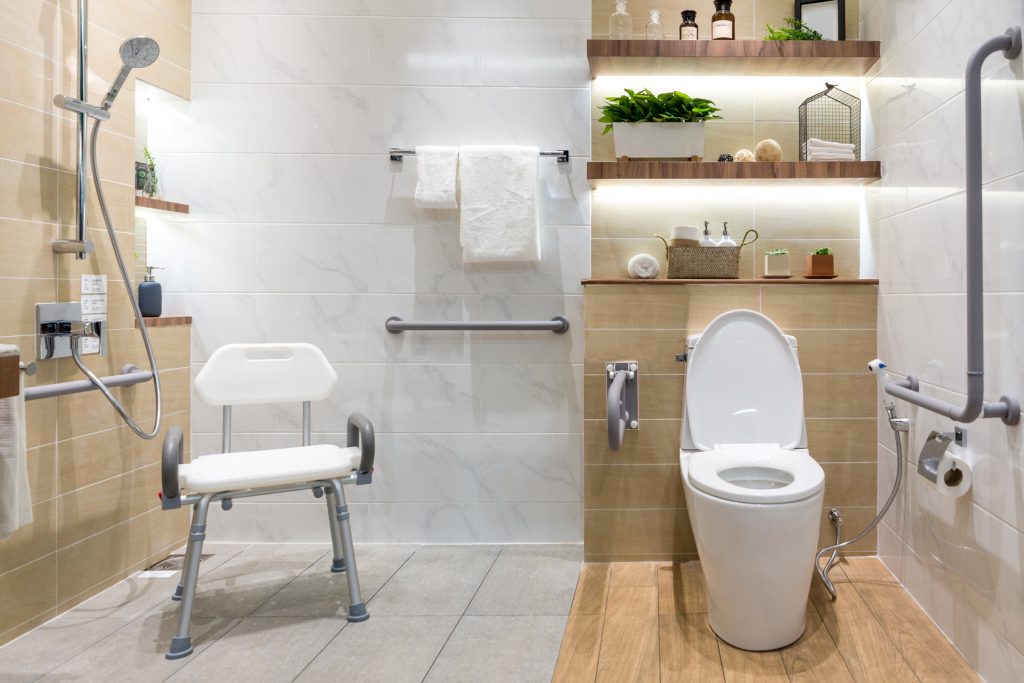 The bathroom is a hazardous place for the elderly. Wet floors and slippery surfaces can lead to a fall and cause an injury, like a broken hip or sprained ankle. Slips in the bathroom are reduced by installing shower rails and grab bars. The following are recommended bathroom grab bars.
The benefits of bathroom grab bars and shower rails include increased stability and a reduced risk for falls. Many times, in the bathroom, seniors balance one foot on the floor tiles. Grab bars lend additional support and facilitate independence in using the shower or toilet.
Bathroom use is an everyday task, which prompts the need for stable grab bars. This means suction grab bars should be avoided, as they can loosen over time. Instead, ensure physical stability by opting for grab bars and shower rails that can be mounted to the wall studs.
When choosing grab bars or shower rails, consider the height, weight, and ability of the elderly individuals. Properly installed grab bars support a person weighing up to 250 pounds. Grab bars and shower rails may be installed horizontally, vertically or at an angle.
The American with Disabilities Act (ADA), recommends installing multiple grab bars in the shower. Ideally, a horizontal bar will be installed so that the senior can exit and enter the tub safely, and a vertical bar will support the elderly individual as she turns the water on and off.
Similarly, two grab bars are suggested near the toilet. Along the side wall, install a 42-inch grab bar; on the back wall, a 32-inch grab bar will support the senior. Grab bars are available in a range of lengths, from 9 to 42 inches, and can accommodate any-sized bathroom area.
When choosing grab bars, look for products that are ADA approved. Grab bars that are manufactured to be compliant with ADA standards, such as having the ability to support 500 pounds of weight and having a specific width (1 ¼ to 1 ½ inches), are recommended.
1. Moen Grab Bars
A Moen 24-inch Grab Bar is easy to install near the bath, shower, or toilet areas. The product is ADA compliant and will support individuals up to 500 pounds. The bar diameter is 1.25 inches, giving hands of all sizes a comfortable grip.
Moen also manufactures a flip-up bathroom grab bar. Featuring a texture grip, this product will pose less of an issue when the bathroom humidity causes surfaces to become slick. Seniors using small bathrooms will appreciate that this grab bar flips out of the way during non-use.
2. Vaunn Grab Bars
Seniors who hop into and out of the tub will be safely supported with the Vaunn Medical Adjustable Bathtub Safety Rail Shower Grab Bar Handle. Featuring a heavy-duty steel frame, the rail provides a firm grip to people with limited mobility. The bar is clamped along the tub's side.
Whether right- or left-handed, seniors can utilize this rail comfortably. Installation is easy, as the product does not require tools. However, when bathroom conditions are humid, the rail handle can become slippery. Additionally, the height is nonadjustable, which can be a drawback for some.
3. Franklin Grab Bars
The Franklin Brass Concealed Mount Safety Bath and Shower Grab Bar provides secure and stable support for people weighing up to 500 pounds. The stainless-steel construction is ADA compliant. The potential downside is that installation can be difficult since it requires a drill.
4. Carex Tri-Grip Bathtub Rail
Carex manufactures a quality bathtub rail featuring three textured gripping areas for a solid grip. The varying gripping areas provide support to seniors of ranging heights. Plus, with an adjustable steel spring clamp, mounting the device is easy and quick.
5. Suction Cup Grab Bars
Grab bars featuring suction cups will not hold a senior's full body weight, and therefore are not advised for permanent use. However, as a temporary solution, such as during travel, these grab bars can be useful. Although easy to install, they must be reattached before each use.
Check out this blog post to learn more smart elderly bathroom solutions
Just as grab bars come in varying lengths, they also are available in different finishes and shapes. Grab bars and shower rails can seamlessly blend into the bathroom décor and fixtures without appearing out of place. Look for grab bars that easily match the finish in the bathroom.
The above grab bars are available for purchase online. Despite grab bars being a safety device, the products are not covered under Medicare. But when the bathroom grab bars are medically necessary, Medicare will cover them. Veterans may also receive coverage for grab bars through the VA.
Bathroom safety is critical, especially as seniors age and become less mobile. ADA compliant grab bars support the weight of elderly individuals and help make the bathroom a less intimidating space. Support from professional caregivers at Assisting Hands Home Care is also beneficial in seniors' daily lives.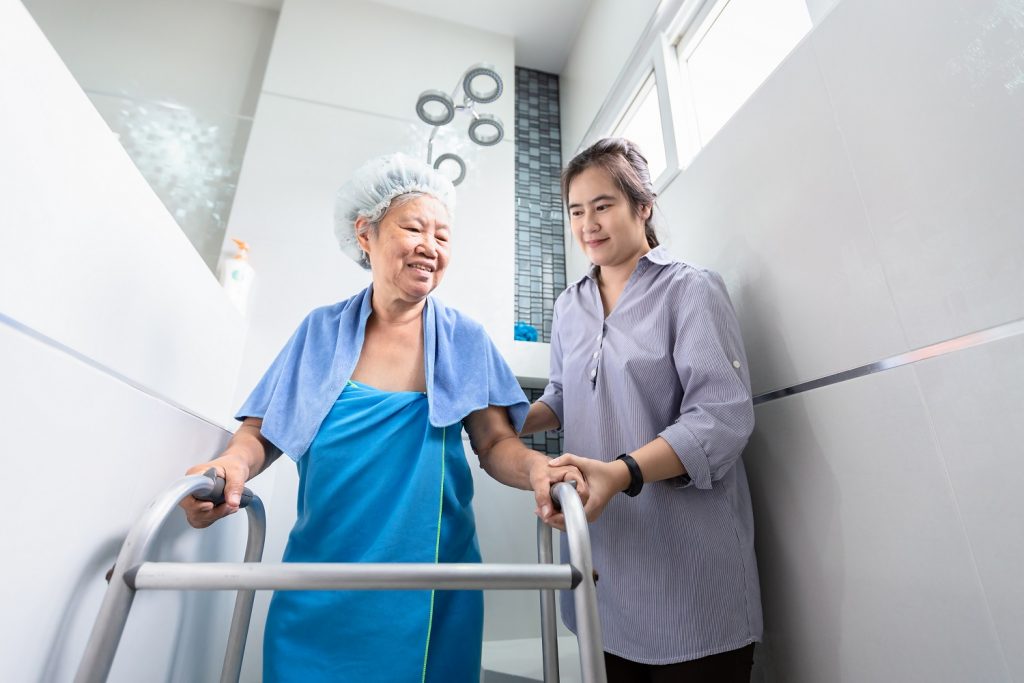 Our reputable home care agency is staffed with a team of dedicated caregivers who tend to the care needs of seniors of varying levels of physical and cognitive impairment. We provide comprehensive, non-medical support so that seniors can live as independently as possible in the comfort of home.
Core responsibilities of our caregivers include assistance with personal care activities, such as bathing, toileting, and dressing. We provide fall prevention services to keep your loved one safe. For example, we guide care recipients through the home, bathroom or outdoors for added support.
Assisting Hands Home Care services are flexible, meaning we provide care on a short-term basis, such as respite care or post-operative care; or, care services may be long-term, such as 24-hour in-home care or live-in care. Our caregivers are also trained to provide hospice care and dementia care.
Your loved one deserves to live with dignity and Assisting Hands Home Care ensures that seniors receive the most compassionate elder care available.
We support seniors living in Plainfield,  Yorkville,  Oswego,  Bolingbrook, Romeoville, Joliet and the communities in Will and Kendall counties, Illinois. Call us at (815) 201-5445  for an in-home consultation.
Sources:https://aginginplace.org/best-grab-bars-for-showers/;https://www.amazon.com/customerpicks/Explore-bathtub-grab-bars-for-seniors/20c25d9b9b25a7de7d65;https://www.amazon.com/Carex-Tri-Grip-Bathtub-Chrome-Finish/dp/B000KIJRAQ?ref_=ws_cp_ed236906e821c9116056_p_4_t_p_ws_cp_20c25d9b9b25a7de7d65_cp_1_t;https://www.medicarefaq.com/faqs/medicare-coverage-for-bathroom-safety-devices/;https://www.seniorsmatter.com/the-best-grab-bars/2492503;https://www.mcclurgteam.com/blog/4-facts-to-know-about-bathroom-grab-bars;https://aginginplace.org/best-suction-grab-bars-for-the-bathroom/