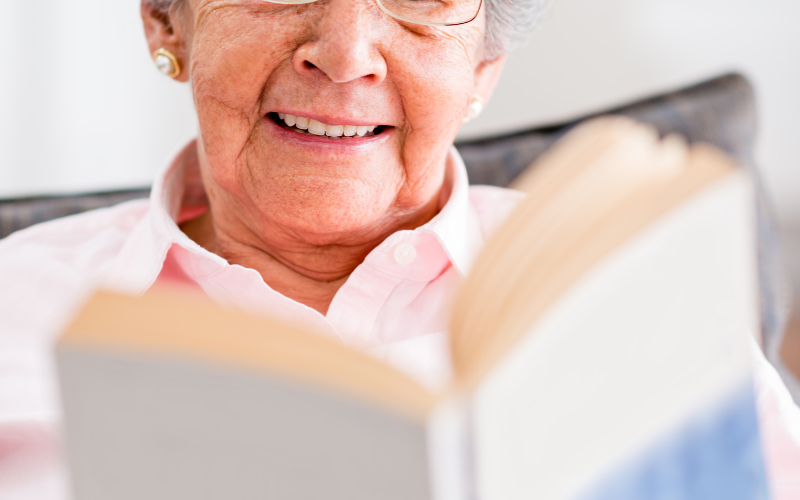 Books continue to educate and enchant people of all ages. Seniors experience numerous rewards when they pick up a book or magazine or scroll through a website. Aging adults have plenty of engaging reading material to choose from, including the books in this handpicked list.
What are the benefits of reading?
An active mind is a healthy one. Avid elderly readers experience a reduced risk for cognitive decline. Reading, as a cognitively stimulating activity, serves to protect mental functioning in later life. As a result of a healthy aging brain, seniors prolong their life and enhance its quality.
The aging process causes memory to become less effective. By reading and learning new information, seniors keep their minds active and facilitate easier recall of memories. Challenging the brain by reading also improves concentration, lowers stress levels, and reduces the risk of depression.
Seniors who join a book club widen their social circle. Likeminded book club members have monthly opportunities to connect, exchanging ideas and discussing the plots and characters of stories that stuck with them. Aging adults who volunteer to read to youth also benefit socially.
Now that the health benefits of reading are clear, it's important to find reading material that appeals to older readers. A wide range of books pique the interests of seniors, from self-help books about aging to espionage novels and classic murder mysteries.
Self-Help Books
Funny anecdotes about growing older add some levity to the aches and pains that suddenly appear. A lighthearted book that includes heartwarming stories seniors can relate to is The Book About Getting Older (For People Who Don't Want to Talk About It) by Dr Lucy Pollock.
A more serious book about aging is Ageproof: Living Longer Without Running Out of Money or Breaking a Hip by Jean Chatzky and Michael F Roizen, MD. The helpful tips inside address common issues seniors face, like a gradual decline in health and a lack of income.
Mystery Novels
Whodunnits, filled with murder mayhem and quirky detectives, intrigue seniors. Agatha Christie is one of the most famed mystery authors. Her classic Miss Marple Mysteries starts with The Murder at the Vicarage and continues for ten consecutive captivating mystery novels.
Seniors who prefer short stories will satisfy their need for fiction with A Christmas Mystery in Venice and Other Winter Tales: 3 Short Stories by Adriana Licio. Also check out Murder in Her Stocking (A Granny Reid Mystery) by GA McKevett and Granny's Got a Gun by Harper Lin.
Espionage Novels
Stories about the Cold War tend to draw seniors, because they have lived through the period of rivalry between the US and its allies and the Soviet Union and its allies. One Minute to Midnight by Michael Dobbs captures the events of the Cuban Missile Crisis of 1962.
Bridge of Spies by Giles Whittell is a dramatic, true story about the Cold War. The novel's characters include a KGB agent, an American U-2 pilot, and a vibrant American graduate student. A prisoner exchange at the heart of the book will enthrall older readers.
The Classics
Rereading the classics is never tiring. Rather, seniors who reread their favorite books of youth view the stories and characters from a new perspective, one that comes with age. A Wrinkle in Time by Madeline L'Engle is suitable for ten-year-olds as well as those over 65.
Seniors who love complex characters will feel satisfied after rereading The Great Gatsby by F Scott Fitzgerald. The story revolves around friendship as well as self-centered characters. Animal Farm by George Orwell will also be understood differently when older people reread it.
Humor Books
A hearty belly laugh awaits seniors who pick up The 100-Year-Old Man Who Climbed Out the Window and Disappeared by Jonas Jonasson. This humorous novel involves an elderly man who escapes the confines of his nursing home and begins a quest for adventure.
The Little Old Lady Who Broke All the Rules by Catharina Ingelman-Sundberg will keep seniors laughing. Aging is far too boring for the central character, so she takes matters into her own hands, escaping her care home and planning a bank robbery to live a life of excitement.
No matter what books seniors gravitate toward, large print text is easier to read. Older adults who are tech-savvy and own an e-reader can simply enlarge the text to improve reading comfort. Despite technology, for some seniors, feeling the pages in their hands adds enjoyment to reading.
Reading is a source of entertainment for the older crowd. Books keep seniors occupied and engaged, often transporting them to their childhood or to a place of unending adventures. While books can be read alone by seniors, caregivers can also participate by reading to them.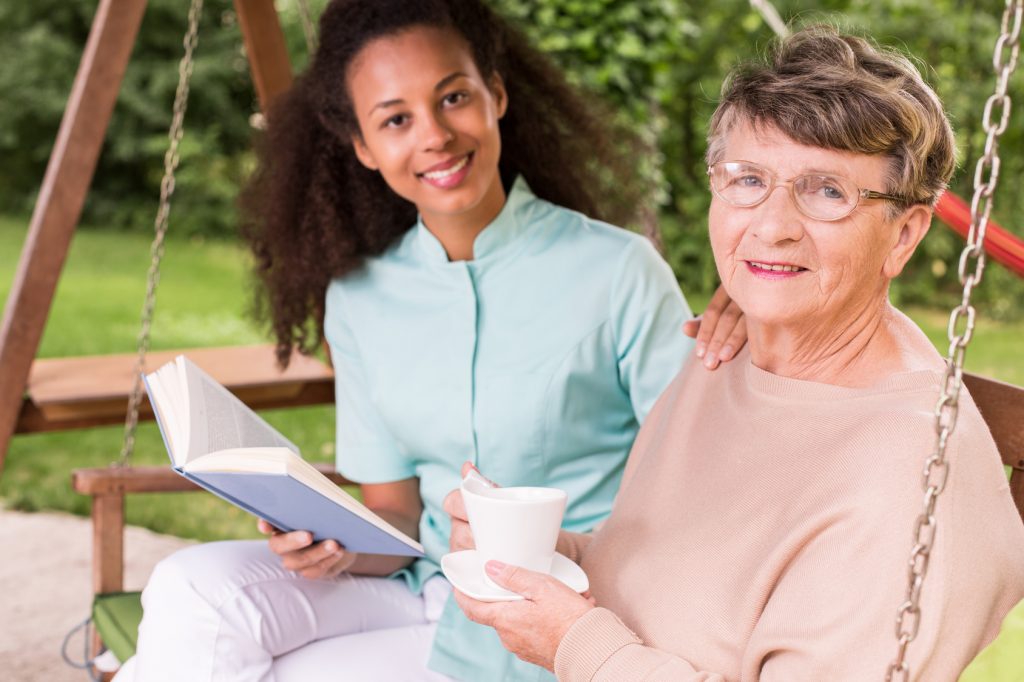 Assisting Hands Home Care is a home care agency staffed with dedicated companion caregivers. Our professionals are invested in improving the lives of the seniors we serve. Engaging with them socially, such as by reading to them, is one of many ways we enhance their daily life.
Our companion care services prevent loneliness and feelings of isolation in seniors. In addition to reading to them, we stimulate their minds with games, puzzles, and outings. Our active involvement in their life reduces their risk of developing depressive symptoms.
Additionally, our home care professionals are responsible for supporting seniors with the activities of daily living. We provide help with personal hygiene tasks, prepare meals, shop for groceries, provide safe transportation, perform light housekeeping, give medication reminders, and assess the home for fall risks.
Your elderly loved one's daily care needs will be fulfilled by our compassionate companion caregivers. We build friendships with our care recipients and remain a consistent source of support. We'll learn about their needs and interests and develop a customized, flexible companion care plan.
Choose Assisting Hands Home Care when the senior in your life would benefit from a companion caregiver. We serve elderly individuals living in  Burr Ridge, IL | Lyons, IL | Indian Head Park, IL | McCook, IL | Hodgkins, IL | Countryside, IL | Willow Springs, IL | Palisades, IL | La Grange Highlands, IL | Clarendon Hills, IL | Brookfield, IL | Western Springs, IL | Hinsdale, IL | Darien, IL | La Grange, IL | Downers Grove, IL | Oak Brook, IL | Willowbrook, IL , and the surrounding communities. Call us today to schedule an in-home consult and start quality elder care.