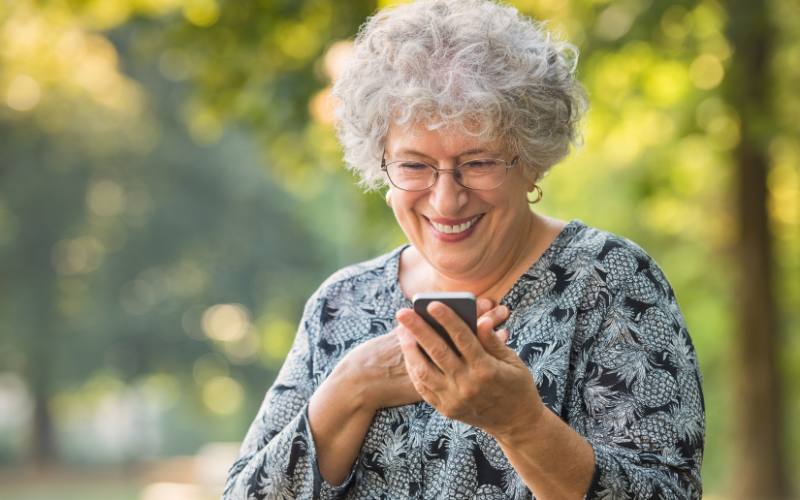 Every birthday and holiday are a chance for the entire family, including aging parents, to gather and celebrate. Once those festivities are over, it can be difficult to stay connected with elderly loved ones. But by utilizing these creative tactics, adult children can remain invested in their parents' lives.
1. Video Chats
Smartphone apps, like FaceTime, make it easy for families who live a long distance from their elderly parents to spend virtual time together. All the senior and adult children need is a smartphone. Facetime is predownloaded on devices, such as iPhones and iPads.
One-on-one video chats can be made with both elderly parents. Families are encouraged to set up a consistent schedule for video chatting to give the seniors an occasion to look forward to. Pick the same days to connect each week, such as every Wednesday evening.
If the family is feeling festive, video chats can be held with up to 32 people. The group FaceTime is ideal for family gatherings that an elderly parent is unable to attend yet allows them to feel like an important part of the convivial group atmosphere.
2. Handwritten Notes
Nothing says "I'm thinking of you" like a handwritten note to an elderly parent. Mail is eagerly opened and perused by seniors. Taking this old-fashioned route may seem archaic in comparison to email, but it means the world to aging parents who've been accustomed to mail deliveries all their lives.
Families can go a step further and send a care package, too. Fill up the package with the aging parents' favorite things, from scented lotions to craft supplies. Include a picture that the grandkids colored, and the care package will be a gift from the whole family.
3. Subscription Boxes
Connecting with elderly parents can also be done with subscription boxes. Delivered on a monthly basis, these boxes are filled with goodies. Mom will appreciate packages filled with wine or beauty products. Dad wouldn't mind monthly deliveries of razors, aged liquor, or socks.
The best thing about monthly or seasonal subscription boxes is that they keep aging parents happy throughout the year. When the goodies are craft supplies, they can encourage parents to pursue new hobbies or interests, thereby ensuring the seniors continue to feel entertained and fulfilled.
4. Hobbies
Adult children who participate in a hobby with their elderly parents stay meaningfully connected. Technology makes it possible to cook, create art, or read the classics together—even when living miles apart. The hobby can be brand new to the family or one passed down through the generations.
Pursuing a hobby together helps everyone involved learn new skills. Whether it's a new language or a new instrument, seniors give their minds a workout and stay stimulated. The hobby itself is a good conversation starter and helps strengthen the bonds between adult children and parents.
5. Family Events
Time spent with loved ones is cherished by aging parents. Family reunions are anticipated by seniors, as they have an opportunity to reconnect with people who mean the most to them. Relatives from near and far travel to the spectacular event and enjoy good times in each other's company.
Family reunions aren't the only events seniors long to be a part of. Bridal showers, baby showers, engagement parties, and weddings wouldn't be the same without Mom or Dad. They'd even be happy to be invited to small events, like the grandkids' soccer matches or school recitals.
6. Regular Visits
Aging parents look forward to in-person visits from their adult children. Make regular trips to Mom and Dad's home. Visits can be arranged to be monthly, bi-monthly, or seasonal. Delegating visits to siblings and other relatives also allows parents to spend time with family throughout the year.
Plan a weekend getaway with aging parents. Drive to a nearby resort or fly to a tropical destination where the family can enjoy the sun and sand. Even a trip to the local park or a favorite restaurant can make wonderful memories for Mom and Dad.
No matter how adult children connect with their aging parents, it's important to be aware of communication challenges that may develop with age. Seniors may suffer from hearing or vision loss and can feel distressed by cognitive challenges. Remain calm and speak slowly and clearly.
In addition to modifying communication methods, allow aging parents to be a part of the decision-making process; this helps them feel in control. Also offer them choices, which increases their confidence and self-esteem and gives them the opportunity to be proactive in their lives.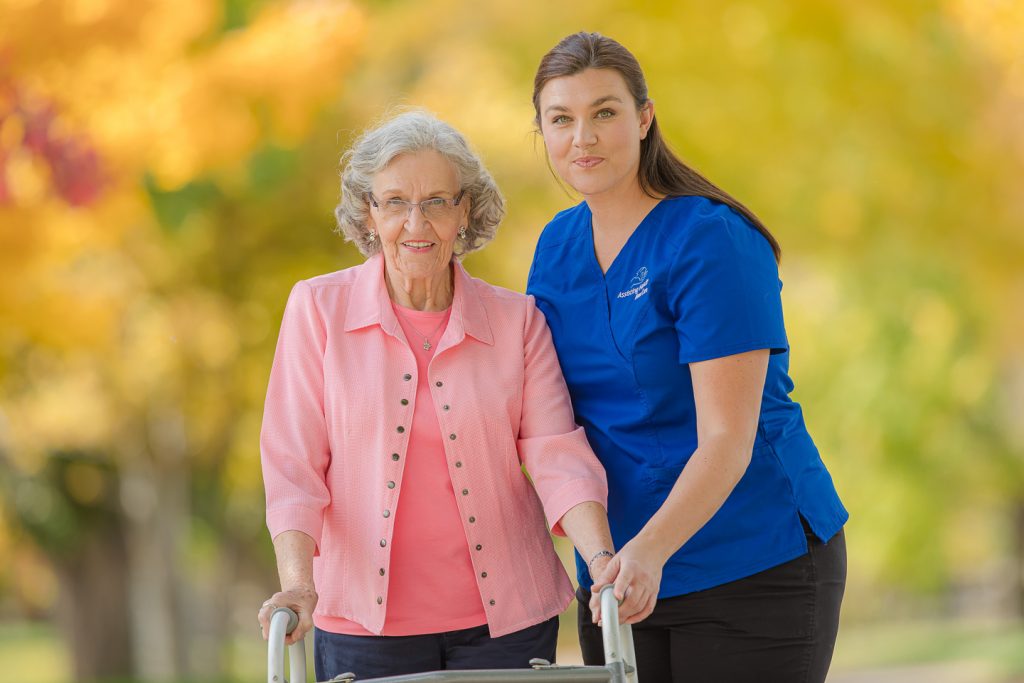 The ability to exercise choice is important. Ask Mom and Dad if they'd like lunch or dinner at a favorite restaurant. When aging parents appear to need help at home, include them in the decision to receive companion care from a reputable home care agency, like Assisting Hands Home Care.
We offer compassionate elder care to seniors of all ability levels. Whether an aging parent requires minimal help or extensive in-home support, we will tailor a care plan to meet all non-medical care needs in the comfort of their home. Our care options are flexible and comprehensive.
Seniors who live alone benefit from social engagement, which is provided by our companion care services. Professional caregivers keep the senior socially active with games, conversations, outings, and leisure activities. We build bonds with care recipients, which promotes their social health.
Companion care from Assisting Hands Home Care includes help with the activities of daily living. We shop for groceries, prepare nutritious meals, provide transportation to doctors' offices, perform light housekeeping, and give medication reminders. Your loved one has the chance to age in place.
Families are encouraged to use creative ways to connect with their aging parents. Also integrate senior care services from our home care agency to promote their well-being. Call us at (224) 268-9068 schedule an in-home consult with Assisting Hands Home Care and we'll develop a customized care plan to begin quality elder care.
We serve seniors and adults with disabilities in Deerfield, Buffalo Grove, Grayslake, Green Oaks, Hawthorn Woods, Highland Park, Lake Forest, Lake Zurich, Libertyville, Lincolnshire, Mundelein, Round Lake Beach, Vernon Hills, IL and the surrounding areas in Lake county, IL.