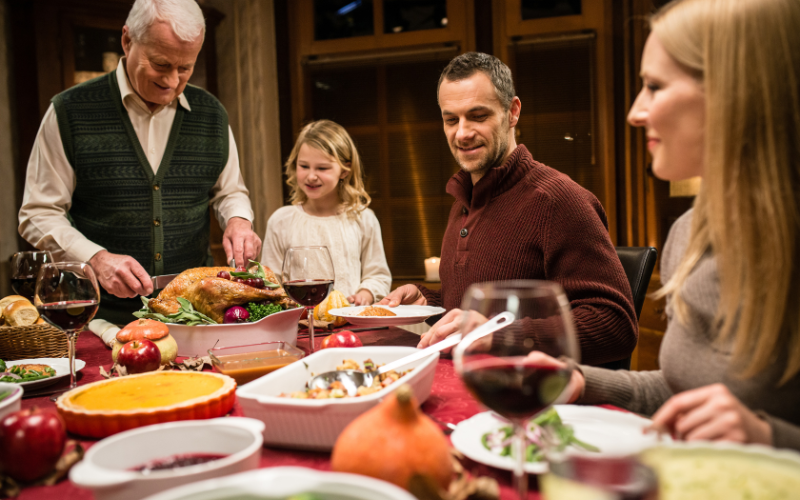 Thanksgiving is a family tradition, but as parents age, relationship dynamics will change. Adult children now make decisions, from who hosts the gathering to what foods to prepare. Senior parents have their own set of physical or cognitive limitations. Here are tips to ensure an enjoyable occasion for all.
Tip 1: Prepare the Host's Home
A gathering that includes elderly parents should be hosted in a senior-friendly space. The home should be one that minimizes trips and falls. Rugs should be taped to the floor to prevent the elderly from tripping over them. Likewise, remove clutter from the hallways and dining areas.
Vision changes, like cataracts, macular degeneration, and glaucoma, can accompany aging. Affected individuals require high light levels. Reduce seniors' sensitivity to glare by choosing lights with minimal glare. In general, accommodate seniors with poor vision by ensuring the home is well lit.
Older people appreciate warmth. Ensure that the Thanksgiving home will be sufficiently warm. Encourage the senior guests to dress in layers. In the gathering area, keep blankets and space heaters within reach. Offer a sweater if the senior parents still feel cold.
Tip 2: Notify Guests in Advance
Aging individuals may have trouble clearly seeing and, therefore, identifying other guests at the Thanksgiving gathering. Notify guests in advance to provide auditory clues when they approach the elderly parents, such as, "Grandpa and Grandma, it's Alex. It's nice to see you both."
Seniors living with dementia might repeat themselves, asking the same questions despite getting answers, or telling the same stories repetitively. Alert guests in advance, especially those who interact little with the seniors, that Mom or Dad may repeat sentences or phrases, and ask for patience.
Tip 3: Choose Senior-Friendly Foods
Food is an integral part of Thanksgiving. However, many seniors struggle with dental issues, such as tooth loss, gum disease, or trouble chewing. Prepare a feast that older adults can enjoy. Choose foods that are easy to chew or cut favorite foods, like turkey, into smaller, bite-size pieces.
Tip 4: Enjoy Thanksgiving Events in the DuPage County Area
Before your family gets settled for Thanksgiving dinner at the home of the host, consider doing some activities outside the home involving your senior parents and their grandchildren. This can be a great way for your family to bond in the days leading up to Thanksgiving.
There are many great Thanksgiving related activities in the DuPage County area. The Sunday before Thanksgiving, take your senior loved ones to a cast-iron cooking class at Churchill Woods. You and your senior parents can learn to make Thanksgiving dishes using cast iron pans and make these dishes for your Thanksgiving dinner.
The day before Thanksgiving, Naperville starts the Naper Lights display which is a large display of holiday lights and sounds on Water Street, Foyo Plaza, Jaycees Park, and the Riverwalk in Downtown Naperville. You can walk the display with your family between 4 and 10pm the Wednesday before Thanksgiving.
If you want to go out with your family early on Thanksgiving, there is a Thanksgiving Day Brunch at Drury Lane Theatre in Oakbrook Terrace from 10:30am to 5pm.  Just make sure your senior parents don't eat too much to spoil their appetite for Thanksgiving dinner!
If you want to take your family on a different kind of outing the morning of Thanksgiving, you can go to Morton Arboretum for a Thanksgiving Morning Hike between 9:30am and 11:30am. You and your family can spend the morning exploring some of the arboretum's 17,000 acres. Make sure to get tickets soon because spots are filling up fast.
Tip 5: Get to the Event
Families must arrange for transportation when the older parents no longer drive. Busy family members may have little time to pick up Mom or Dad at home. However, a professional caregiver from a local home care agency will be available to provide safe transportation to and from the gathering.
Tip 6: Be Flexible at the Gathering
One-on-one conversations may be readily enjoyed by older adults. Plus, seniors are better able to participate in discussions amongst fewer people. Arrange for a comfortable area that's out of the way and that gives the aging parents a calm place to talk without feeling overwhelmed by the crowd.
Intentionally seat the senior parents at one end of the table, alongside guests who will include them in conversations. An alternate way for the seniors to socialize is to take them to a quiet room, where guests can interact with them on a one-to-one basis.
Aging parents are likely to have hosted Thanksgivings in years prior. Now, they may feel unneeded. Families should invite their elderly parents to participate in meaningful ways. Ask Mom to prep the vegetables. Or, ask Dad to start a craft project with the grandchildren present.
Enhance Mom and Dad's enjoyment of the get together by making the seniors the center of a family discussion. Ask questions about how the parents celebrated past Thanksgivings. The aging seniors might joyfully recall the details of hosting past celebrations.
Tip 7: Avoid Overstimulation
Due to current physical or cognitive limitations, seniors may no longer look forward to a full day of Thanksgiving feasting and merriment. Families should arrange for a space in the home to which the aging parents may retire early, if they choose.
Seniors who are used to living in a quiet and peaceful home environments can feel overstimulated when at a gathering filled with noisy crowds, loud music, and kids running around. Plus, individuals with dementia may become confused and agitated in the late afternoons or early evenings.
Arrange for a quiet room so that the seniors can avoid the discomfort of overstimulation. Furthermore, a tranquil space set aside for the parents can be used to take naps before or after dinner. Keep Thanksgiving on schedule, so the parents are not forced to stay later than planned.
Tip 8: Hire Companion Care
Make Thanksgiving memorable for senior parents by hiring experienced caregiving professionals. Families that are too busy preparing for the start of the holiday season will find invaluable support from elder caregivers. Companion caregivers ensure seniors receive ample attention and care.
Professional caregivers are instrumental, helping older adults get the most out of Thanksgiving. These professionals will help Mom or Dad bathe, dress, and groom for the anticipated event. Caregivers also provide mobility support, ensuring seniors stay safe while navigating the host's home.
Assisting Hands Home Care is a recognized leader in elder care. Our professional caregivers support seniors in the comfort of home. We provide help with all the activities of daily living, including bathing, meal preparation, grocery shopping, transportation, and transfer assistance.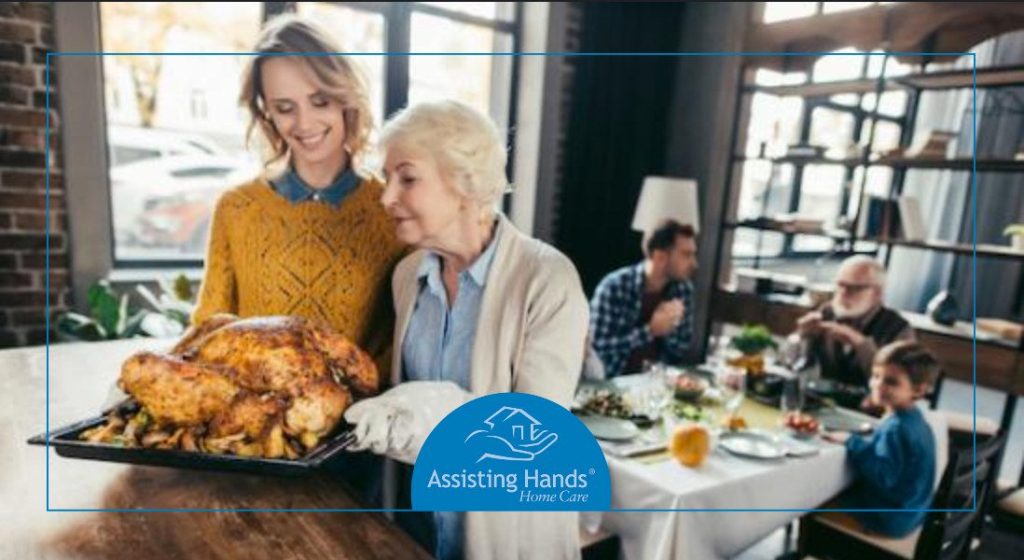 Our in-home care services ensure that seniors live comfortably and age with dignity. Companion care from Assisting Hands Home Care is highly valued by families with seniors who live alone. Caregivers prevent social isolation and loneliness in care recipients by engaging with them on a daily basis.
Assisting Hands Home Care companion care services is the right choice when seniors need both social support and help with the activities of daily living. We build strong relationships with seniors by initiating conversations, playing games, and joining them in recreational pursuits.
Assisting Hands Home Care offers comprehensive in-home care options that will keep your elderly loved ones engaged and healthy throughout the holiday season. Our home care services are available to seniors living in Burr Ridge, Lyons, Indian Head Park, McCook, Hodgkins, Countryside, Willow Springs, Palisades, La Grange Highlands, Clarendon Hills, Brookfield, Western Springs, Hinsdale, Darien, La Grange, Downers Grove, Oak Brook, Willowbrook and surrounding areas in DuPage and Cook County, Illinois.  Call us at (630) 407-1932 for a complimentary in-home consultation to start quality home care.