At Assisting Hands Home Care, we can help seniors and adults who need consistent care and supervision with our live-in and 24-hour home care services in Brookfield, Elm Grove, and Pewaukee, WI as well as the surrounding areas in Ozaukee, Washington, and North Milwaukee counties.  We will ensure that a licensed caregiver is in your loved one's home 24 hours a day to provide care and assistance and respond to emergencies.
As more seniors of the baby boomer generation are reaching retirement age, they are choosing to spend their retirement at home instead of receiving care at a nursing home or assisted living facility.  This option gives seniors more independence and allows them to remain in the comfort of their home, but they will likely need some help to age in place safely.
The level of care that seniors and adults with disabilities need at home depends on their specific situation and health.  Some may require part time assistance if they need help with household chores or rides and others may need someone present each day to assist with activities of daily living (ADLs) including dressing, bathing, eating, and toileting.  If your loved ones suffer from a chronic condition, serious illness, or immobility, they can benefit from 24/7 care.
At Assisting Hands Home Care, we provide home care services to assist those in Brookfield, WI who need constant care.  Our trained and licensed caregiver will always be in the home of your loved one, ready to provide assistance and respond to emergencies.  These services can provide your family with the peace of mind knowing that your loved one is never alone.
Live-In Caregivers near Brookfield WI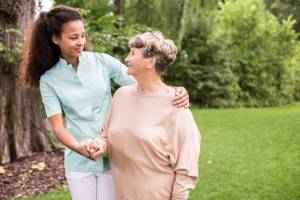 Our live-in home care services will provide your loved ones with a high level of care as one of our caregivers will be living in their home each day.  With these services, we assign two live-in caregivers to your loved ones who will live in the home for 3 or 4 days before switching shifts with the other.  Our caregiver will help your loved ones throughout the day with their care needs including help with activities of daily living (ADLs), medication reminders, meal preparation, transportation, and certain housekeeping tasks.
You can expect the following from our live-in caregiver:
Mornings: Our caregiver will wake up in the morning to help your loved ones out of bed and though their morning routines. We can assist with personal hygiene activities including restroom use, bathing, and getting dressed, and make them breakfast.
Daytime: Our caregiver will be available during the day to help with anything including medication reminders and other personal care, meal preparation, and light housekeeping. We can also help get your loved ones to doctor appointments and help with their errands by providing transportation.
Night: Our caregiver will make sure your loved ones get safely to bed each night.
Our live-in caregiver will provide your loved one with the care and assistance they need throughout the day and night as well as much needed companionship.
Preparing for a Live-In Caregiver
Our live-in caregiver will be living at your loved one's home for 3 to 4 days at a time and will need a space in the home to sleep and keep their things.  Those who receive live-in care from us must provide a space for the caregiver and allow them to sleep for at least 5 hours each night.  When it is time to change shifts, our caregiver will change the bedsheets and get the space ready for the next caregiver.
24-Hour Home Care in Brookfield
The main difference between 24-hour home care and live-in care is the attentiveness of the care.  With 24-hour home care services, one of our caregivers will be in the home, awake and alert 24 hours a day.  Those who opt for 24-hour care will be assigned multiple caregivers who will change shifts every 8 to 12 hours.  These shorter shifts mean that the caregivers will stay awake their entire shift ready to provide care and assistance.  You can expect our 24-hour caregivers to provide the same care described above with our live-in care services.  While your loved one is asleep, one of our caregivers will be awake in the home to monitor them and respond if they need help.
Our 24-hour caregivers will not need to be accommodated within your loved one's home as they will stay awake over a shorter shift.  Seniors who suffer from chronic conditions or serious illnesses could benefit from 24/7 care.
Caregivers You Can Trust
Having a loved one who requires 24-hour care is stressful enough.  When you work with our caregivers at Assisting Hands Home Care, you can trust that your loved ones are in good hands.  Our caregivers each pass a background check before hiring and they receive additional training to sharpen their skills.  They are also licensed, bonded, and insured to protect you from liability.  Our caregivers will always treat your loved ones with compassion and respect and ensure that they get the quality care they need.
Call Assisting Hands for a Free In-Home Assessment
Give us a call at Assisting Hands Home Care if you have loved ones in the Brookfield, WI area who could benefit from our live-in or 24-hour home care services.  We will set up a free in-home assessment to understand your loved one's care needs and form a plan to ensure that they get the proper care.  You can reach us at (262) 753-6652 to learn more.
What Our Clients Say About Us
Review by

Jennifer Rundell

- Brookfield, WI
Rating

Working with Robin Elario and Assisting Hands has been an absolute delight!! Robin's attention to detail and genuine compassion for each and every client is thoroughly amazing. The services my Mom is receiving through Assisting Hands are definitely top notch! Her caregiver is hardworking, gentle, kind and very respectful. I would HIGHLY recommend Assisting Hands without hesitation! Thank you for all of the little things you're doing that have such a BIG impact on the lives of our loved ones.
Review by

Savage Witch

- Brookfield, WI
Rating

This is the best company I have had work with my mom. Better then those that highly advertise. They may be small but, in my opinion, they are better because they are!! Highly recommen
Review by

Sharon Buth

- Brookfield, WI
Rating

♥️ LOVED loved LOVED working with Assisting Hands ♥️ Rene & her Staff are AWESOME !!!! They say people cross Our Path for a reason 💫 Working with Rene & this group of care givers, my family and I found that fact not only true but a blessing !!! 💫They walked hand in hand with my family helping us help our Mother live Independently in her home during her Golden Years 💥♥️💥 Hands Down they are a dedicated group who will do whatever it takes to get the job done well and EXCEED your EXPECTATIONS ♥️ 💫 EARTH ANGELS should be what this company is called 💫 ♥️ Kudos & a huge shout out to you Rene and your dedicated staff - whether it was taking Mom to the store - a Dr appt or helping out with house cleaning & personal care you were there for her and for Us ! We will never forget you & will certainly share by word of mouth what a great company you are to work with for those people looking for Assisting Hands to help out with their loved one ♥️ May Gods Angels & Blessings Always Surround Rene & Her Caring Staff ♥️ Thank you for putting a Smile on Moms Face and Extra Love In her Life ♥️ Forever Grateful ♥️
Review by

Allen Mundt

- Brookfield, WI
Rating

They did a very good and compassionate job in a touchy and difficult situation. They are very willing to work with family to do whatever it takes. Good at coordinating and communicating all along the way.
Review by

Manjeet Arora

- Brookfield, WI
Rating

Wonderful service for seniors in the area.. Stay at home imdependently