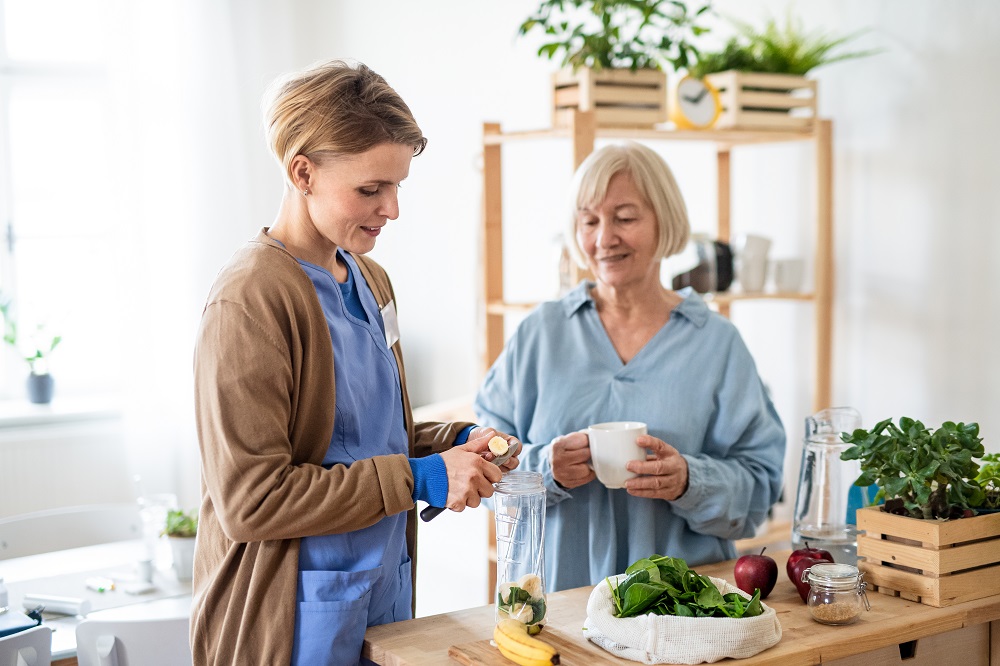 As we age, it's normal for us not to eat as much as we used to. This is because our bodies slow down and don't need as much energy to get through the day. Also, we may not have the appetite we used to in our younger years. On the other hand, having a well-balanced diet is still incredibly important and there are some creative ways you can sneak in all your nutrition by eating less.
One of the best foods for seniors as they age are smoothies. When prepared with the right ingredients, they are healthy and can help prevent diseases as well as memory loss. One such group who will benefit greatly from smoothies are those at risk for dementia and dementia patients.
According to the Alzheimer's Association, brain-healthy foods increase blood flow to the brain, which reduces the risk for Alzheimer's disease as well as helps to prevent diabetes and heart disease.
Which Foods Boost Brain Function?
Did you know dark-skinned fruits and vegetables like blueberries, raspberries, cherries, kale, spinach, and beets all contain high levels of antioxidants to help protect brain cells? You can also add extra flaxseed, coconut oil, and chia seeds to your diet for additional fiber and healthy fat intake. There have also been some rumors that coconut oil has been known to prevent dementia and improve memory.
Ultimately, smoothies are packed with nutrition when using healthy ingredients and can complement an aging adult's diet, especially when they don't have the appetite but need to eat. Here are some wonderful smoothie recipes below you may want to experiment with until you come up with your own personal favorite.
Healthy Smoothie Recipes for People with Dementia
Banana-Coconut Smoothie
1 cup of milk (substitute rice, almond or organic 1% cow's milk)
1 slightly thawed, frozen banana
1 scoop of protein powder
2 tablespoons of unsweetened coconut
Blend all ingredients together in a blender. Serves one.
Blueberry Brain-Boost Smoothie
1 cup of apple juice
1 fresh, ripe banana
½ cup of frozen raspberries
1 and ½ cups of frozen blueberries
¼ cup of raw walnuts, preferably soaked and drained
Combine both the apple juice and banana in a blender. Then add the remaining ingredients and blend until smooth. Serves two.
Flaxseed Smoothie
½ frozen banana, peeled and cut into pieces
2 tablespoons of flaxseed meal
1 cup of frozen strawberries
1 cup of low-fat vanilla soymilk
Place all ingredients into a blender and puree until smooth. Serves one.
Sweet Peach Smoothie
1 and ½ cups of apple juice
1 ripe peach, peeled, pitted and chopped into about a ¾ cup
¾ cup of ripe banana, peeled and chopped into pieces
1 tablespoon of vanilla yogurt
6 ice cubes
2 teaspoons of honey
2 teaspoons of flaxseed oil
Add all ingredients minus the honey and flaxseed oil into a blender and puree until smooth. Then add the remaining two ingredients and puree briefly to incorporate them. Serves one to two.
Green Tea and Blueberry Smoothie
3 tablespoons of water
1 green tea bag
2 teaspoons of raw honey
1 and ½ cups of frozen blueberries
½ medium banana
¾ cup of calcium-fortified light vanilla soy milk
Heat the water until it steams. Then add the teabag and steam for an additional 3 minutes. Remove the teabag and stir in the honey. Then blend the tea with the remaining ingredients on the blender's highest setting until completely smooth. Serves two.
Key Ingredients for Brain Boosting Smoothies
There are many ingredients containing brain-boosting abilities and they all can be combined to make a delicious smoothie. Check out these foods to read up on their specific benefits.
Blueberries: Blueberries are filled with antioxidants and neutralize free radicals that may damage brain cells. They also have flavonoids that improve both learning and memory functions as well as communication.
Bananas: In addition to making smoothies creamy, bananas also contain numerous antioxidants as well as serotonin which improves both learning and memory. Finally, they have a lot of dopamine which can boost both attention and memory.
Hemp Seeds: You can find hemp seeds at your local health food shop. They have essential fatty acids which are important for brain health. Their other compounds are also great for promoting memory and learning.
Apple Juice: Best used for liquifying smoothies, apple juice is great for brain boosting while also preventing the loss of acetylcholine, which improves memory and brain health.
Cocoa: Best used for those with a sweet tooth, cocoa is one of the richest sources of antioxidants and has been known to increase blood flow to the brain.
Leafy greens: Greens like spinach and kale may not have a lot of flavors, but they are packed with B6 and B12 which helps to fight Alzheimer's.
Check our our blog post about Basic Grocery List For The Elderly
Making Smoothies at Home
Whether you choose to follow one of the recipes listed above or be adventurous and throw any of the above ingredients into the blender, making smoothies can be both fun and nutritious. There are foods you'll want to avoid putting in smoothies, like excess cocoa, chocolate, peanut butter, extra sugar, and other sweets.
Some sweets in healthy amounts like cocoa and peanut butter are harmless. But when used in large amounts, they can cause unnecessary weight gain and contribute to loss of energy. Just be sure to stick to the ingredients listed above and keep the sweeter ingredients to a minimum.
Help with Making Smoothies
If you have a loved one with dementia who can greatly benefit from smoothies but is unable to make one themselves, a professional caregiver is more than willing to help. As meal preparation is proudly provided as one of our in-home memory care services, Assisting Hands Home Care in Plainfield, Bolingbrook, Joliet, Oswego and Yorkville, IL is available to help seniors with dementia prepare smoothies at home and so much more.
Our caregivers are licensed, trained, screened, and experienced to assist with various daily activities as included within our dementia care services. These include transportation, personal care, companionship, light housekeeping, and more! Whether your loved one needs help with making a smoothie or someone with whom to play a board game, our caregivers are available at the times that work best for you.
Schedule a Consultation
For more information about our Alzheimer's and Dementia Home Care services, contact Assisting Hands Home Care at (815) 201-5445.